Observation Date
Observer Name
E. Murray, Murphy
Region
Salt Lake » Big Cottonwood Canyon » Mill D North » Powder Park
Location Name or Route
Mill D to Park City Ridgeline
Comments
Went for a walk to observe the changing snow surface conditions after some cold clear nights. Started travel from spruces with the intention of making our way to powder park one and ultimately the park city ridgeline.
the weather in the morning was cold with clear sky's and calm winds. This weather persisted for the duration of our tour. The snow surfaces were extremely variable ranging from sun crusts on solar aspects to near surface facets in flat terrain and NW-NE facing slopes. The facets were observed as low as 7500 feet.
One consistent was wide spread surface hoar capping almost every aspect on our way to the PC Ridge. Later in the day the sun seemed to be doing its job and knocking over the surface hoar on the solar aspects. I suspect this layer will stick around on aspects sheltered from the wind.
Skiing and riding conditions where great in sheltered terrain where the faceting was occurring but anticipate these areas to be sensitive when we do get snow again and a slab develops.
One interesting observation was a glide crack on west deso ridge (N 9500ft) which was consistent with other obs of glide cracks reported in broads fork and mineral following the storm cycle.
for now enjoy the stability and check out the snow surfaces because these will become the weak layers. Cold clear nights that persist will continue to weaken the snow until our next storm.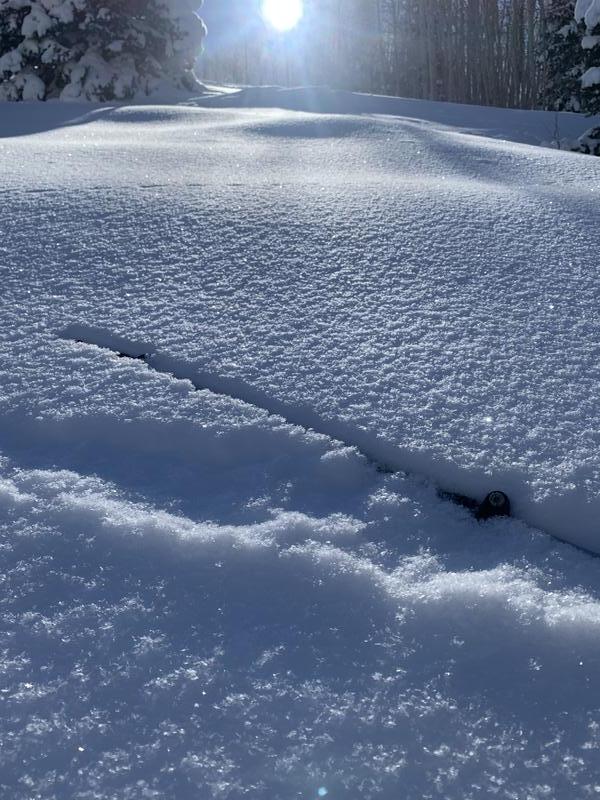 Today's Observed Danger Rating
Low
Tomorrows Estimated Danger Rating
Low
Coordinates