Observation Date
Observer Name
Charlie Ramser & Chris Bolos
Region
Moab
Location Name or Route
Laurel Highway
Comments
Today the question was... what is happening with the PWL? In theory it could be 'healing'.
We dug our pit on a north aspect around 10,800 ft. The slope likely doesn't see any wind loading.
We lacked some precision today, but our photos and comments should still paint a picture of the state of our PWL.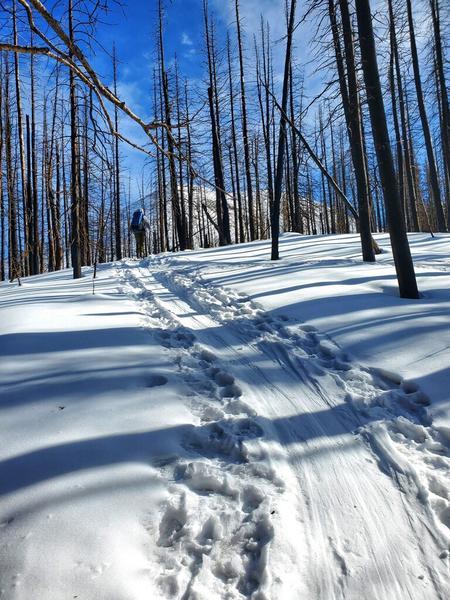 The current snowpack has a PWL near the base, clearly a problem. However there is not several persistent weak layers throughout, so that's good. We also have a pretty good set up with consistent hardness through much of the snowpack.
The snow withing 10 cm from the ground could even make a snowball kinda - yay cohesion and bonding! The problem layer in our pit sat between 30 and 40cm and even it was starting to show signs of rounding. It looked and felt like all the facets near the ground have been rounding and healing.
---
We took some temperatures to see how that data lined up with what we were seeing and feeling. (I could have documented slightly more and made an actual pit profile, but I didn't) From the ground: 10cm -5C, 20cm -4C, 30cm -5.5C, 40cm -6C, 50cm -7C and 60cm -7C. The jump between 30 and 40 was where we were finding the weakest snow.
---
One of the photos is of the problem layer facets. If you don't know what your looking at, it probably doesn't look interesting. With the naked eye you can see that the facets are rounder, less cupped and striated. The other photo helps illustrate the snowpack structure.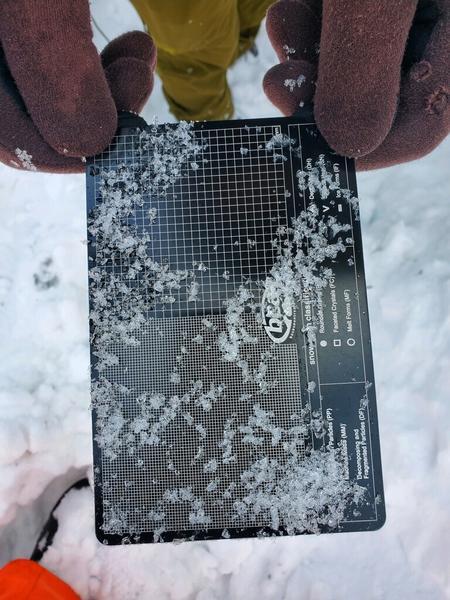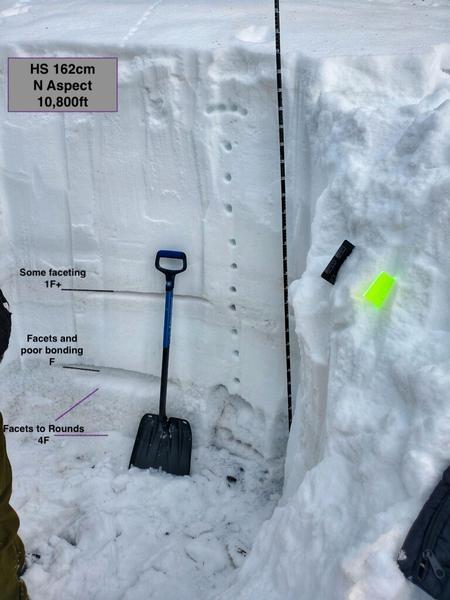 What does it all mean? It's complicated and there's probably a lot of skiing or riding you could get away with right now, until you don't.
Slopes that have slid recently are likely not experiencing the same healing trend as slopes that have held their snow. So we might see stabalizing snow pit results over time in pockets, but it's possible we will get repeating avalanches through the season.
Spatial variability. There is a lot of this in the La Sals. Mellenthin is a great example of this, rocks on the flanks, and probably pretty deep snow in the middle. If you hit just the right spot with just the right depth, it could trigger an avalanche that could bury a truck, maybe. Depending on the wind loading, wind stripping, recent avalanching and everything else that creates variability in depth of snowpack facet farming - it's really hard to be confident with slopes, even when we see good results in our snowpit.
We currently see some stabalizing in our PWL but the snowpack will keep changing. A week or two of high pressure and we could be entering the next storm with all sorts of fun stuff to consider.
Today's Observed Danger Rating
Moderate
Tomorrows Estimated Danger Rating
Moderate
Coordinates