Observation Date
Observer Name
Peter Donner
Region
Salt Lake
Location Name or Route
Cardiac Bowl/Ridge
Comments
Great day to be in the mountains taking photos and making a few turns.
Toured the Cardiac area the last 4 days, this is an update to obs from 10/31 and 11/1.
First photo is skinning from Alta to Cardiff Pass, pack is going fast on south, this bush will be covered in February if we have a normal winter.
Second photo is windblown covering skinner under Cardiff Peak, with an area of faceting noted.
Third photo is close up of faceting process in area noted from second photo. Snow is squaring off, losing strength. Nothing dramatic, but it is starting.
Fourth photo is windloaded radical terrain on Cardiac Ridge. If one was looking for an avalanche, this seems like a good possibility. Location of crust from fifth photo is noted. Location of falling rock from seventh photo is noted.
Fifth photo is 1 finger hard 2 inch thick wind crust. Areas of this type of crust are limited but expanding as the days go by.
Sixth photo is heated snow from Sat 11/2. This is a small segment of terrain that faces southeast, and hence gets a bit more sun. Thought breeze was keeping things in check when I heard a jingling sound from above that caused me immediate heart pain as rocks came raining down. Part of the reason the place is called Cardiac. On Saturday as I was breaking trail under this cliff band, thought if I owned a helmet, wearing it while ascending this area might not be a bad idea.
Seventh photo is the largest of the falling rocks, less than 6 inches. If it hit your head at velocity …. Some of the source terrain for the falling rock faces southeast.
Eighth photo is effect of winds in Cardiac Bowl. Saturday tracks and skinner still visible. Friday tracks windblown but visible. Thursday tracks gone with wind. Standard route for skinner is in winded area and it was blown in Friday so I reset it but it was also gone with the wind by Sunday. Interesting that Friday tracks are just visible, but Friday skinner has been blown away. Standard route for skinner gets enough more wind to remove tracks more quickly.
Ninth photo is cracking on descent. Nothing serious but it's a sign the snow structure is bad. An issue for the future.
Tenth photo is why I stopped descent. Small rock poking thru snow. Looked uphill, noted cracking, took ninth photo. Proceeded with descent, clipped hidden rock near visible rock and tore edge out.
Photo 11 is torn edge. This is tongue in cheek, these are old skis and they are falling apart, literally. Best type of skis for the current snowpack.
Bottom line is avalanche hazard is low. Hazard from rocks and logs is high. Hazard in radical terrain is something to consider. Hazard from heating rockfall is also something to consider.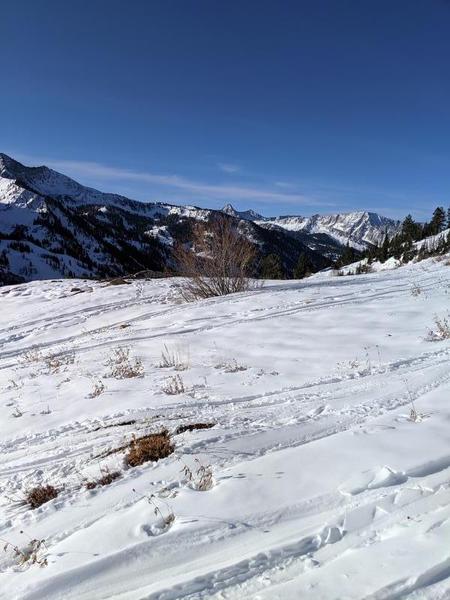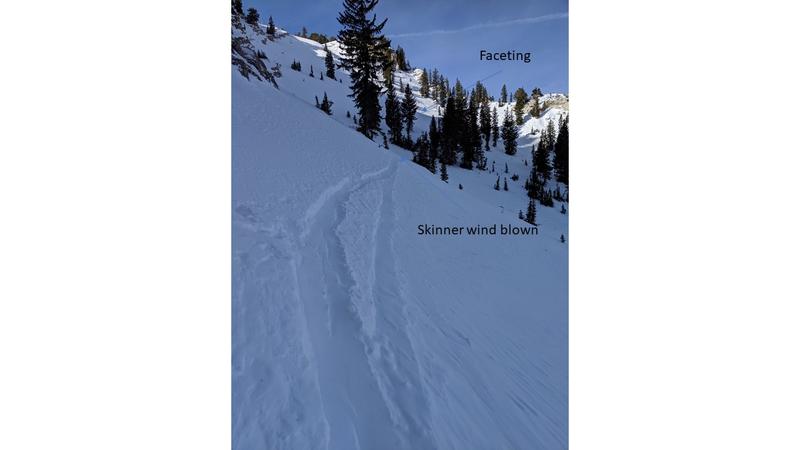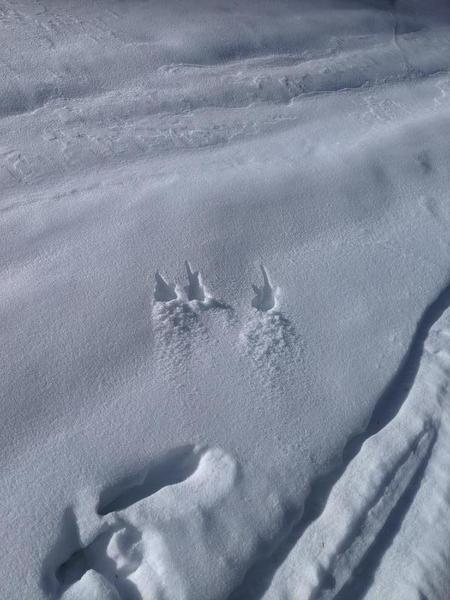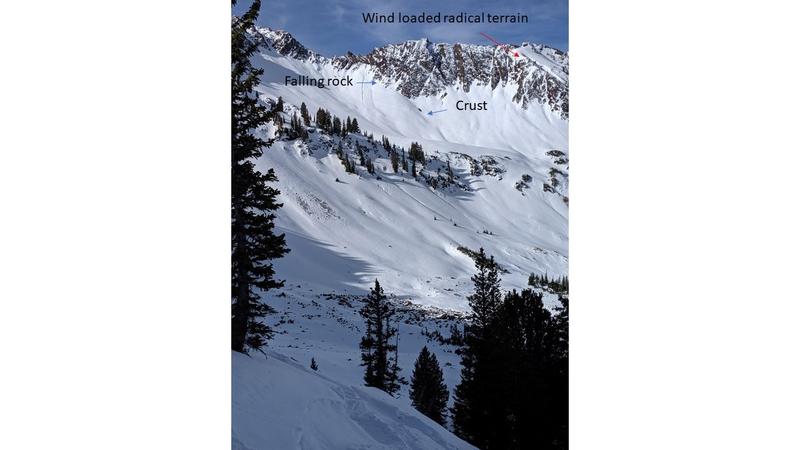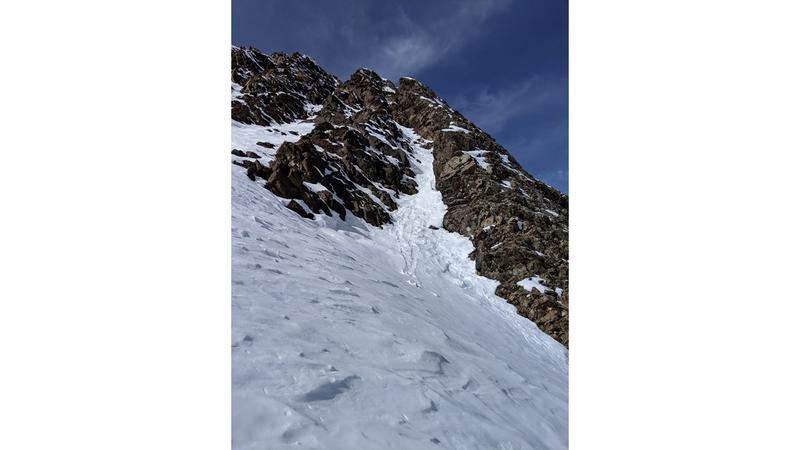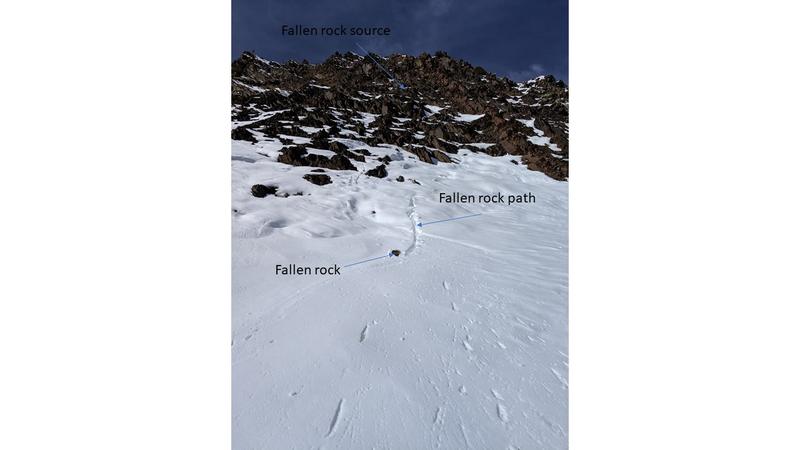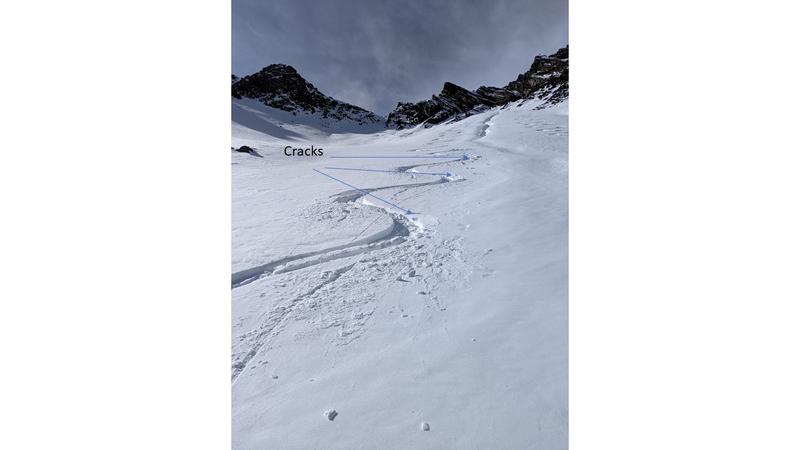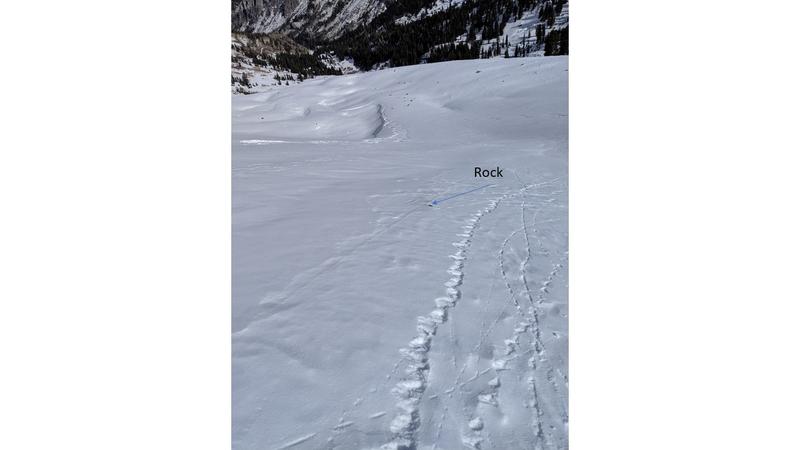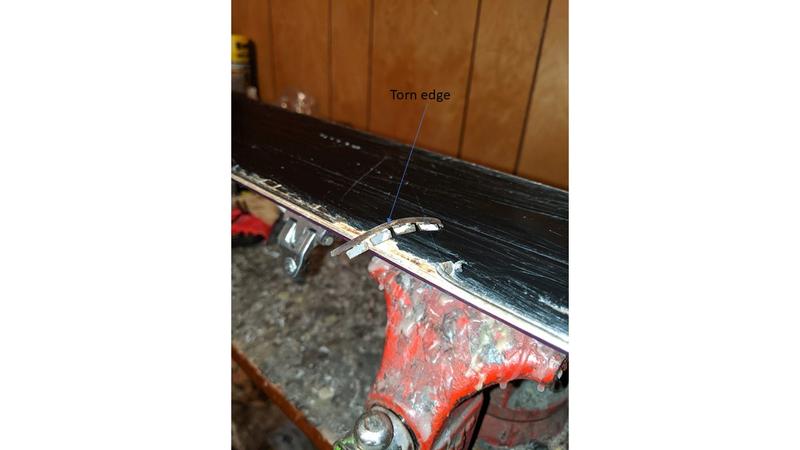 Today's Observed Danger Rating
Low
Tomorrows Estimated Danger Rating
Low