Observation Date
Observer Name
Greg Gagne with Dave Pease
Region
Salt Lake
Location Name or Route
Gobblers/Alexanders
Comments
Route was up through Yellowjacket to Gobblers, with an Alexander's Basin exit. Things appeared to have stabilized pretty quickly after our pre-Pi day storm, and we saw no signs of instability. Stability tests focused on sluffing in the new, low-density snow, but we couldn't anything to sluff. I do think a steep enough slope could sluff, but it would probably take quite a bit of steepness.
At lower elevations (below about 8000') there was a sun/temperature crust, but that had frozen up and only some damp grains beneath. The storm snow seemed well-bonded to the existing snow surface.
There apparently was quite a bit of sluffing in Alexander's Basin, likely during the day on Wednesday during periods of high PI (photo below) but no significant debris piles.
We did see one interesting result down low in Alexander's Basin - apparently a slope that wasn't quite steep enough to slide but did have enough steepness to fracture - photo below. It is possible this slope had some preserved surface hoar or near-surface facets that formed on Monday (we did not get to the actual slope) with a storm slab on top. There may be a few surprises such as this on Friday. These would be shady, mid elevation slopes where the snow surface had weakened on Monday/Tuesday and was preserved underneath the Wednesday storm.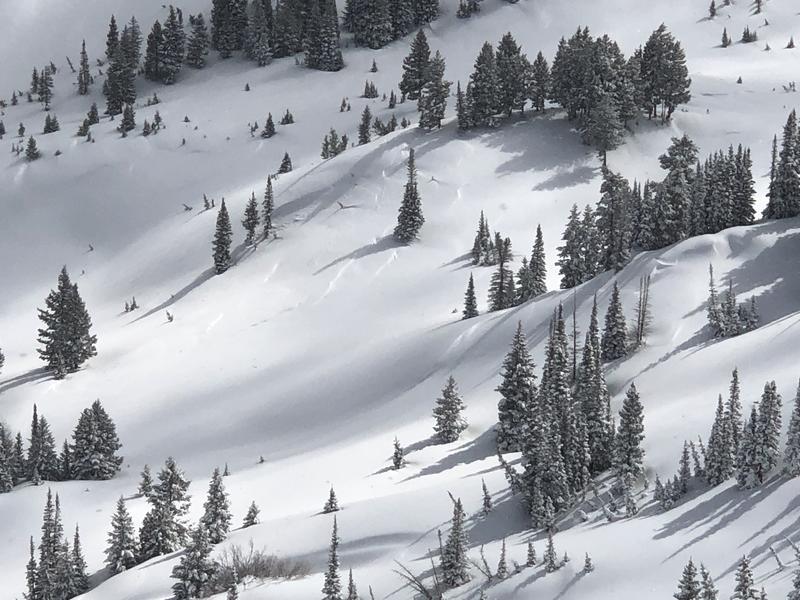 Hazard for Friday is all sun/heat-related. With a cold clear night ahead (and winds are forecasted to be light), the day will start out with a generally Low hazard, and mid and upper elevation northerly aspects should remain generally Low for Friday. Everything else will likely be very reactive to warming from the sun, with the low-density snow creating large wet sluffs. Likely Considerable on solar aspects for Friday.
Today's Observed Danger Rating
Moderate
Tomorrows Estimated Danger Rating
Considerable