Observation Date
Observer Name
Greg Gagne and Erme Catino
Region
Salt Lake
Location Name or Route
Cardiff/Mineral
Comments
Focused on density inversions within last storm events from the past 5 days, especially the different graupel layers, but 30-45 cms of storm snow is cohesive and density inversions and graupel layers have largely settled out. I do think a few pockets of reactive layers of graupel can be found - especially below steeper cliff bands - but increasingly unlikely. Temperatures seemed cool enough to keep wet activity to a minimum, but the strong sun chased us out by 2 pm, and it is possible later in the afternoon there was more wet activity.
Photo/video below is of natural loose snow sluff that ran ~200' from a steeper cliffband above. This was on an NE aspect and some lower-density snow that  likely took on a little bit of heat to make the sluff reactive. The debris was dry, so wouldn't call it a wet loose, but most likely it was reactive to the sudden warming. Of significance was that it took out the existing skin track (a route I would consider safe under the conditions), burying it under 75-100 cms, as well as depositing debris on the uphill side of trees.
Quite a bit of natural activity on east side of Mineral from Friday afternoon, as well as upper Mineral. Various aspects on western side (east-facing) in Mineral avalanched as well.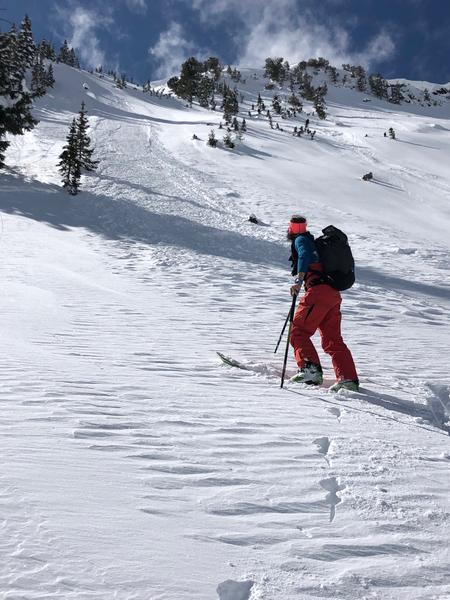 Video
Hazard for Tuesday is all related to warming ..... generally Moderate on solar aspects, but possibly considerable on steep south and west aspects. Really depends on amount of direct sun & wind. Regardless of whether it is Moderate or Considerable, there will be wet activity on Tuesday. 
Today's Observed Danger Rating
Moderate
Tomorrows Estimated Danger Rating
Moderate