Observation Date
Observer Name
Greg Gagne
Region
Salt Lake
Location Name or Route
Big Cottonwood Canyon (Butler Fork/ Silver Fork/ Guardsman-10,420')
Comments
Traveled in three different areas in Big Cottonwood Canyon to get an idea of low, mid, and upper elevation slopes:
Butler Fork - Low elevations (< 7500') was wet in top 45-60 cms of snow, but it looks like the water has drained sufficiently and with cooling, wet issues seem to be generally healed.
Silver Fork - mid elevations (< 9000) Thin rain crust capping a layer of near-surface facets found below about 8500' on non-solar aspects.
Between 8500' and 9000' was finding a layer of preserved near-surface facets, with a 30-40 cm storm slab on top. ECTPV (full propagation upon isolation)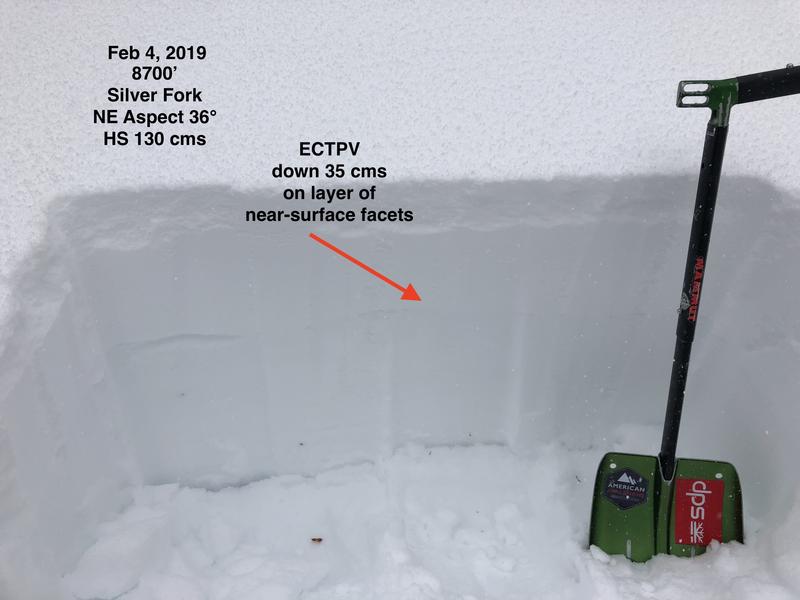 Selfie video of failure upon isolation
Guardsman Pass/ Peak 10,420' Area - (upper elevations) - Other observers have noted surface hoar in Guardsman Area, and I was finding evidence of it as well, including near-surface facets. Overall the SH I was finding was not really evident as I suspect it was destroyed somewhat, but the layer is an obvious 5-10 mm stripe down 30-60 cms. Full propagation with ECTs (ECTP15) as well as Propagation Saw Test - PST 30/100 End.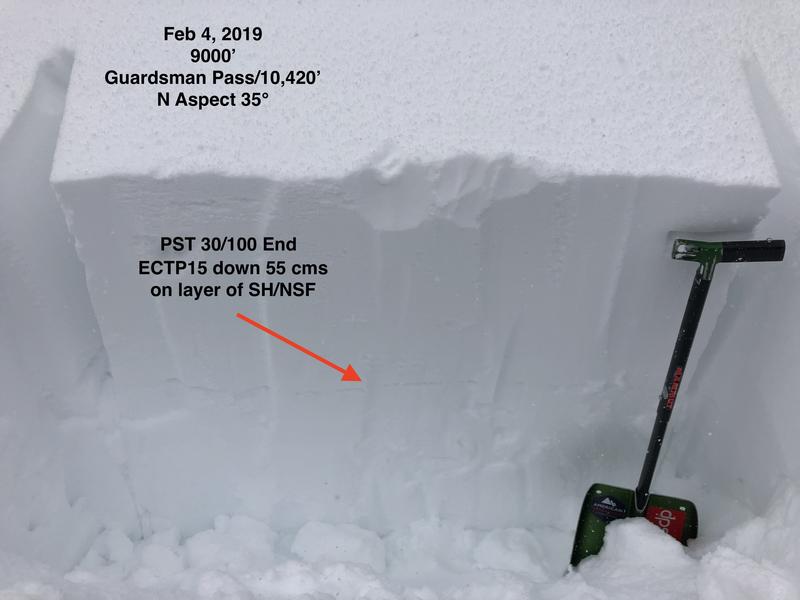 A juxtapose where you can use the slider of before and after ECTP results
Big take-home for me is that we have additional snowfall and wind in the forecast, so we'll likely be having storm snow and wind slab issues. However, the widespread preserved layer of near-surface facets and surface hoar I was finding on shady mid and upper elevation aspects facing northwest through east  may be especially problematic, creating the possibility for remotely-triggered slides and larger avalanches that propagate widely. The hazard in both wind-drifted terrain as well as upper elevation terrain in Big Cottonwood Canyon that received the most snow (about 60 cms) was Considerable, and may be High by Tuesday. 
Today's Observed Danger Rating
Considerable
Tomorrows Estimated Danger Rating
High