Observation Date
Observer Name
Meisenheimer / Clark
Region
Salt Lake
Location Name or Route
Mineral Fork Ridgeline
Comments
The first photo: is my snowpit from a NE facing slope at 8,100' in elevation.  The rain crust capped the NSF layer leaving them dry and preserved just underneath this crust.  The rain crust in this location was not supportable and could easily become overloaded with more weight on top.  I did not like seeing this set up for the area.  We will have to wait and see if it become an issue.  ECT were negative.  However, with a shovel shear test the rain crust would fail in the faceted snow with gentle taps on the bottom of the shovel and come sliding off with ease. 
The second photo: was dug just a few hundred feet higher when I noticed the rain crust was gone.  Here I found about 6-8" of new dense snow resting on NSF.  Again, my ECT was negative but the shovel shear tests reveled the upper 6-8" of new snow was sliding easily on this layer.  The only thing we can do for the next few days is to dig and track this layer.  It's super easy to find and it only takes 5 mins to dig down about 1-2' and perform a quick ECT test.  If we start seeing this layer propagate then we know something is up. 
ECT = Extended Coulumn Test.  If you need to brush up on how to do an ECT test watch this video 
HERE.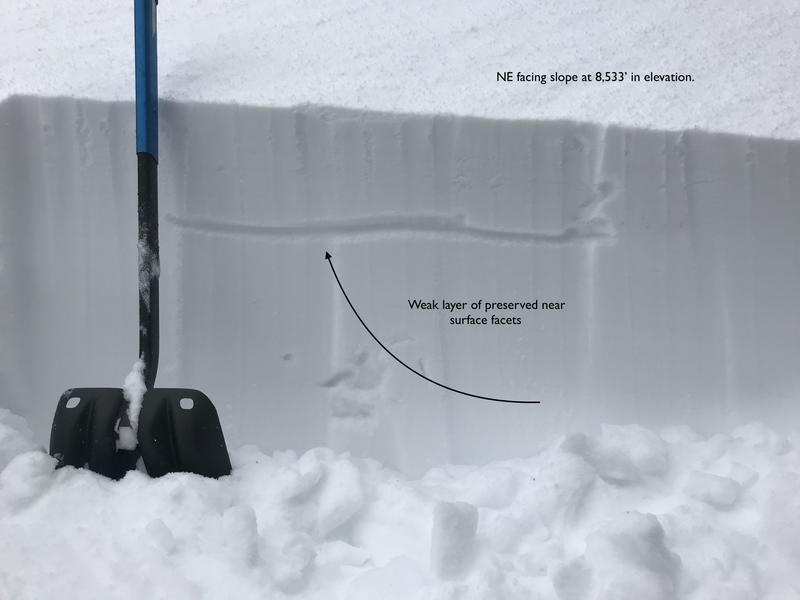 It was a nice day to be out in the mountains with the wind on your face and new snow falling at times.  Adam Clark snapped a nice photo of me walking on the ridge.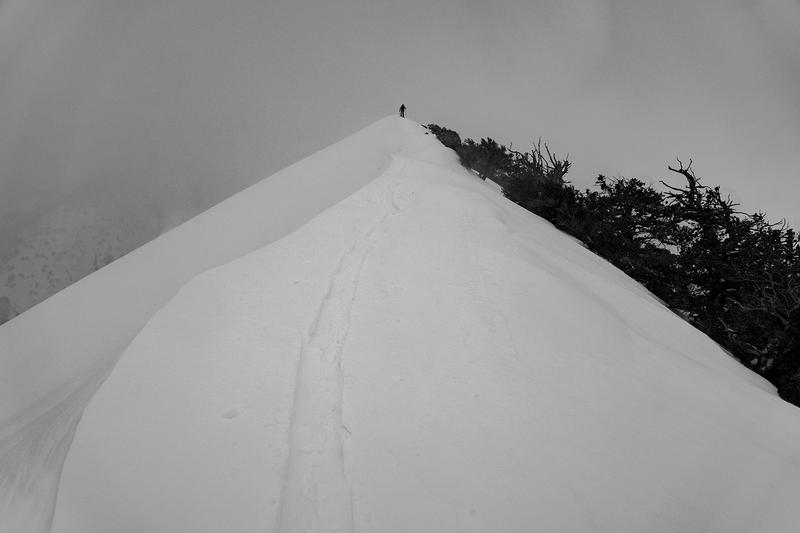 Today's Observed Danger Rating
Moderate
Tomorrows Estimated Danger Rating
Considerable