Observation Date
Observer Name
Harrison Brickman
Region
Salt Lake
Location Name or Route
Wolverine Cirque
Comments
Winds were generally light, but moderate winds aloft noticed on Mt. Wolverine. Sky going from OVC to BKN throughout the morning. Decomposing IFsc on solar facing aspects high on Patsy Marley ridge.  Foot Pen 20 to nil on upper elevation solar aspects.
Upper snowpack seems more consolidated now, uniformly 4F, surface grain was were DFs, and DFbks, wind pressed snow surfaces were evident on multiple aspects. 
Hasty profile dug in the flats below Wolverine Cirque (2980m) sort of an alpine like feature in tree line terrain. Rocky short planar slope. HS 190.
Results in the upper snowpack were all moderate/hard and resistant. Small grain Facets again observed on the density change from 4F to 1F down 50. 
Unlike previous recent days, today I was digging in rocky wind affected variable HS terrain; I encountered a layer of more advanced facets down 105. This interface was within 1F snow and grain size was 3.0. Two DT's were done and produce moderate and hard sudden results. 
My guess is the spatial distribution of this larger grain faceted layer is specific, and the depth involved put its likelihood of triggering more towards unlikely. That being said, persistent grains, producing sudden results is something that always makes me stand up and take notice.
see photo of field book for all my results.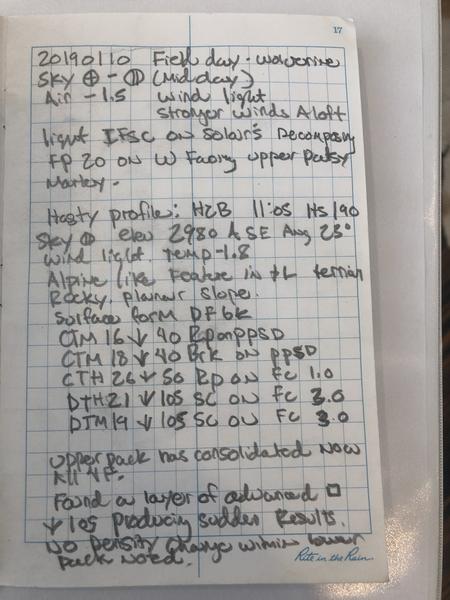 Today's Observed Danger Rating
Moderate
Tomorrows Estimated Danger Rating
Moderate