Observation Date
Observer Name
Harrison Brickman
Region
Salt Lake
Location Name or Route
Twin Lakes
Comments
Test profile dug on benched terrain in Upper Twin Lakes, East facing, 3050m. HS 185.
Please consult the picture of my field book for full results. 
Only one sudden result on a layer of FC down 65 (4F to IF) and that was a CTH. 
Basal facets down 160, the IFrc above is decomposing. Unreactive to DTx2. 
Storm Slab was far less touchy than anticipated, no natural Avalanche activity noted. Several Xe triggered size 1/1.5 loose dry's were seen below Solitude control area. 
No significant mid pack faceting observed, although area viewed has a very high HS.
Storm Slab remains potentially reactive in specific Alp/TL polar terrain. 
Loose Wet hazard will increase dramatically on steeper solar terrain with rapid warming.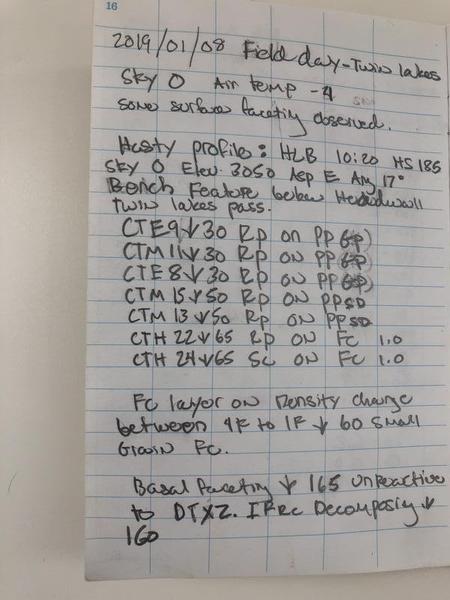 Today's Observed Danger Rating
Moderate
Tomorrows Estimated Danger Rating
Moderate