Observation Date
Observer Name
Greg Gagne
Region
Salt Lake
Location Name or Route
South-facing Little Cottonwood Canyon
Comments
Following
Mark & Amy Staples's observation
from Sunday, I wanted to get a look at the snowpack on aspects other than northerly as we already know how weak those are. Today I looked at west, southwest, and south aspects along south-facing Little Cottonwood ridgeline above Alta at elevations ranging from 9,500'-10,500'. HS on these sunny aspects range from 80-120 cms, with a meter pretty typical. A melt-freeze crust that formed earlier this past week is apparent and down 70 cms from the snow surface (see pencil in photo below), with some sign of faceted snow underneath the crust. The thickness of the crust ranged from a brittle 3 mm to a stout 1 cm on south aspects. I dug a handful of pits to the ground and compression tests were all Q2 or Q3 poor quality shears failing within various storm snow layers. ECTX or ECTN in the mid teens with fracturing in storm snow layers.  
Overall the storm snow on south and southwest was very stable with at best minor sluffing.
I only dug one pit on a west-facing aspect at 10,000' and results were poor quality shears with compression test as well as ECTX. However, I think this pit was an outlier as we have been seeing plenty of evidence of weak, faceted snow down near the ground on west aspects at the upper elevations.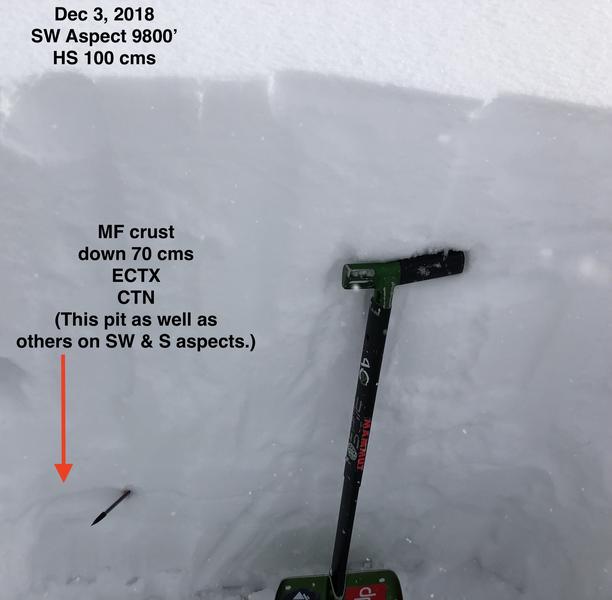 From what I saw today, generally Low hazard on south and southwest aspects. Did not look at southeast aspects, and pit results from west aspects were inconsistent with other data.
On the other side of the ridge is a different story, and sticking with existing Considerable on northwest through east. 
Today's Observed Danger Rating
Considerable
Tomorrows Estimated Danger Rating
Considerable