Observation Date
Observer Name
Joey Dempster
Region
Provo
Location Name or Route
Back of Bob's
Comments
In the popular Back of Bob's area near Aspen Grove, on slopes where the October snow melted, we have a perfect start to the season.  Snow hardness increases progressively to the ground, with good adhesion to the ground.  The snowpack is 85cm/32in deep around the 9000 foot level and should be deep enough to prevent future ground level faceting.  Even old school skis are safe from rocks and most stumps.  Skiing and riding is excellent.  
I did find one shear plane at about 35cm (STH) but it did not fail in any compression tests.  This may be the post-thanksgiving storm surface, or a layer that formed during the storm.  In any case, it wasn't sufficiently weak to be of concern today, and should continue to strengthen in the coming days. 
We did not observe anynatural avalanches higher up in the UFO bowls or in Primrose Cirque where October snow can be found on the ground.  I would, however, expect it to be as reactive and hazardous as similar slopes in the central Wasatch.  
Avalanche hazard on slopes without faceted October snow is LOW.  These slopes can generally be found below 9500 ft. on all aspects.  Above that level, proceed with caution or stick to slopes that face at the southern half of the compass to be sure.  Hazard forecast for slopes with October is snow is estimated to be CONSIDERABLE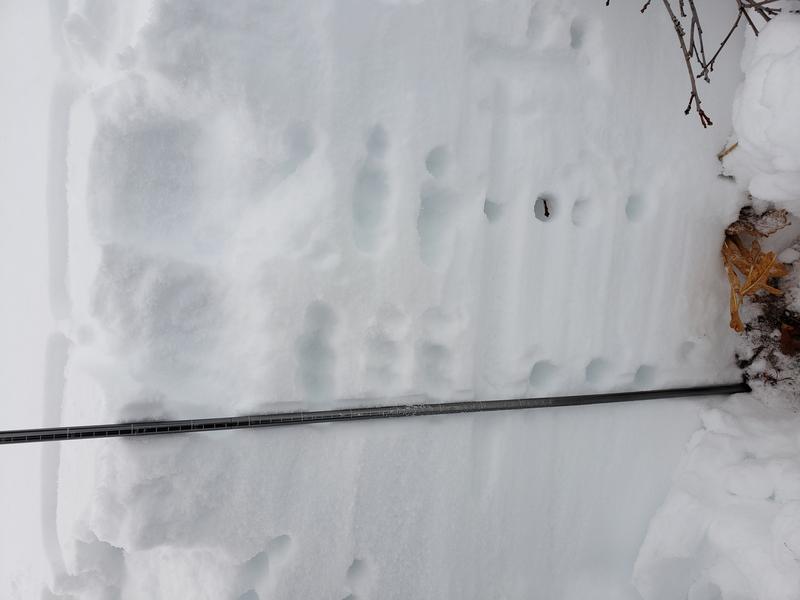 Today's Observed Danger Rating
Considerable
Tomorrows Estimated Danger Rating
Considerable
Coordinates