Forecast for the
Provo Area Mountains
Issued by Drew Hardesty for
Thursday, November 16, 2017 - 1:19pm
There may be just enough snow on upper elevation, northerly facing slopes to squeak out a few turns, though we haven't had any reports from Provo. Suffice it to say, if there's enough snow to ride, there's enough snow to avalanche. Even today, small, pockety slides in very isolated places are possible in upper elevation wind drifted terrain. If and when we get enough of a storm, areas that held old snow from the fall (upper elevation northwest to northeast facing slopes) will be suspect for avalanching. If heading out tomorrow through the weekend, the smart money chooses the other aspects that were dry until now...or sticks to low angle grassy slopes with nothing steeper above.
Remember that each year we have early season close calls, accidents, and sometimes avalanche fatalities. Montana has tragically suffered the first avalanche fatality of the season on October 7th. Remember that traumatic injury is also more prevalent in the early season owing to the thin snow coverage - tread lightly. Lastly, one must treat the unopened ski area terrain as the backcountry as the avalanche teams have yet to do control work. Please check in with them if you have any questions or about their uphill travel policies.
We will have morning updates starting tomorrow and through the weekend with additional forecasts as conditions warrant.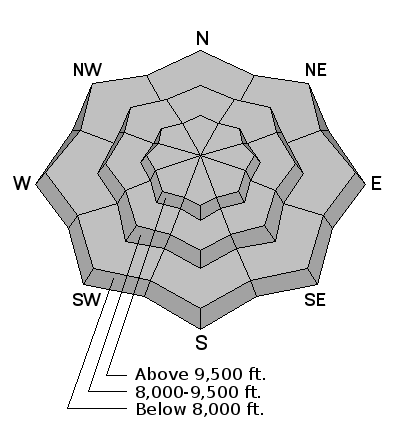 Learn more about the ratings
here