The danger roses for the Salt Lake mountains from Friday, February 11 through Thursday, February 17:

Summary: The January/February drought continued, with warm temperatures and sunshine early in the week. A small storm late Wednesday delivered much-needed snow to the central Wasatch.
Friday, February 11: Clear skies and strong winds with gusts approaching 100 mph at 11,000'. No backcountry avalanches reported.
Saturday, February 12
: The avalanche danger rises to Moderate on mid and upper elevation solar aspects with temperatures rising into the 30's and 40's F. Two separate avalanche incidents involving sluffs in the weak surface snow, with
one rider getting caught and carried on Santaquin Peak
. The rider was carried approximately 100' and the slide ran approximately 1,500' with a deep debris pile. The photo shows the top of the run before the avalanche: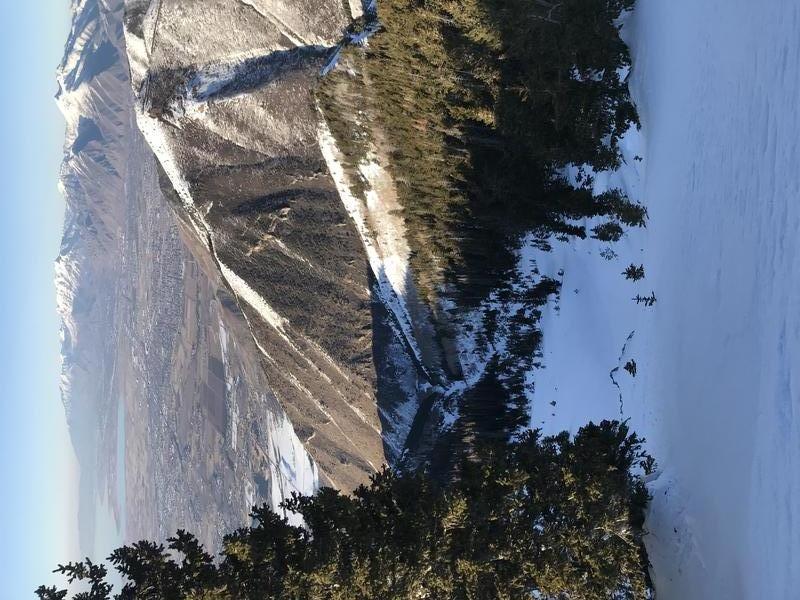 Sunday, February 13: Continued warmth and sun with no backcountry avalanches reported.
Monday, February 14: Increasing clouds and winds - no backcountry avalanches reported.
Tuesday, February 15
: Cloudy skies with light snow flurries. No backcountry avalanches reported.
Drew Hardesty's observation from Reynolds Peak
highlights the existing snowpack that has a widely-variable surface ranging from stout crusts, old wind drifts, and weak facets on sheltered northerly slopes.
Wednesday, February 16: Fresh snow! 4-8" of low-density snowfall by the end of the day, with the highest amounts in upper Little Cottonwood Canyon. Sluffing in the low-density snow is reporeted. 
Thursday, February 17: Clearing skies and widespread sluffing in the new snow. Drew's video captures the current snowpack setup - all that is lacking is a stronger slab on top. With snow possible in the coming week, the avalanche danger may begin to rise.