Greg Gagne
Our 
Week in Review
 highlights significant snowfall, weather, and avalanche events of the previous week. (Click 
here
 to review the archived forecasts for the Salt Lake mountains.) 
The danger roses for the Salt Lake mountains from Friday April 12 through Thursday April 18:

Summary: Typical springtime pattern with wet snow activity during periods of warming, with a decent storm early in the week that delivers 1-2' of snow to the Cottonwoods, with over 2" of water. Strong sunshine and warm temperatures lead to wet activity concluding the end of the week.

Snow/Water Totals - Through April 18, Alta Guard station at 8800' has recorded 469" of snow with 48.17" of water. Seasonal averages are 483" snow/44.8" water - meaning we're slightly below average for snowfall, and above average for water totals. (Stats courtesy of Mark Sauer with UDOT Avalanche.)
Friday April 12
 - Snow showers add a few more inches in the afternoon, with upper Little Cottonwood picking up the most with 6". The only avalanche activity of significance was in the Keyhole entrance in Cardiff Fork on a steep, north-facing wind loaded slope (
observation
) [pic Mark White]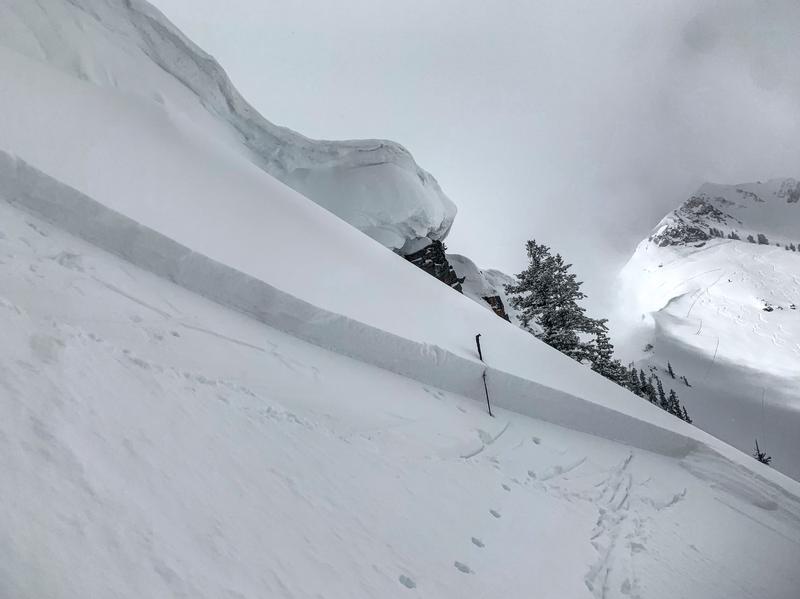 Saturday April 13
- Another 2-4" of new snowfall overnight and into the day on Saturday. Generally Low hazard in the morning, but with clearing skies and warming temperatures, the usual wet activity occurs in the afternoon with loose, wet sluffs on steeper solar aspects. However, one avalanche of significance in Big Willow Cirque on a steep, north-facing wind-loaded slope - (
observation
) [pic Shane Kemp]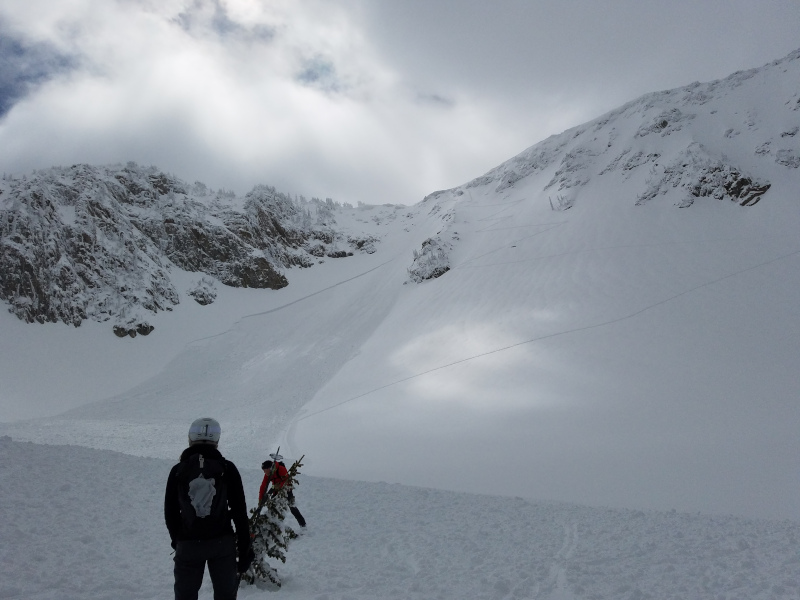 Sunday April 14 - Overcast with increasing south winds and trace to 1" new snow. Warming at low and mid elevation slopes produce minor wet loose activity, such as this skier-triggered sluff:
Monday April 15 - Strong winds ahead of a moist, wet storm. Rain/snow line hovers close to 9000', with long-running wet avalanches in north-facing slide paths of Little Cottonwood Canyon including the Y and Y-Not couloirs, and Colapit #4 [photo Jackson] 2-4" of dense snow at the upper elevations.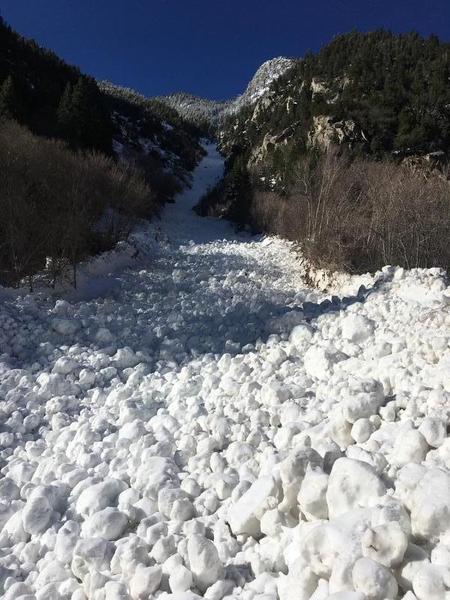 Tuesday April 16
- 12-16" storm totals of heavy, dense snow since Monday. Cooler temperatures help lower the rain/snow line to below 7000'. Avalanches running within the storm snow included both natural and human-triggered with control work at resorts. In the backcountry, a skier-triggered avalanche in Days Fork with two riders carried. Read more in this excellent 
observation
. [pic Jackson]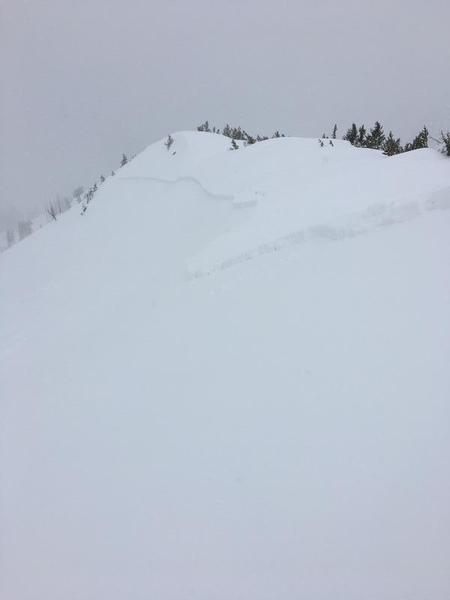 Wednesday April 17
- Clear skies and strong sunshine leads to expected wet activity in the afternoon, however in the morning a few avalanches involving dry snow, including this large slide on the south face of Mt Superior (trigger unknown, but likely a natural) [pic Mark White] Another dry-snow avalanche on a north-facing aspect in the morning on Argenta (Kessler Peak) -
observation
.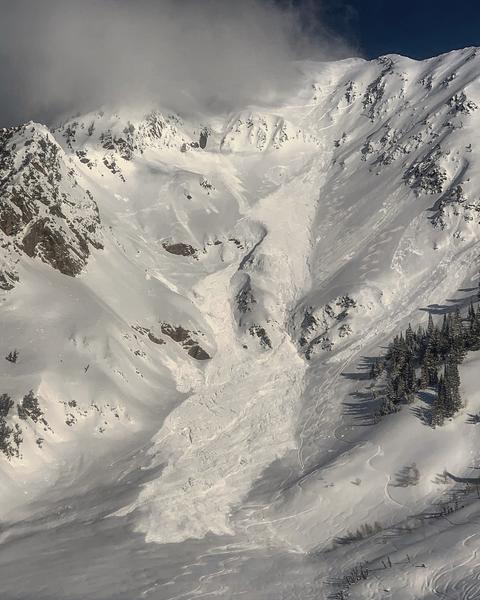 Thursday April 18 - Second day of clear skies and strong sunshine lead to wet activity, including slides on Mount Superior and East Hellgate. Mark White had yet anothe excellent photo of wet activity in Red Pine Gulch: