Greg Gagne
Our 
Week in Review
 highlights significant snowfall, weather, and avalanche events of the previous week. (Click 
here
 to review the archived forecasts for the Salt Lake mountains.) 
The danger roses for the Salt Lake mountains from Friday March 22 through Thursday March 28:

Summary: Winter sputtered back to life through the weekend, followed by strong sunshine and warming. Clouds and wind returned mid-week. A few human-triggered avalanches, with a significant event in Cardiac Bowl on Sunday March 24.
Friday March 22 - Storm snow totaling 8-10" from the past few days in the Salt Lake mountains, but settling rapidly. Only some minor shallow wind slabs are reported as being sensitive.
Saturday March 23
 - Cloudy skies, with greenhousing. Overall stable snowpack, but one very large cornice fall from East Bowl of Silver Fork that broke several trees. Photo and
observation
from Mark Johnston)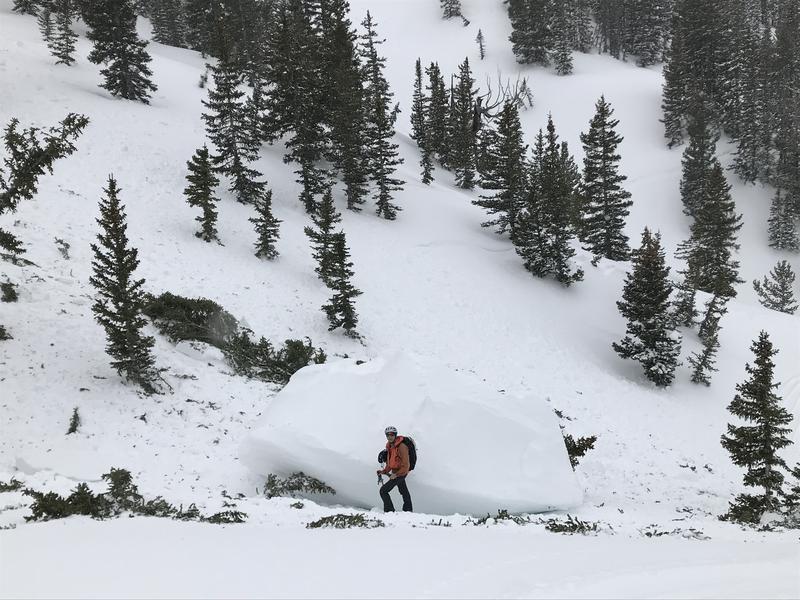 Sunday March 24
 - An over-achieving storm system delivers 12" of storm snow, with heavy snowfall occurring on Sunday morning. The rapid rate of snowfall, some warming due to greenhousing, and a density inversion conspire to create very rapidly changing avalanche conditions with numerous natural and human-triggered slides reported. The most significant slide occurred in Cardiac Bowl where a party of 6 was caught and carried. Fortunately only minor injuries. (
Observation
)
Monday March 25
 - Strong sunshine and warming temperatures leads to the usual round of wet avalanche activity, involving loose wet sluffs as well as larger wet avalanches on steep, south-facing paths in Little Cottonwood Canyon. In the Ogden mountains, a skier is involved in an avalanche failing on a layer of surface hoar, with a partial burial (
observation
).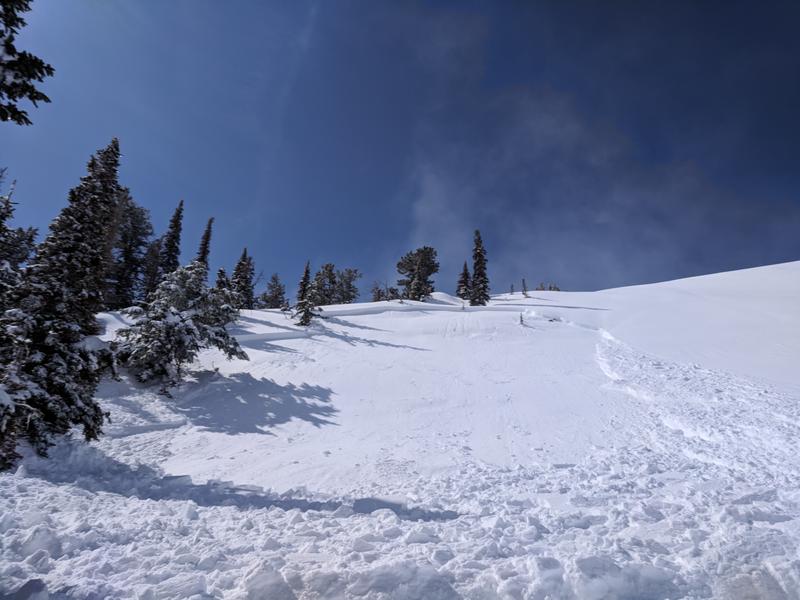 Tuesday March 26
 - Another day of warming temperatures and increasing winds. A party is involved in an avalanche on the Hogum 200 in Hogum Fork with one member being carried in the slide.  Loss of gear, but fortunately no injuries. (
Observation
)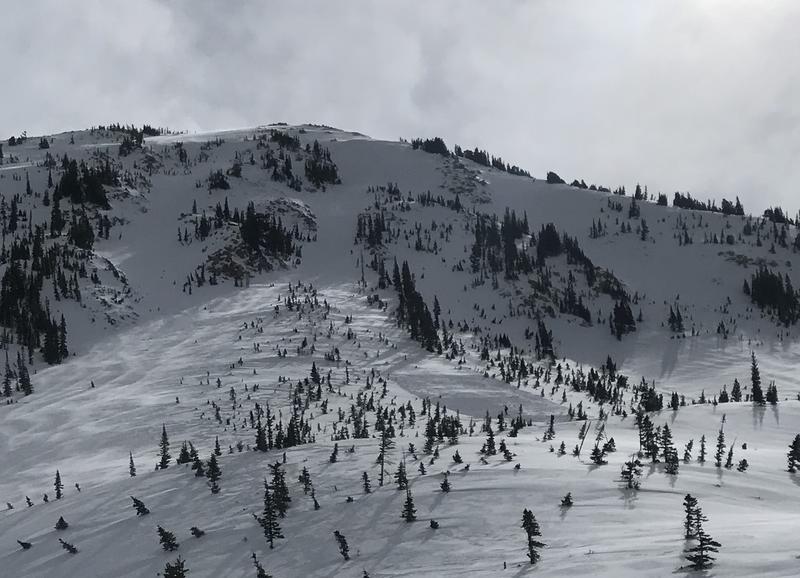 Wednesday March 27
 - Winds out of the south/southwest begin to increase, and warm temperatures continue. A glide avalanche on Blue Ice is reported, occurring likely on Tuesday or overnight (
observation
).
Thursday March 28 - South/southwest winds and warm temperatures continue, with many stations at the low and mid elevations now reporting 72 hours without temperatures dropping below freezing. No avalanche activity is reported from the backcountry as clouds, wind, and slightly cooler temperatures minimize wet avalanche activity.