Greg Gagne
Our Week in Review highlights significant snowfall, weather, and avalanche events of the previous week. (Click 
here
 to review the archived forecasts for the Salt Lake mountains.) 
The danger roses for the Salt Lake mountains from Friday Feb 1 through Thursday Feb 7:

Summary: After an extended period of high pressure, a long-duration storm system enters the state during the weekend, lasting through Wednesday morning. Initially arriving with a warmer southwest flow, the series of storms are capped by a cold northwest flow. A significant amount of snow and water added to the snowpack. Snow and water totals include:
Little Cottonwood 5' snow/ 5-6" water
Big Cottonwood 6' snow/6-7" water
Park City 4' snow/ 4-5" water
Ogden 3.5 snow/3" water
Provo 3' snow/4.5" water
Several natural and human-triggered avalanches are reported, with at least three very close calls.
Friday Feb 1 - Low hazard and no avalanches reported. But UAC highlights significant upcoming storm and rising avalanche hazard, noting the upcoming storm snow will fall on weak surface snow on shady, upper elevation northerly aspects.
Saturday Feb 2
- Warm, dense snow with 4-8" storm snow and a high rain/snow line (~8000'). A very close call on Mt. Timpanogos on the Cold Fusion Couloir (
observation
) when a skier triggered a wind-slab.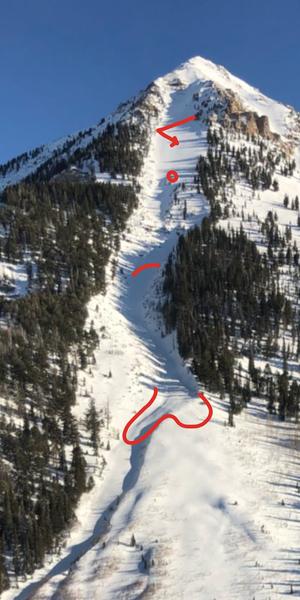 Clouds, warm temperatures, and rain create a natural wet loose avalanche cycle in lower Little Cottonwood Canyon.
Sunday Feb 3
- Strong southwest winds, warm temperatures, and 3-6" dense heavy snow. A snowmobiler-triggered slide on Peak 10,420' failed on a layer of preserved surface hoar (
observation
).
Monday Feb 4 - 10-15" of dense snow and continued strong southwest winds. An avalanche on a northwest aspect on Little Water Peak is triggered from a cornice fall, failing in faceted snow down near the ground. The crown is 3-4' deep.
Tuesday Feb 5
- The UAC issues an avalanche warning for the Logan, Ogden, Salt Lake, and Provo mountains. Continued snow and southwest winds overload northeast aspects. Two large avalanches are reported from the Park City ridgeline on northeast aspects. These were natural avalanches, failing from cornice falls. The slides were on repeater slopes, with thinner, faceted snowpacks that were overloaded from the southwest winds. One is on Scott's Peak propagating across the ridge over to adjacent Radar Love Bowl, 1000' wide. [Mark White photo] (
observation
)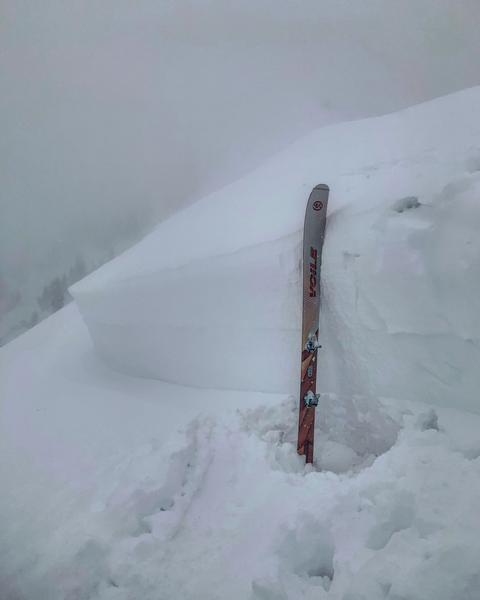 The attention-getter slide was in South Monitor Bowl, a slide that broke over 1000' wide, with an 8' crown. [Mark White photo] (
observation
).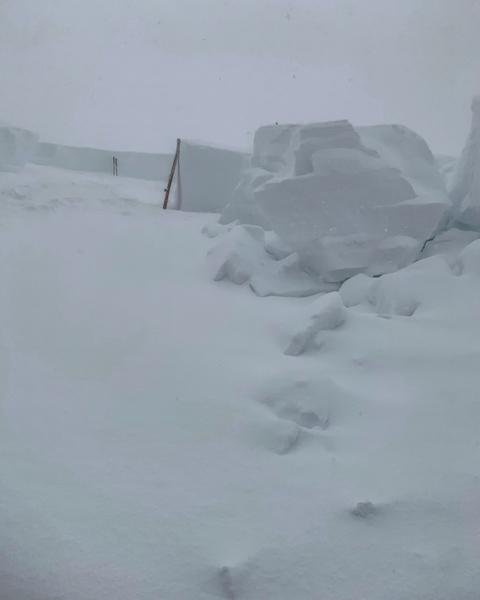 Wednesday Feb 6
- Avalanche warning is extended as strong winds and storm snow continue, finishing with a period of colder, northwest flow. A natural avalanche cycle in Little Cottonwood Canyon, as well as several avalanches hitting the LCC road from control work (
link to video
).
Mitigation work at resorts produce numerous avalanches, with a notable control work avalanche in the Park City mountains on a northeast aspect, failing down near the ground, with a crown 3-6' deep
Thursday Feb 7 - Clearing weather allows for better visibility, with numerous natural avalanches throughout the central Wasatch. The photo below is from Mineral Fork [Tom Coats photo]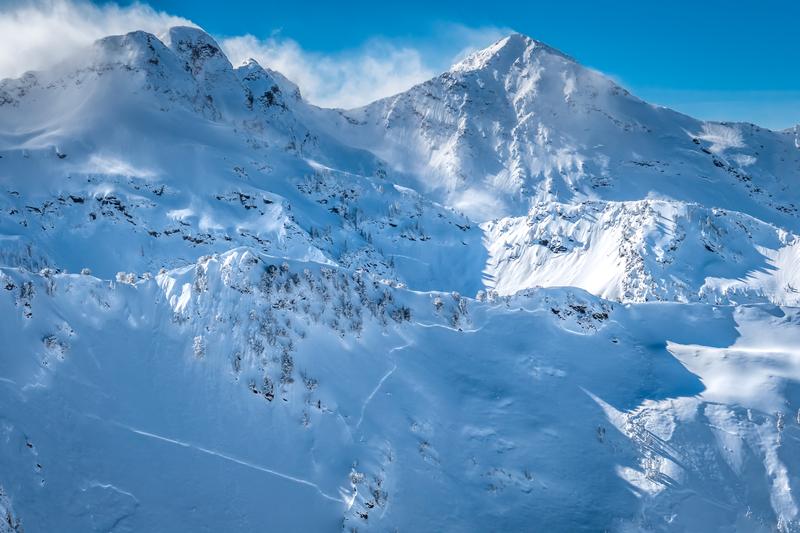 Two very close calls (1) Brighton backcountry on a north aspect at 10,000' on Pioneer Ridge where the rider fortunately ended up on top of the debris after taking a ride through trees (
observation
)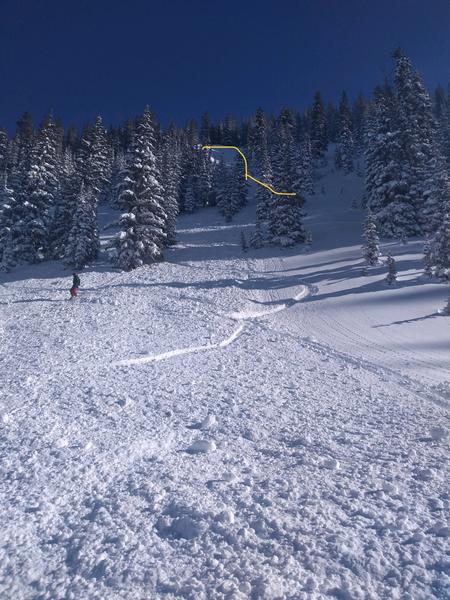 (2) Squaretop on Park City ridgeline on a northeast aspect at 9500'. Partial burial where the rider was buried to their neck and partners performed rescue (
observation
).