Greg Gagne
Our Week in Review highlights significant snowfall, weather, and avalanche events of the previous week. (Click 
here
 to review the archived forecasts for the Salt Lake mountains.) 
The danger roses for the Salt Lake mountains from Friday December 28 through Thursday Jan 3:

Summary: A storm right before the New Years, sandwiched with two northeast/east wind events with several natural and skier-triggered wind slabs.
Friday December 28 - Moderate to strong winds out of the east/northeast easily drift the low-density snow at the surface, creating wind drifts and wind-affected snow at the mid and upper elevations. Several natural and human-triggered avalanches are reported, up to 8-16" thick, with one breaking 30' above the rider.
Saturday December 29 -  Three additional wind slab avalanches are reported from the backcountry, with two again breaking above the rider, a common theme with hard wind drifts. The largest wind drift occurred in the Bonanza Flats area of Guardsman Pass [Photo JP Gendron]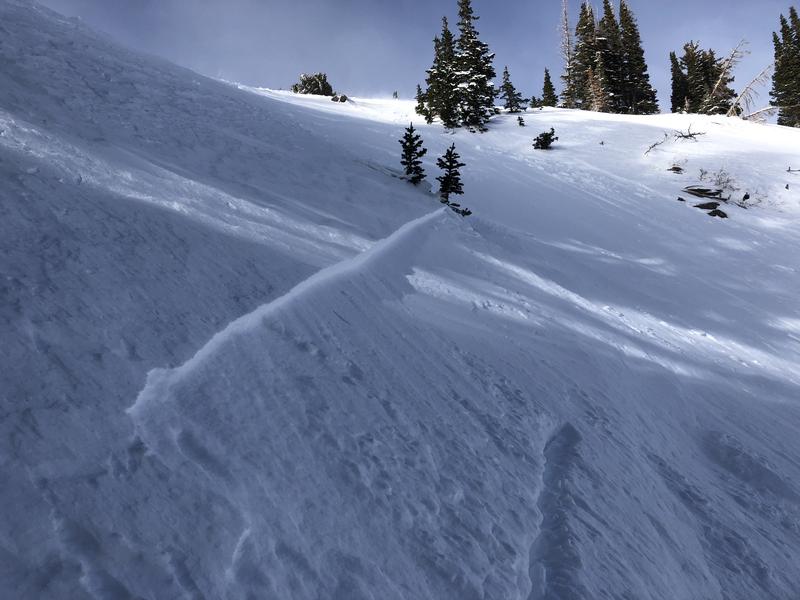 Sunday December 30 - Transition day as a late-day storm moves into the region, delivering 6-16" of snowfall overnight and into Monday morning. The northwest flow favors upper Little Cottonwood where the highest snow amounts are recorded. Pre-frontal winds drift snow during the day on Sunday, and South Monitor slides once again, repeating for the third time this season [Photo J. Climaco]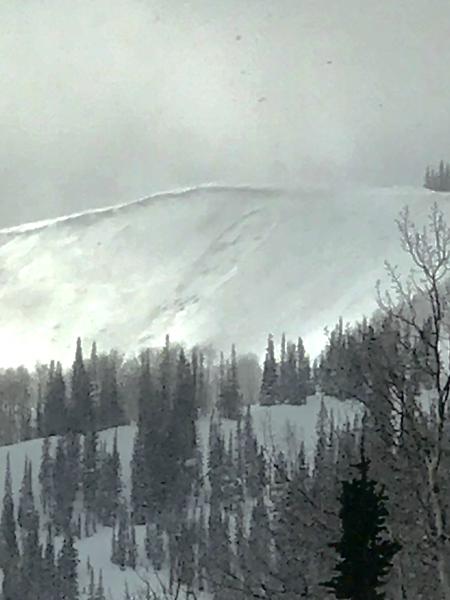 Monday December 31
- Northeast/east winds begin to pick up in the afternoon, drifting snow at the mid and upper elevations. Fortunately the wind effects are much less than the wind event Thursday night and into Friday morning.
The most notable reported avalanche was a skier-triggered slide on an east-facing slope at 9400' in Snake Creek Canyon (
observation
), failing on a layer of facets above a crust: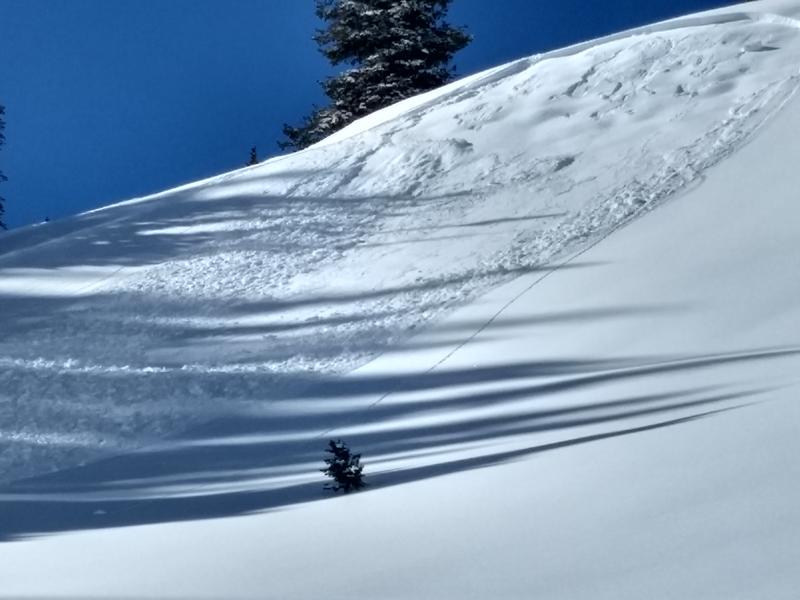 Tuesday January 1 - Cold, clear conditions lead to faceting in the surface of the snowpack. The video below from Mark White in No Name area along Park City ridgeline illustrates how easily the weak snow at the surface can sluff - and run long distances.
Wednesday January 2 - The only backcountry avalanches reported are wet loose avalanches on steep south-facing aspects in Little Cottonwood Canyon. 
Thursday January 3 - No backcountry avalanches are reported other than wet loose activity on steep solar aspects. Cold and clear conditions with continued weakening at the snow surface with near-surface facets and surface hoar (photo below) growth. In thinner snowpack areas entire snowpack is beginning to weaken with faceting throughout. Weak layers at the surface and buried deeper in the snowpack likely to become active with future loading events.