Greg Gagne
Our Week in Review highlights significant snowfall, weather, and avalanche events of the previous week. (Click 
here
 to review the archived forecasts for the Salt Lake mountains.) 
The danger roses for the Salt Lake mountains from Friday December 21 through Thursday December 27:

Summary: A series of weak, but regular, storms deliver regular snowfall to the mountains of Utah. Two avalanches break down into old, weak, faceted snow down near the ground, and a close call with a partial burial in White Pine Canyon. Since last Friday, the upper Cottonwoods have received nearly 2' of storm snow with 1.7" of water. About half that amount on the Park City side of the range.
Friday December 21 - The winter solstice delivers 4-6" of storm snow (with 8-10" in the upper Cottonwoods)  that bonded well to old snow surface that consisted of dense snow and graupel. 
Saturday December 22
- Clear skies and excellent visibility. West/northwest winds overnight create some dense wind slabs in upper elevations on easterly aspects, with several skier-triggered avalanches from the backcountry. Most were quite small, but one large, skier-triggered wind slab  the east face of Reynolds Peak (
observation
) Photo: Coyne
The most significant avalanche reported is from Days Draw (
observation
). This was on a NE aspect at 9900' that broke down into old facets near the ground. This was on a steep slope with thin a thin snowpack - about 24". This slope had avalanched back in November, leaving a thin, faceted snowpack in place. This avalanche is an indication that the persistent weak layer at the ground on upper elevation northerly aspects is not dormant.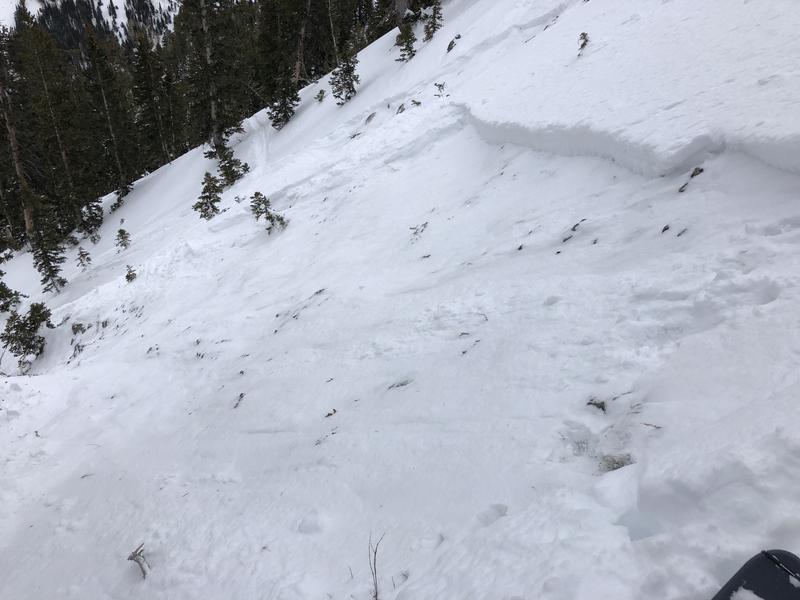 Sunday December 23 - Skies cloud up late afternoon with light snow showers. The only backcountry avalanche reported is a skier-triggered wind slab on a northeast slope at 10,400' in the Brighton backcountry. Otherwise, reports indicate instabilities with recent wind slabs to have largely settled out.
Monday December 24 - Snow showers overnight and into Christmas Eve morning deliver 2-4" of fresh snow to the Salt Lake and Park City mountains. Winds are westerly with strong gusts at the upper elevations. Other than a small wind slab avalanche, no avalanches are reported from the backcountry.
Tuesday December 25
- 2-4" of new snow with southerly winds. Another avalanche failing on weak snow at the ground in South Monitor Bowl along Park City ridgeline (
observation
). This was on an east-facing slope that had avalanched earlier this season: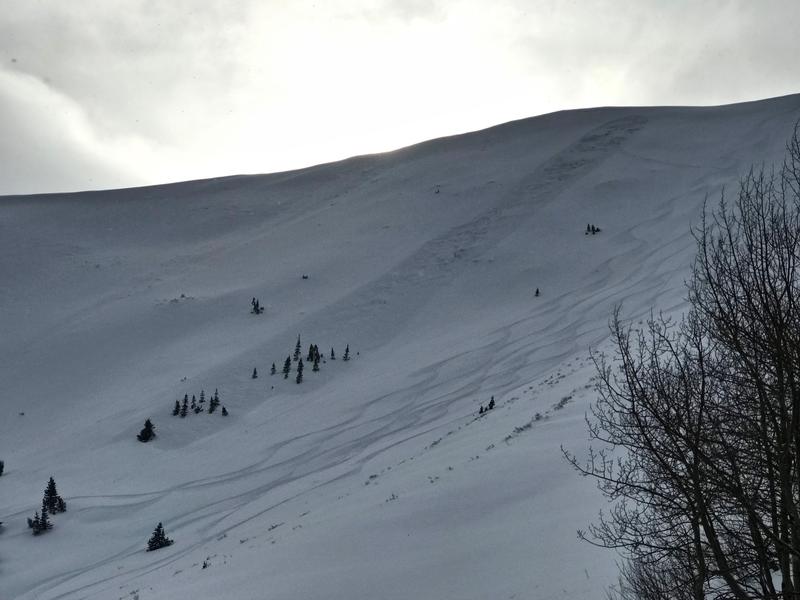 Wednesday December 26
- Snow showers deliver 4-6" of very low-density snowfall to the Salt Lake mountains, with west/northwest winds. Most activity only involves sluffing in the storm snow, however a skier-triggered avalanche in White Pine canyon results in a partial burial with a very quick rescue (
observation
). This occurred on a wind-loaded slope on a southeast aspect at 10,500'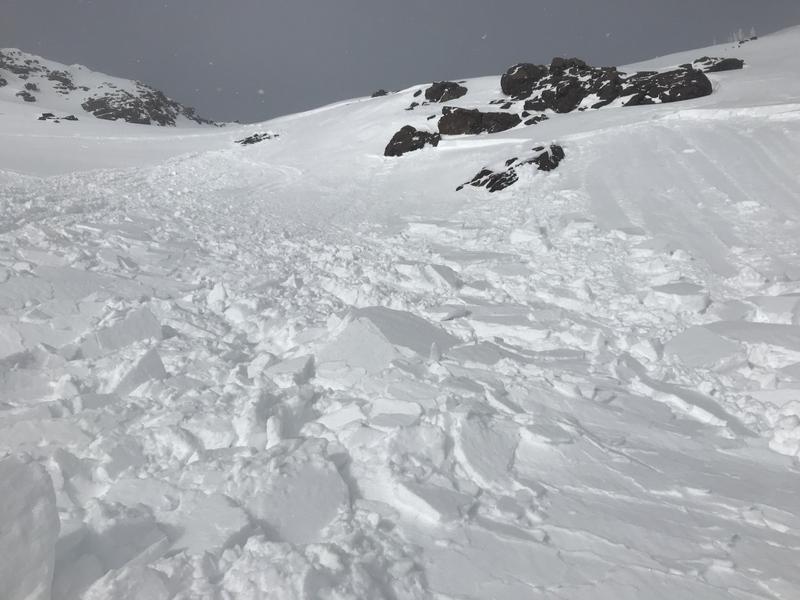 Thursday December 27 - Colder temperatures and light northerly winds deliver another 1-2" of low-density storm snow. High on Box Elder Peak, a skier triggered a shallow hard slab a couple feet below the ridgeline on the southwest face at 11,000'. It was described as a "D1" on the destructive scale, "relatively harmless to people".