Greg Gagne
Our 
Week in Review highlights significant snowfall, weather, and avalanche events of the previous week. (Click 
here
 to review the archived forecasts for the Salt Lake mountains.) 
Summary: Warm, dry weather early in the week, with a windy storm midweek.
The danger roses from Friday December 7 through Thursday December 13:
Friday December 7 - Quiet weather and no reports of avalanches.
Saturday December 8
- A skier-triggered avalanche in the Ice Box, a steep northwest-facing slope in Porter Fork in Millcreek Canyon. This slide failed on October facets down near the ground, and the skier was dragged through trees and brush, but fortunately did not suffer any significant injuries. The photo below shows UAC staff investigating the debris, and you can read the full report
here
.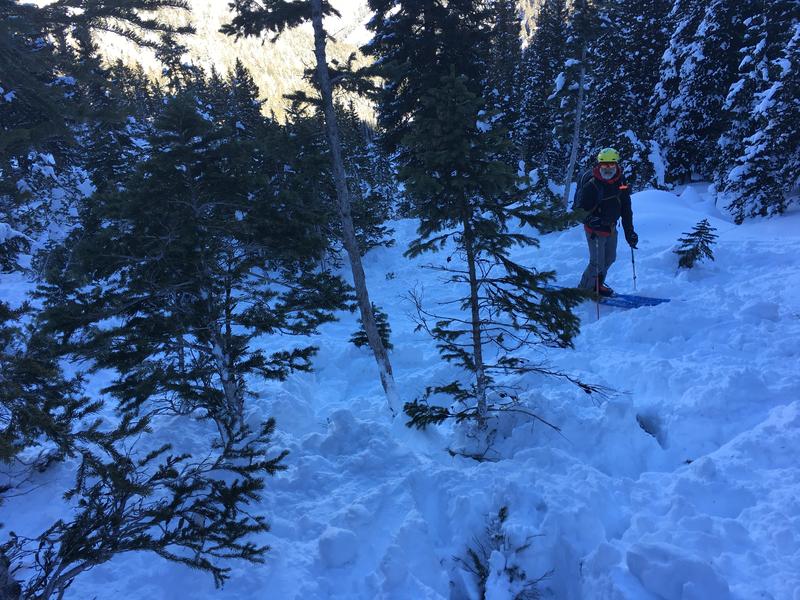 Sunday December 9 - Continued quiet weather, and the UAC lowers the hazard rating for the persistent weak layer problem from Considerable to Moderate, highlighting there are only isolated places where you could now trigger an avalanche on this weak layer (for example, very steep, rocky terrain such as the Ice Box.)
Monday/Tuesday December 10/11 - Increased winds deposit a few wind slabs on isolated ridges, but more importantly, disrupt some of the weaker snow that had formed on the old snow surface. 
Wednesday December 12 - A strong cold front enters the Salt Lake mountains, depositing 6-13", with the highest amounts in upper Little Cottonwood Canyon. The storm was characterized by strong westerly winds which persisted through most of the day. Cracking in the storm snow, especially in wind-loaded areas, is reported, and UAC staff are able to trigger soft slab avalanches on steeper test slopes and from safe ridgelines (photo below). In addition a few natural avalanches are also reported.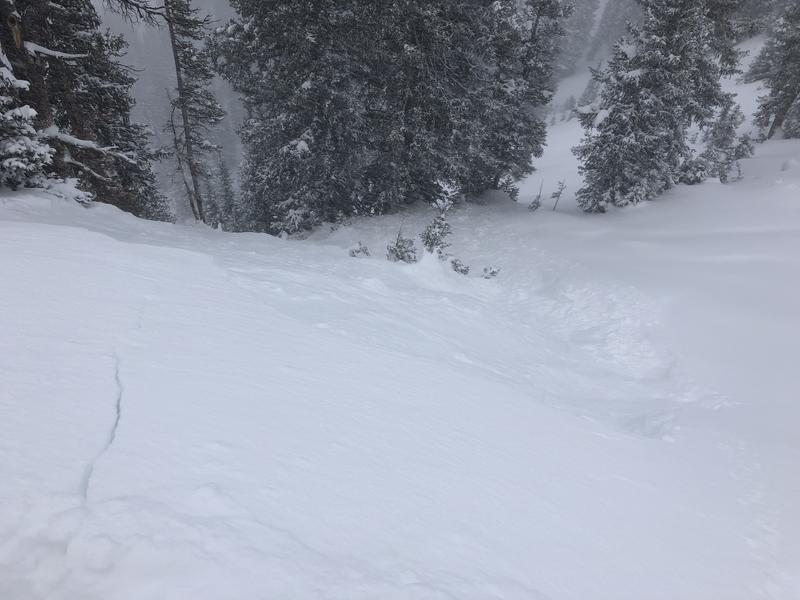 Thursday December 13 - Wednesday's strong winds subside, and skiers flock to the safer south-facing aspects and let north-facing slopes which hold the weak, faceted snow adjust to the recent wind and storm snow. No backcountry avalanches are reported, and control work from resorts report smaller slides breaking entirely within storm snow.