Mark Staples
Director, Forest Service Utah Avalanche Center
---
Thank you to Pete for sharing his thoughts and information about the slide. We sincerely appreciate his openess in sharing this essay from which we can all benefit. The only way we learn as a community is by sharing stories. The only way we learn as individuals is by reflecting on our actions and learning from them.
The accident report is available HERE.
---
My Avalanche Story
By Peter Ingle
On Friday January 26, 2018, I was in an avalanche. I am grateful to have survived. I have been skiing the Utah backcountry for nearly three decades and have always been aware of and concerned about avalanches. I have learned a lot from my time in the mountains and am writing this now so others can learn from this latest experience.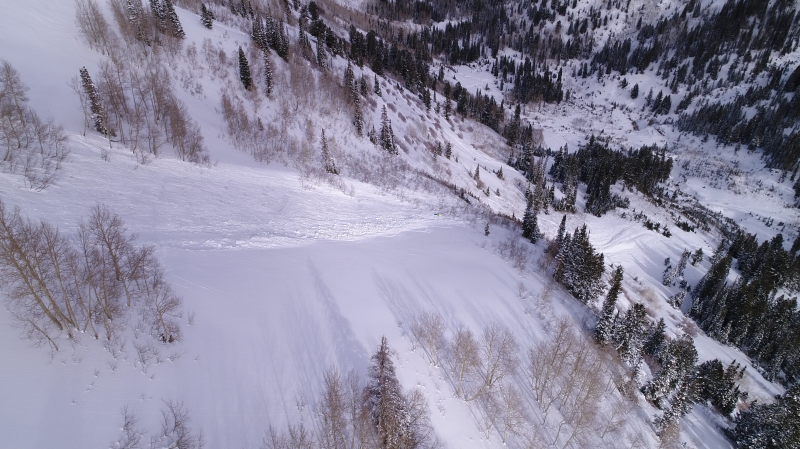 Since the beginning of December, I had 30+ days in the mountains and knew about the many layers, the faceted snow, the lack of snow, as well as the wind and warm air that had been impacting our snowpack. I watched the weather daily, checked the Utah Avalanche Center page and talked with others who skied on days I did not. I knew there were big differences in the snowpack from the PC ridgeline to the Canyons to Cardiff to Alta.
That morning, my friend Brad was thinking of skiing the Meadow chutes. I was very interested as I had not skied there in over 10 years and Brad knows the terrain well. So we made plans to go there. As I skinned up the canyon, I had fond memories of skiing that terrain. At the bottom of the hill in snow only a foot deep, I grumbled about all the bushes but once on the ridge there was 3 feet of snow. We did not dig a pit, but I stopped often to probe to the ground with my poles. We found mostly light snow on top of facets near the ground with some variability in the bottom 1-6 inches, depending on aspect. Similar to what I had experienced all winter.
Someone had skied a run called Silver Spoon. We passed Silver Spoonand looked at a different run. We discussed the amount of new snow, the plethora of old tracks, what line to ski and how we would come back up - a normal routine with most of my ski partners. Making this plan is essential. As Brad skied the first run, I watched for signs of cracking, whumping or other changes. Nothing. We skied throughout the day and saw many people ‑ solo skiers, friends and 2 larger groups. We skied in 3 different areas- El Rollo, the Football Field and a run near Doug's Drop, constantly rechecking the snow.
We met Scott earlier in the day. Brad knew him and gave him the thumbs up to joining us for our final run. Brad selected a run next to Doug's Drop which had a steep middle section. We would descend a less steep section part way then move to the skier's left on a bench below the steeper section. Not remembering the area, I accepted Brad's assessment which avoided skiing that steeper section. Brad set the initial line with room to his right. When he got down, he moved left into some small willow/aspens. Then I skied right of his line. On the bench, I skied to the left but not as far as Brad. I was most concerned about a slide where we had just skied and not the steeper terrain above us.
I got out my phone to take a photo of Scott skiing. As he approached the first trees he changed direction by going over our tracks and towards the steeper open line. The snow fractured to his left, directly above me and Brad. He yelled "slide." For a moment I did not know what he was yelling about as I expected to see him in a slide. It took a second to realize the slide was happening directly above me. Sh&@!!!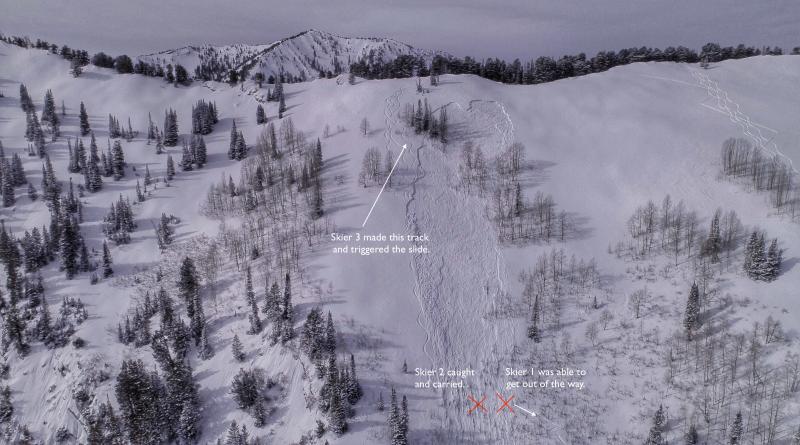 I dropped my phone, grabbed my poles, tried to shuffle towards Brad and get out of the way. I did not make it far before being overwhelmed by snow. I heard it coming and knew it was bad. The snow hit me like a truck. I let go of my poles, tumbled with the snow and trying to swim and get air. I was completely immersed and was hitting small trees. After five seconds maybe, I felt the snow getting lighter and thought "perhaps it is slowing down". Wrong, I was probably airborne going off the rollover. I came down hard on my left side, blowing the air out of my lungs. [email protected]&$. The snow piled on even harder. I thought, this is it, I am going to be buried alive. It was now or never to get some air. I pushed hard off of something with my feet. I struggled with my arm to swim and create a pocket of air. I was again pushed downhill. Then it stopped. I could sort of see light, so I struggled to get my right arm out of the snow and brushed snow off my face and out of my mouth. I wondered where all this blood was coming from.
I was on my back with my head downhill in a sort of "sitting position." I could move my head but not my right arm. My left arm and side were screaming in pain. What happened to Brad and Scott? Was I alone in this situation? Fear engulfed me at the thought of being alone, but then I heard a voice and started yelling, "Help! Down here!" When Brad arrived, he said "I was sure you were dead." Scott quickly checked my vitals, cuts on my face, my back and neck, and my arm. Brad cleaned me up and put warm layers on me. All of us were thinking about my injuries, how to get out, who to call, etc. A few minutes later, I started losing focus but never blacked out. I was determined to live through this ordeal.
I could not get out on my own power; therefore, Brad called a friend working at Solitude Ski Resort to initiate a rescue. Then they focused on trying to make me comfortable and warm while communicating with rescuers. Brad and Scott were great!!! They bundled me in extra clothes, blew on my hands, rubbed my legs and kept me alert. Despite the warm layers, I got really cold laying in the snow for so long. About 1.5 hours later, the Solitude patrol arrived and took charge, put a space blanket over me and a hand warmer in each armpit. I was glad to be alive. They also called a medical helicopter.
Before the helicopter landed, Scott covered me to minimize the wash from the snow, but it was still cold. Once the helicopter landed, they loaded me into it and flew me to a waiting ambulance at Solitude. In the ambulance, I heard the words I longed to hear, "We are going to give you some medicine now to take the edge off the pain." I had survived the accident and was on my way to the hospital!
Long story, but ultimately I was the only one caught. I had a dislocated shoulder with a broken humeral head, numerous contusions and cuts to my face and head, and some damage to my hip muscles. I was lucky!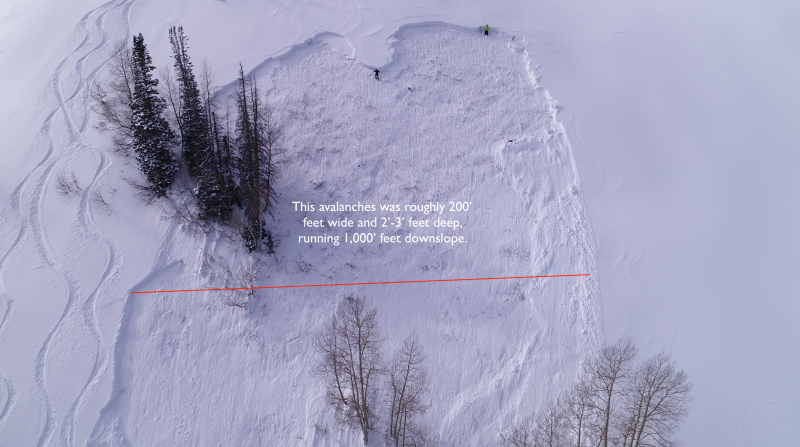 --------------------------------------------------------------------------------------------------------------------
I write this to help my healing and to share some insights. Here are some final thoughts.
Communicate more when new people join your group. Scott has an amazing amount of experience and knowledge, but we did not take the time to talk about our ski plans with him. Such a discussion may have helped us avoid this avalanche.
Consider all possible runout zones, not just where you are skiing. This broke out in a place I did not expect. I did not know the terrain, and I should have paid more attention where we stopped.
Stopping mid slope is necessary sometimes. Consider putting boots in walk mode while waiting for the rest of the group and keep your poles on either side of you instead of together on one side.
Know what rescue gear you and your partners have, in advance. Miscommunication means we did not use all that we had. Here is what I will carry now: a good shovel, probe, extra hat and gloves, space blanket, hand warmers, painkillers in the med kit, spare down jacket, phone, and numbers for help already in them.
Remember that a lot of accidents, not just skiing, happen at the end of the day. You are more tired, you have been focused for a long time already, and home sounds good. Keep it together right until you get to the car.
The Wasatch is getting crowded. I often feel pushed to ski different areas so I can get untracked powder. This impacts the places I go and the decisions I make.
Never give up. If you are caught, remember to breathe, fight for air, protect your head, swim and do so all the way. My focus on this for years helped me respond appropriately.
I am grateful to everyone involved- Brad and Scott, the Solitude Ski Patrol and other staff, pilot and nurses, ambulance staff, the doctors and nurses at Intermountain medical center, Dr. Michael Chardack, Mark White and Trent Meisenheimer for the great accident report/video, my sons for not giving me a hard time, and everyone who checked in on me. I am especially thankful for my amazing wife, Krista, who has been a rock through this whole thing and who I know understands why I will go skiing again.