Week in Review - Greg Gagne
The past week has been highlighted by what hasn't happened, which is any resemblance of winter.
The most dominant ridging pattern of the otherwise excellent 2016/17 winter season has placed a stranglehold on the Wasatch. High and low temperatures observed this week at Alta guard station at 8800' in Little Cottonwood Canyon:
Saturday 3/11 46/28 Sunday 3/12 40/29 Monday 3/13 50/29 Tuesday 3/14 52/33 Wednesday 3/15 54/37 Thursday 3/16 51/34
As can be seen, it has been several days without below freezing temperatures.Other stations recorded much higher maximum and minimum temperatures throughout this period, reaching the upper 50's at many mountain locations, with overnight lows only dropping into the upper 30's and low 40's.
Warming temperatures causes melt water to move down through the snowpack. Ideally the snowpack allows the melt water to percolate through to the ground, however melt water will begin to move horizontally if it encounters a crust (i.e. a sun crust.) UAC director Mark Staples captured this phenomenon on Tuesday, spreading powdered Tang at the surface, and observing how it percolated until it encountered a crust: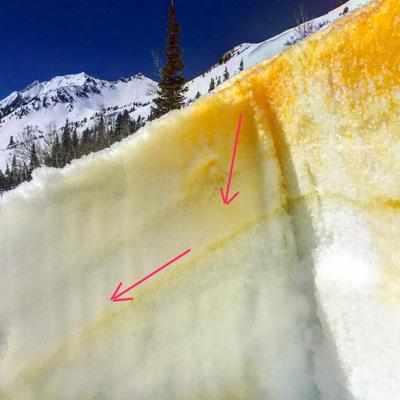 South facing aspects began getting active with wet loose naturals on Tuesday. The waterfall coming out of White Pine Canyon in Little Cottonwood also began flowing on Wednesday. Despite the heat, wet activity began to settle down by Wednesday, an indication thesnowpackhas adjusted to the warming.
Photos of some wet loose avalanches from this past week include: [Mark White, John Climaco]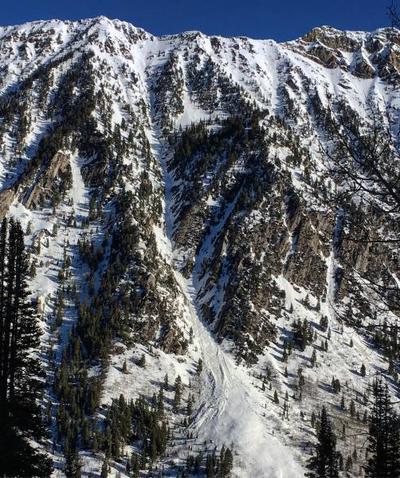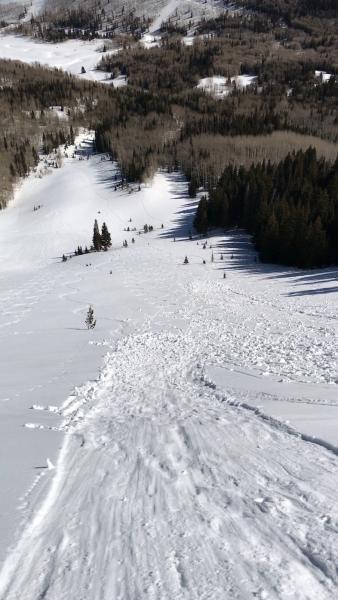 A glide avalanche was reported earlier this week from the Blue Ice area in Broads Fork: [Photo Sean Zimmerman-Wall]