Paul Diegel
Special Projects Director
The Utah Department of Transportation (UDOT) is implementing a revised policy for backcountry closures in Little Cottonwood Canyon this winter to help get SR 210 open quickly and safely, keep it open, and to reduce the likelihood of backcountry travelers exposed to avalanche explosives work. UDOT has thousands of people waiting on them to reduce the avalanche hazard and safely open the road and the sighting of a single person or even evidence of a personnear their artillery targets can delay opening for hours. For this reason, they will be enforcing a complete closure of allbackcountry in Little Cottonwood Canyon the night before any planned avalanche mitigation work. If this revised plan does not work, more restrictive closures may be needed.
If you don't want your early-morning mountain therapy session to be shut down, it would be wise to pay attention to UDOT activity this winter.
Details of the new policy:
In a typical storm scenario, all Little Cottonwood Canyon backcountry will be closed at 8 PM the evening before an anticipated 6:30 AM shoot. The most likely opening time will be 8 AM. This includes areas on both sides of the road accessed from White Pine trailhead.
The closure includes everything within 1 km of a target. This includes ridgelines and a portion of the backside. A closure is not a recommendation. Closures are enforced by Salt Lake County Ordinance13.12.010 - Closed or unsafe areasand Town of Alta Ordinance5-4-1: AUTHORITY TO PROHIBIT OUTDOOR TRAVEL. Violators are subject to arrest.
If the opening is going to be later than 8:30 AM, UDOT will post updates.
Backcountry closures will be announced by 8 PM the night before anticipated closures. Sometimes the weather serves up surprises, and it's possible that a planned closure won't happen or that plans will change in the middle of the night. But every effort will be made to finalize a plan the night before and stick with it.
Announcements will be made on Twitter (#UDOTavy)
The Utah Avalanche Center (#UACWasatch) will retweet the UDOTavy message.
Backcountry road closures will be announced in the SLC advisory and in the Dawn Patrol Hotline
A bright red UDOT message will appear on UAC pages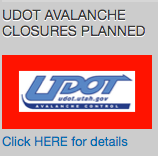 Some suggestion for avoiding closed backcountry terrain:
Subscribe to the UDOTavy and the #UACWasatch twitter feeds and receive them via text Instructions to get either Twitter feed via text
Call the UAC Dawn Patrol Hotline before you go out (888-999-4019 option 8, generally updated by 5 AM)
Check utahavalanchecenter.org before you go out
On days that you have any reason to believe that control work will be done, plan to ride somewhere besides LCC. Big Cottonwood Canyon avalanche explosives work will be required occasionally and will be communicated in the same way. Much less often, though, and typically with more advance warning.
When closures are in effect, stay away from the LCC ridgelines, regardless of where you start your tour
UDOT is committed to keeping the road open to provide safe canyon access to all of us. Evidence of anyone in a target area brings all avalanche explosives work to a halt. To say the military weapons used for avalanche explosives work are extremely dangerous is an understatement. One accident involving explosives and the public will likely shut down all highway avalanche explosive work in the US. Living so close to the Greatest Snow on Earth is a big part of why so many of us live here, but sometimes the weather, terrain, and number of other peoplecreates a challenge. Be smart and let the highway crews do their job.