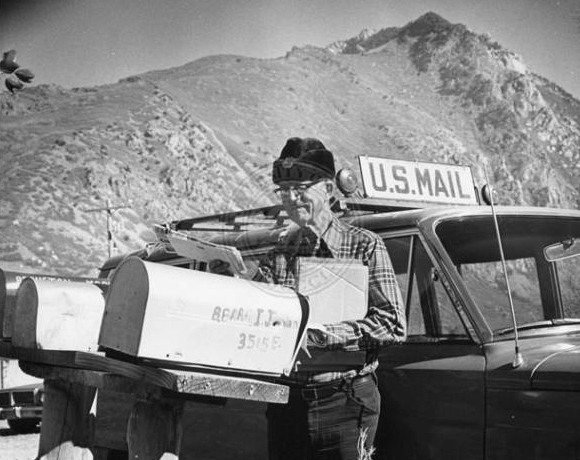 From Ed LaChapelle's essay The Ascending Spiral in The Avalanche Review 24.1 (photo credit -Wilburn and Jean Pickett Photograph Collection, University of Utah Marriott library archives)
"Do nothing in haste"......this speaks loud and clear to the pressures of time, planning and economics, plus the perpetual urge to action that drives so much of our modern life. Here is where the human factor in avalanche-related decisions comes to the fore. And this brings us to Elbert's Rule. When I first worked at Alta in the 1950's, the daily mail was brought up the Little Cottonwood Canyon road by Elbert Despain, who had been doing this for many years, continued doing it for many years and was still carrying the mail at age 90, when he achieved the distinction of being the oldest mail carrier in the United States. As we all know, that canyon is beset by a horrendous series of avalanches. I once asked Elbert how he managed to miss getting caught in an avalanche in all that time. His answer was the epitome of common sense: "After a heavy fall of new snow, wait two days." Note that even the United States Mail, famed for a high determination to deliver, could at least in those times wait two days. Elbert was mostly dealing with natural releases where his Rule is hard to beat. Artificial releases, intended or accidental, can stretch out the safety wait depending on snow conditions, but the concept of giving the landscape a chance to stabilize, "do nothing in haste", points to the fundamental problem of including the human factor in decisions. The idea of waiting two days, or almost any kind of wait, just doesn't fit today's activities in avalanche terrain.
To read the full essay, click here.
It would be difficult to exaggerate Ed's importance and legacy in the snow, avalanche, even glaciology fields. He was a snow ranger in Little Cottonwood in the 50s and 60s. As described by his colleague Monty Atwater -"To describe Ed LaChapelle is to write the specifications for an avalanche researcher: graduate physicist, glaciologist with a year's study at the Avalanche Institute, skilled craftsman in the shop, expertski mountaineer. He even looked like a scientist, tall and slender with a slight stoop and that remote look in his eye which means peering into one's own mind."