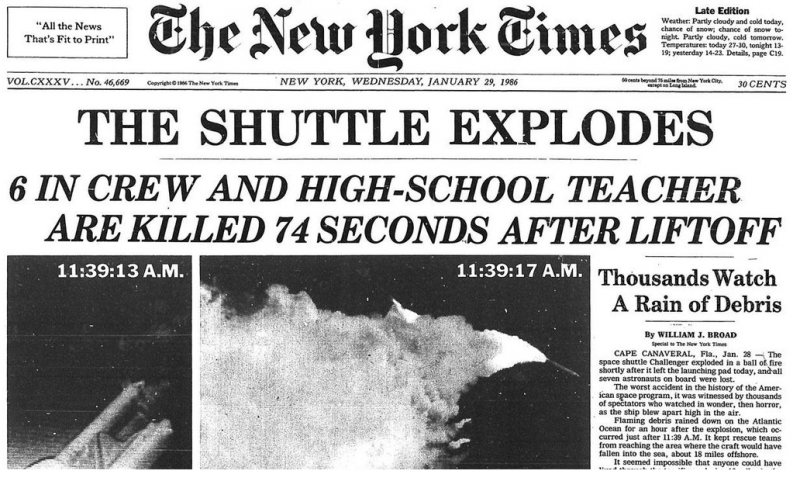 In the aftermath of the 1986 space shuttle Challenger disaster, a great deal of effort and resources went into finding out and understanding What Went Wrong.  Seven astronauts were killed and the event put a dent into the country's collective confidence in NASA, to put it mildly.  Ultimately, the blame was pinned upon the O-rings - or more specifically the putty used in concert with the O-rings - for improperly sealing in the gases used for the solid rocket boosters, leading to the explosion.  In her 1996 book, The Challenger Launch Decision : Risky Technology, Culture, and Deviance at NASA, the sociologist Diane Vaughan argued that the problem was much more complicated and that it had perhaps less to do with a contractor's putty than with something she called the Normalization of Deviance.  
As she described it, the Normalization of Deviance refers to an individual or organization's tendency to cut corners or take short-cuts, perhaps initially by accident and then through intention, as these "new" procedures result in no negative feedback ("non-event feedback") or untoward result(s). And, over time, these deviated-from original policies become the new norm.  The interesting thing is that - again, over time - the individual or organization sees this as normal ("this is how we do it"); whereas someone from outside of the individual/organization/culture would be shocked at what they saw.  
Which brings us to backcountry skiing and riding.  Many of us go into the backcountry for the Freedom of the Hills and to assume our own risk, rather than paying others to mitigate the risk for us.  It may be that many of us understand this idea of Acceptable Risk as it pertains to our own safety and how our own shortcuts may lead us to Drift into Failure, particularly with Persistent or Deep Slab instability, avalanche problems famous for "non-event feedback".  
What fewer realize is the extent that our decisions result in consequences for the community at large.  The collective Acceptable Risk.  Diane Vaughan posits that being clear about standards and expectations and fostering a culture of "we" over "me" that favors responsibility and obligation to the (backcountry) community goes a long way in side-stepping the Normalization of Deviance.  
What might be our Challenger disaster?  
Losing or having terrain above the roads in the Cottonwood canyons severely restricted.
Requiring a backcountry permit system to head into the backcountry
The best disaster is the one that never happens.
Yours, 
Drew Hardesty,
Forecaster, Utah Avalanche Center