Observer Name:
UAC Staff Mark Staples, Trent Meisenheimer, Drew Hardesty
Location Name or Route:
Kessler Peak ~ Chutes and Ladders
Trigger: additional info:
Unintentionally Triggered
Accident and Rescue Summary:
Two skiers were ascending the east face of Kessler Peak on March 8, 2018. They followed an existing skin track that generally ascended a run called Chutes and Ladders. See map image below for approximate location of the top of this run (image from Wasatch Backcountry Skiing Map).
They stopped at a bench and decided to go one at a time. Skier 1 was following a set of switchbacks uphill towards a dense patch of trees. This set of switchbacks climbed above this bench in between two gullies where the avalanche would ultimately run. At 1200 when Skier 1 was near 9000 feet, the avalanche released. This person was carried downhill about 200 vertical feet and stopped as the debris washed down the two gullies. Skier 1 was deposited on the bench in between the two gullies.
Skier 2 watched the avalanche release, put his hand on his airbag handle, and thought he might die. This was a massive avalanche and he knew that he was above a large cliff. When the avalanche hit him, he immediately deployed his air bag by pulling the handle. He was only carried 20 feet.
Skier 1 was using Fritschi Vipec bindings. When in walk mode, tech bindings are typically "locked" at the toe. The Vipec is slightly different in that the toe does not lock. Instead, in walk mode, it has a higher release value. It remains releasable which is an important safety feature if caught in an avalanche. In this case both of Skier 1's bindings released. (Side note - it is also critical to not wear wrist straps on your ski poles. Most experienced avalanche pros cut them off). It may not have made a difference in this case, but having your skis and poles separate from you in an avalanche is vital. Skis and poles that remain attached give the avalanche more to grab and pull you down. Additionally. pole straps prevent you from attempting to swim, dig into the bed surface, protect your airway, or take other actions.
Skier 1 found both of his skis, but one binding was broken. He was eventually able to ski out on one ski.
Once Skier 1 & 2 realized they were ok and had survived, they quickly became concerned about the potential that other people had been in the runout zone. Fortunately, at the time of the avalanche, no one was below and no one else was caught. There easily could have been. A group fo 7-8 people had been walking up the trail which follows the summer road. They were only dressed in light hiking gear and not prepared for avalanches. This avalanche occurred directly in front of them as they hiked uphill. This is a very popular area with users of all experience levels. In fact, when Skier 1 & 2 reached the bottom of the slope, there were at least 15 people in the area looking at this avalanche.
Note: Make sure to scroll to the bottom for "Lessons Learned".
Photo below shows their approximate ascent route by the white line and their rough locations when the avalanche happened. Map below shows the top of the "Chutes and Ladders" run marked by a purple pin.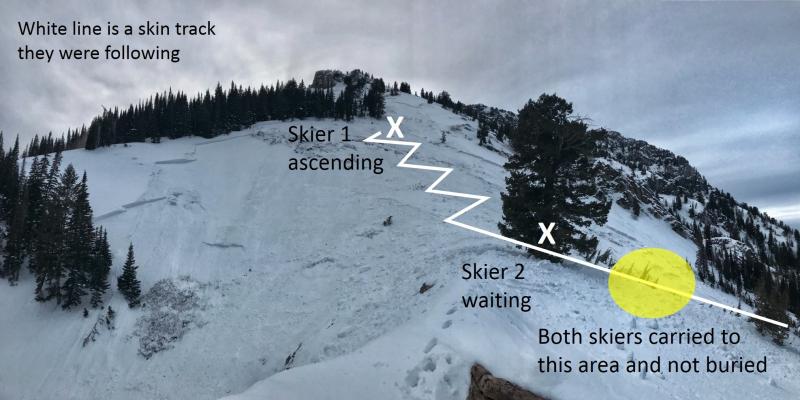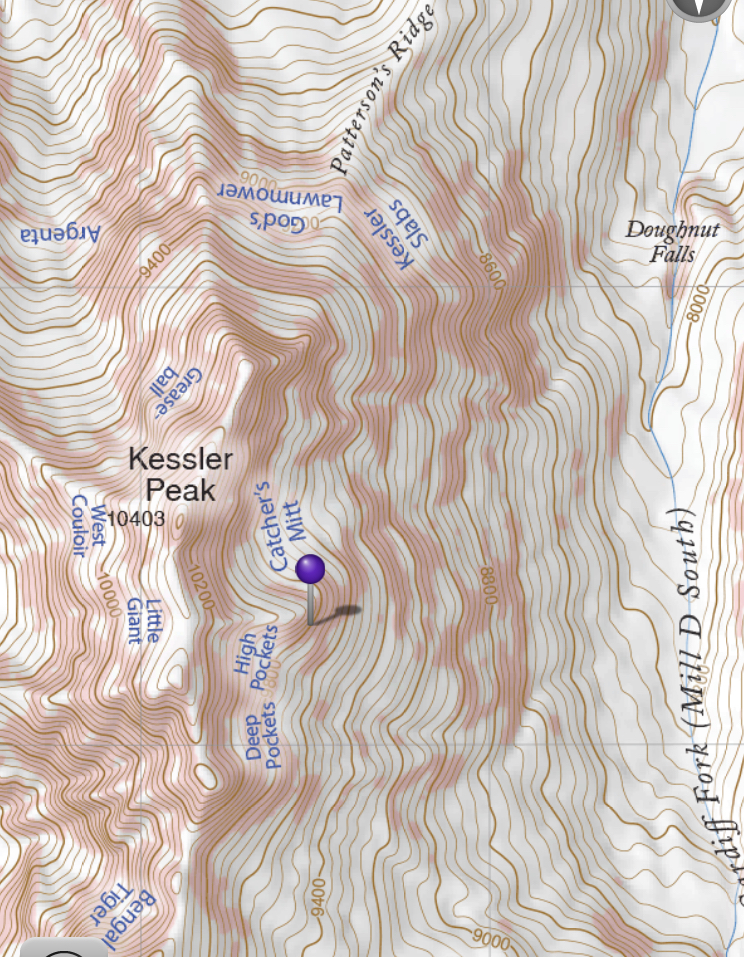 Terrain Summary:
Kessler Peak is the crown of mid-Big Cottonwood Canyon and sits at 10,403'. It has large avalanche paths nearly along its 360° perimeter and is the site of a number of avalanche accidents and fatalities over the years. It is steep, rocky and studded with various cliff-bands, couloirs, and numerous gullies and terrain traps. The Chutes and Ladders ski line is south of the Catcher's Mitt and north of the High/Deep Pockets area of the eastern flank of Kessler. It is steep, east facing and the ski run starts at about 9700'. See map image above.
Kessler Peak has very complex terrain. Many of the slide paths contain many different aspects. This variability leads to huge variability in the snowpack due to sun, wind, etc. Additionally the complex nature of the terrain means that there are very few clean runouts where you wouldn't hit rocks, trees or other terrain traps if caught in an avalanche.
Photos below show the line when skied under stable conditions (Mark White photo). Avalanche photo by J. Gaynes whose party was passing along the summer road just minutes after it released. Gaynes party organized a beacon search of the debris and found no signal.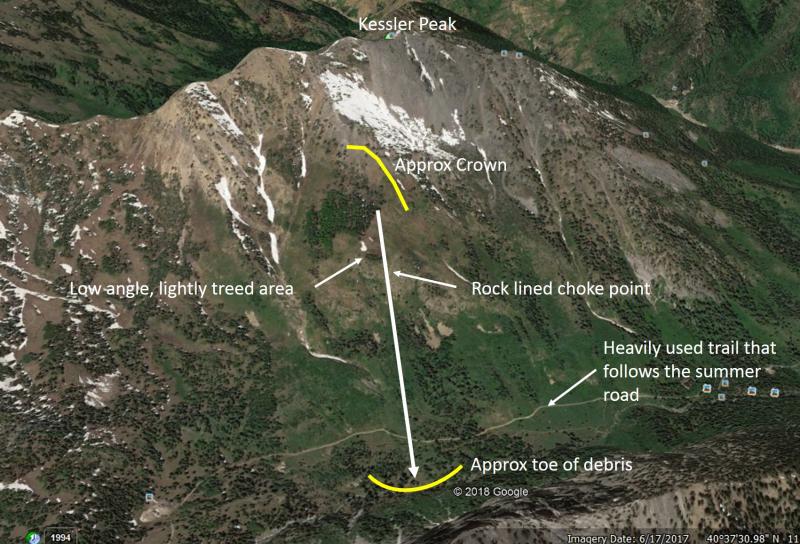 Weather Conditions and History:
A strong Pacific storm system pummeled the Wasatch Range Saturday, March 3-Monday March 5.
Precipitation (Alta Collins - 9662' and Solitude Summit - 9641'): Snowfall began in earnest in the very early hours-just after midnight on Sunday the 4th. Storm totals were 30"/1.95"SWE at Alta in LCC and 19"/1/18"SWE at Solitude in BCC. The storm wrapped up early on Monday March 5th.
Winds (Alta Top of Collins - 10,400'): Moderate to strong southerly pre-frontal winds blew on Saturday March 3rd. Post frontal, moderate to strong northwest winds blew on the afternoon and evening of Sunday the 4th but winds have remained less than 15mph since then.
Temperatures (Solitude Summit - 9641'): Temperatures dropped to the low single digits post frontal on the afternoon of Sunday March 5th. The avalanche was triggered roughly at noon. See high temperatures (Solitude Summit) and solar radiation (Reynolds Peak 9400') trends below.
04 March Sunday high: 11°F @ 1300hrs
05 March Monday high: 14°F @ 1400hrs........Solar Max 1089 W/m2 @1210hrs
06 March Tuesday high: 24°F @ 1500hrs........Solar Max: 811 W/m2 @1230hrs
07 March Wednesday high: 35°F @ 1500hrs....Solar Max: 805 W/m2 @1340hrs
08 March Thursday noon: 37°F.......................... Solar Max: 745 W/m2 @1120hrs
​Temp and solar radiation graphs from nearby Cardiff Peak (elev 10k) below.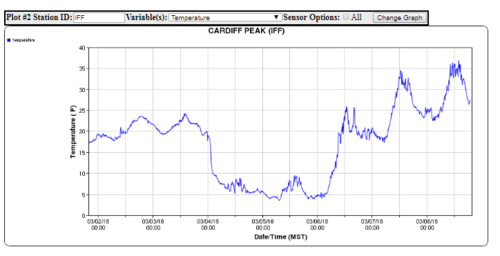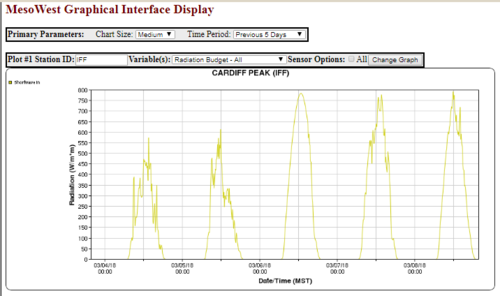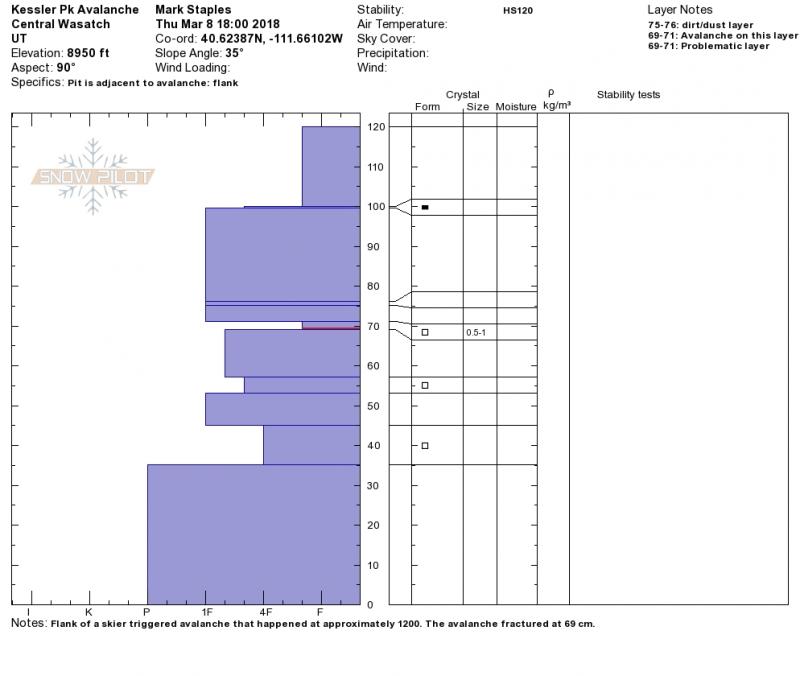 Comments:
First two photos show the dust layer and the faceted layer just under it on which most of this avalanche fractured.
Remaining photos below. Credits: Powderbird (L. Cookler), CJ Jessett, and J. Gaynes.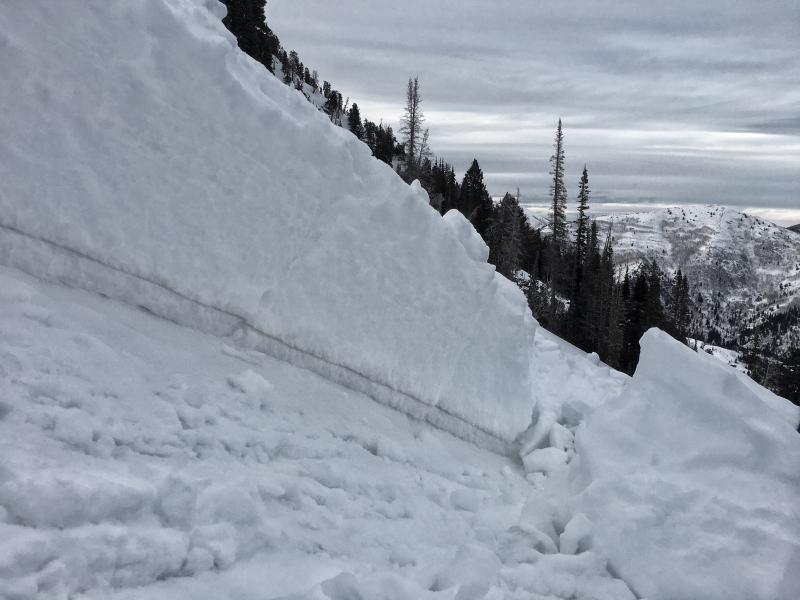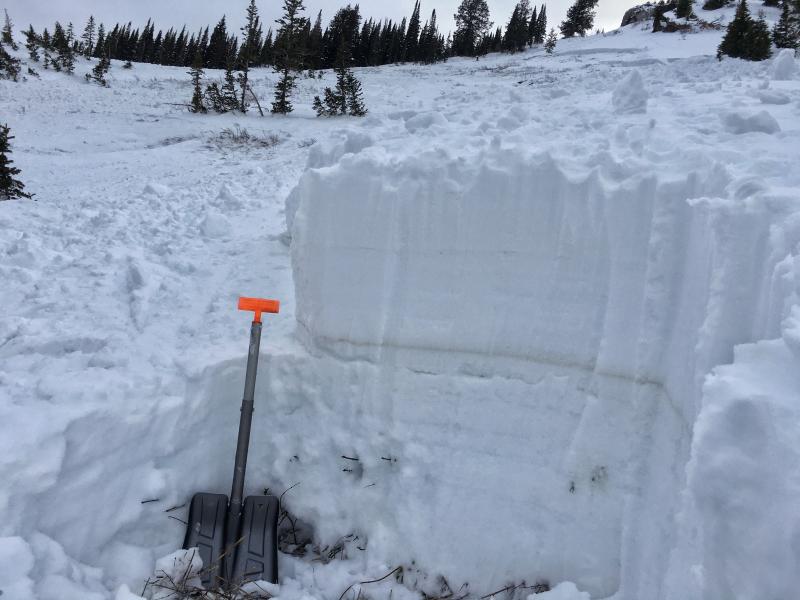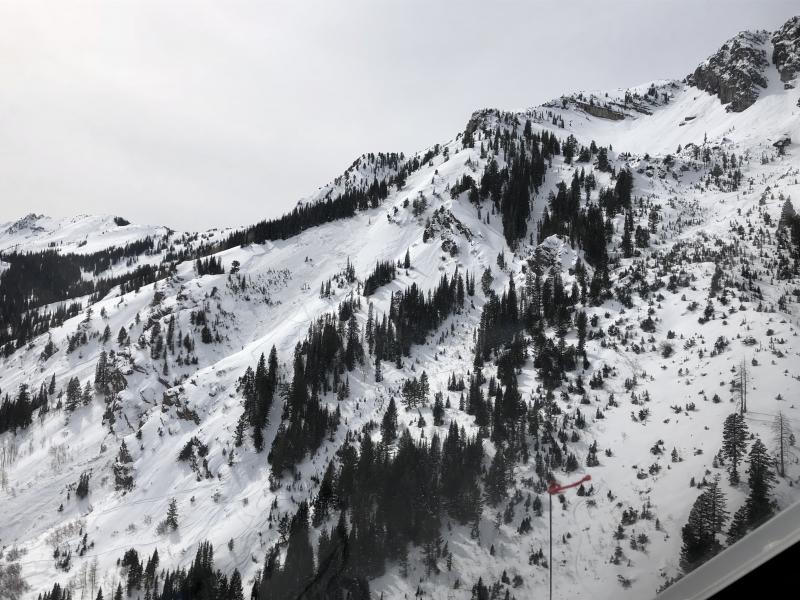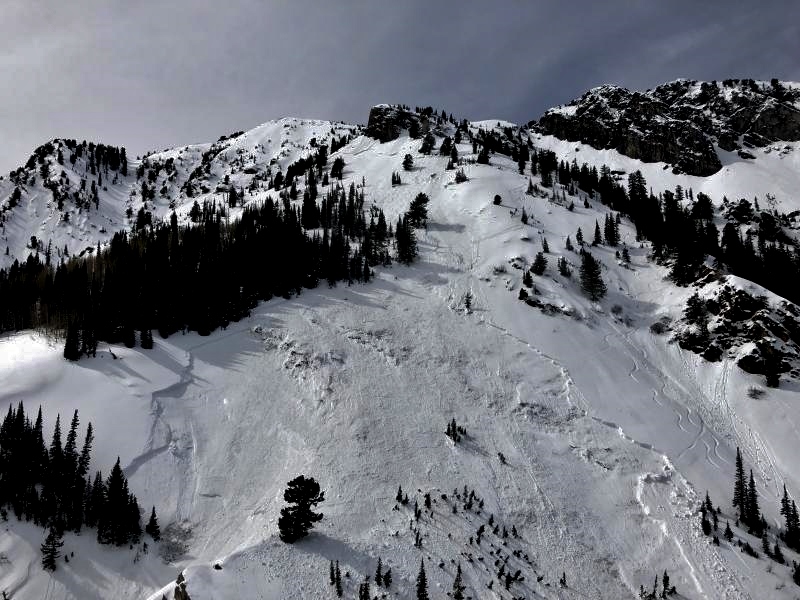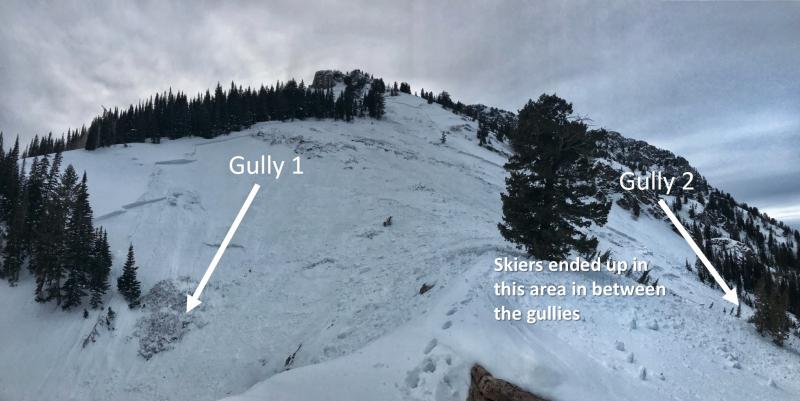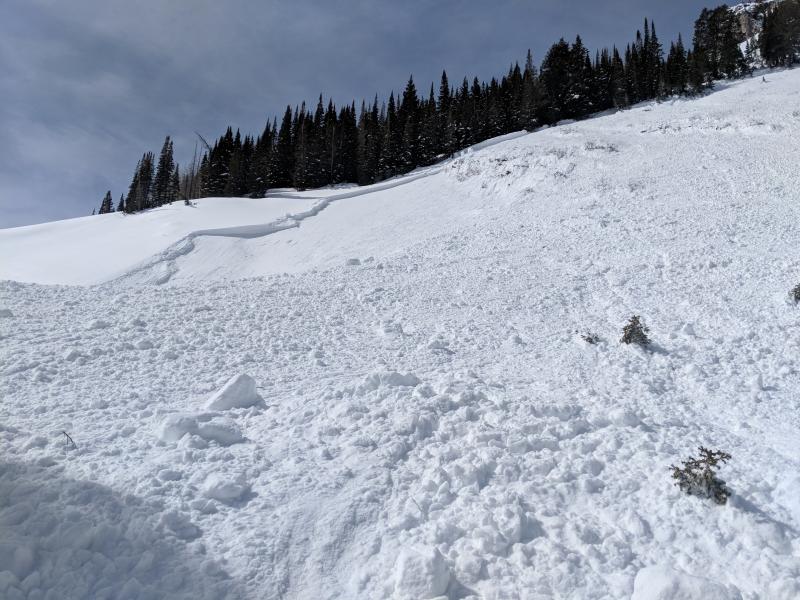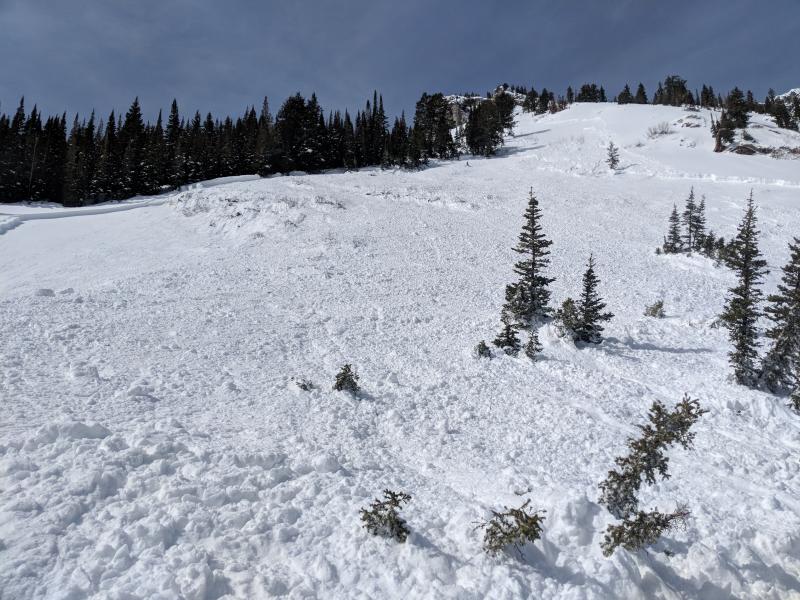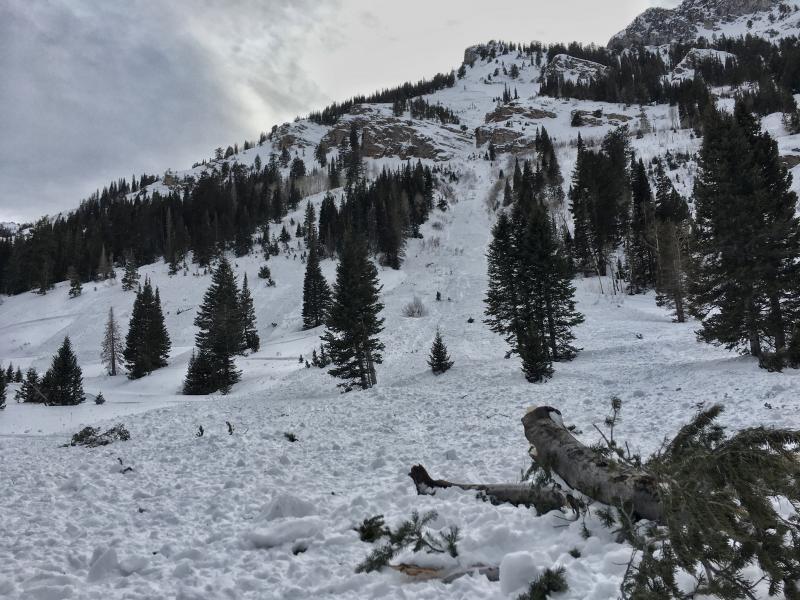 Comments:
A number of natural avalanches within the storm snow occurred on many aspects and elevations during the Sunday storm with a few stepping into old snow. In the following days, the following avalanches were human triggered into old faceted snow either at the early/mid-Feb facet interface and/or at the depth hoar near the ground. Note heat map from March 4-current for aspect/elevation for human triggered persistent slabs in the SLC region.
03/6/2018 Salt Lake region: Accident: Major Evans Gulch, Snowmobiler trigger - 3' deep - 500' wide
03/6/2018 Salt Lake region: Avalanche: Mt Olympus, Snowboarder trigger - 3' deep - 15' wide
03/6/2018 Salt Lake region: Avalanche: Mill Canyon, Skier trigger - 2.5' deep - 200' wide
03/5/2018 Salt Lake region: Avalanche: Mary Ellen, Snowmobiler trigger - 3' deep - 45' wide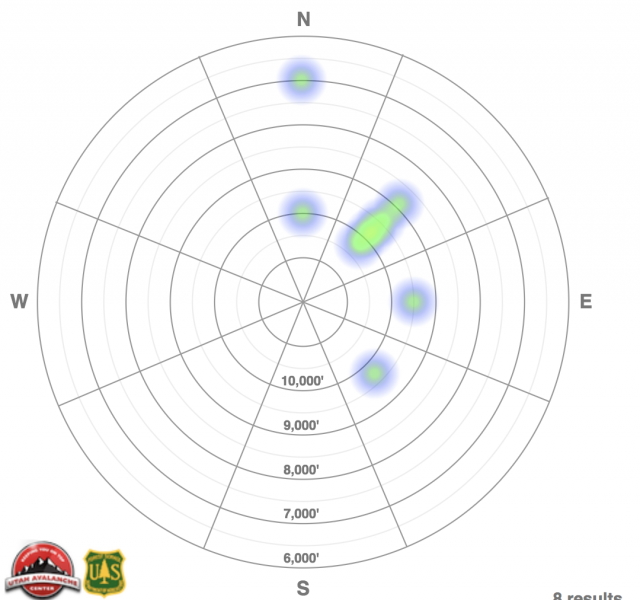 Comments:
Lessons Learned (as reported by Skiers 1 & 2).
Thank you to both skiers for sharing their thoughts and information about the slide. They were totally honest and have opened themselves up to criticism by armchair quarterbacks. The only way we learn as a community is by sharing stories. The only way we learn as individuals is by reflecting on our actions and learning from them. -MS
This terrain was new to them. They had skied once Kessler once before via Argenta. Because it is such complex terrain, it can be difficult to know safe routes for ascent. A recent study by Lees, Raspollini, and George found that 32% of skiers/boarders have been killed while going uphill. Read more HERE.
They felt safe because they were following a skin track and observed 2 sets of downhill ski tracks. It is normal human nature to feel more safe in the company of others...or at least to see that someone else has gone there first. Unfortunately Persistent Slab Avalanches do not work that way. It can be the first person to trigger a slope or the 10th person. You never know.
They feel that they did not pay enough attention to the weather, the advisory, the terrain, etc. The same could be said by all of us who've ever been involved in some accident whether it is avalanches, driving, etc. Many educators recommend slowing down. Digging a snowpit is a great opportunity to discuss everything. While the snowpit itself won't provide all the necessary information, it gives us a good opportunity to discuss everything. Besides, a snowpit just might yield a red flag that you would have missed otherwise and save your life. It only has to take 10 minutes.
Lastly, they said that they never vocalized reasons why they thought following this skin track and climbing the east face of Kessler was a good idea. It might not have changed their minds but would have been a worthy discussion. "It feels good" is not good enough. Pretend your best friend just died and you are speaking to someone's their spouse, kids or parents. Would you have good reasons?
Below is a photo of this run from a different year when faceted snow did not plague the snowpack. Chutes and Ladders is an amazing run!!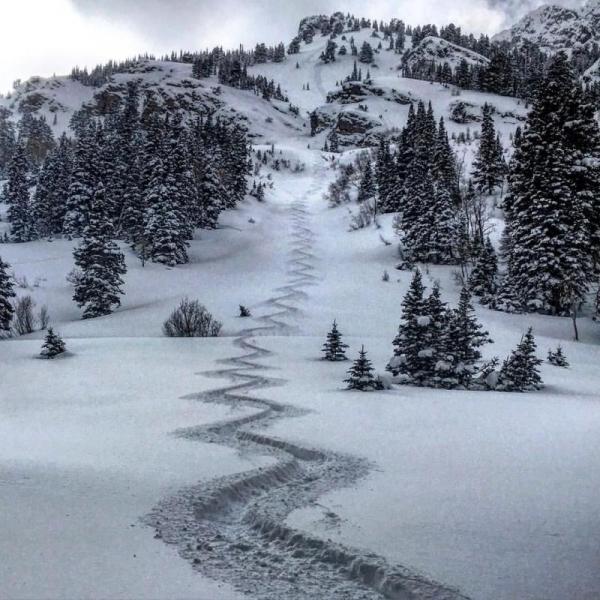 Comments:
Follow up after the avalanche:
Email to UAC staff:
I'd like to buy new skis and bindings for the skier who lost his in the Chutes and Ladders slide. Could you put me in touch with him?
Staff Response:
That is incredibly kind and generous. We really appreciate your offer to that skier. It really helps us work on building a community in which we can share stories and report accidents without shame. It's very powerful and we can't express how much our entire staff appreciates your offer.
We forwarded your email to him.
Reply to staff response:
Well, you see, I was the one that set the skin track that took them into danger. Like them, I didn't know the area well and when I skinned it on Wednesday (to ski Catcher's Mitt, one of the best runs of my life), we started too far to the looker's left, coming up through Chutes and Ladders. We had a moment when we had to decide which way to go and we skinned over into trees, then across the face (where the avalanche broke) back to the ridge line leading into Catcher's Mitt. I knew as I was doing it that it was a terrible choice, but we had boxed ourselves in (ironically, by trying to get to a safe place). So we tried to make the best of it by going one by one across the face. I had my heart in my mouth the entire time.
Now that I've done it, and have seen the terrain by day (we started dawn patrol and were skinning up in the dark, going off the WBSkiing map to try to figure out the ridge line to follow up), I would skin it very differently, and perhaps would skip it altogether by following a better track up Argenta and dropping in through East Couloir as three other skiers did an hour or so after we had left the area on Wednesday. This experience has taught me many lessons (fed, in part, by your excellent write-up).
I know they needed to make their own choice as to where to skin up. I also think they were unwise to go out with the rapidly heated snow. BUT I also know that I did them a disservice by (unintentionally) setting a terrible skin track for them to follow, and I've done my fair share of dumb things touring, so I'd be a kettle calling the pot black if I were to try to blame them.
I can't imagine how much worse I'd feel if they'd been hurt. Replacing skis is cheap by comparison. I hope they'll reach out to me to let me get them some new gear.