Observation Date:
Saturday, November 18, 2017
Avalanche Date:
Friday, November 17, 2017
Location Name or Route:
Upper Little Cottonwood Canyon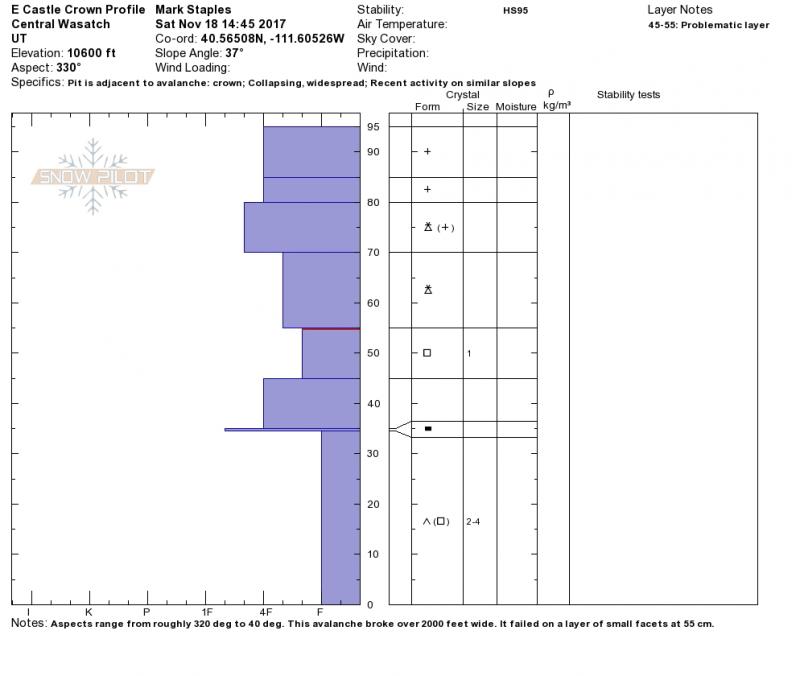 Comments:
This avalanche broke over 2000 feet wide. It happened naturally sometime Friday evening near the end of the storm. There was just a trace of new snow on the debris. It broke on 1mm facets just under a thick layer of graupel that fell at the onset of the storm. One avalanche professional who has worked in this area for a very long time said that he had only seen this slope produce an avalanche that wide twice in all his years.
I got numerous collapses to occur in the meadows under this slope as I was approaching the debris field which tells us that a similar avalanche could occur tomorrow and the foreseeable future. Facets take a long time to heal and tend to only get weaker this time of year (they rarely get stronger this time of year).
Photo 1 - only shows 1/4 of the crown line
Photo 2 - You can see dirt in the graupel that was in the air in the valley when this storm began and was deposited with the graupel. Other avalanches in this area show a similar line in the crowns. It is significant only as a marker. Just below the graupel, I drew a line in the facets on which this avalanche fractured.
Photo 3 - Dark line roughly shows the crown except it broke higher right next to the rocks above the line