Observer Name:
Mark Sevenoff, Eric Trenbeath
Observation Date:
Saturday, December 12, 2015
Avalanche Date:
Saturday, December 12, 2015
Location Name or Route:
Lone Pine run in upper Gold Basin
Trigger: additional info:
Unintentionally Triggered
Comments:
The slide was 3" at my skis and propagated horizontally out to my left. Approx. 40' at the start w/ a maximum depth of 12". After a few turns I could feel (and see the slide). At the same time my partner yelled to cut out, which I did at a 45 and was out in a second to a safe zone. As the angle eased up the slide stopped before the flats. While unintentional, it was suspect and I found the sweet spot. Could not have buried, but a few rocks got exposed and enough power to wrench your knee..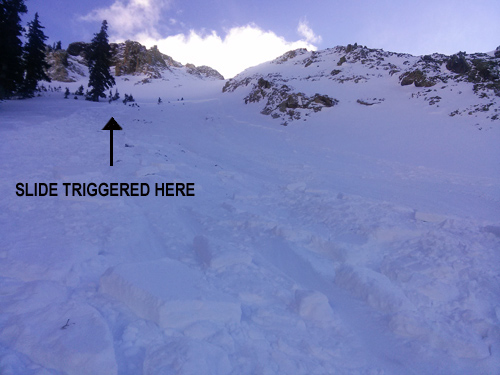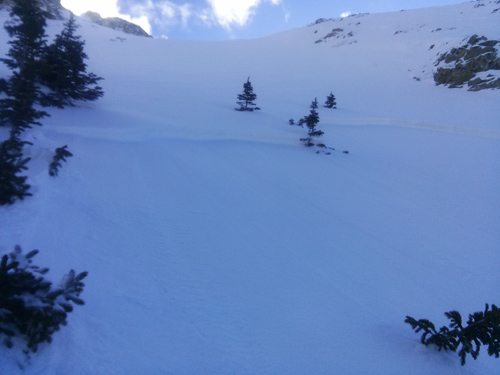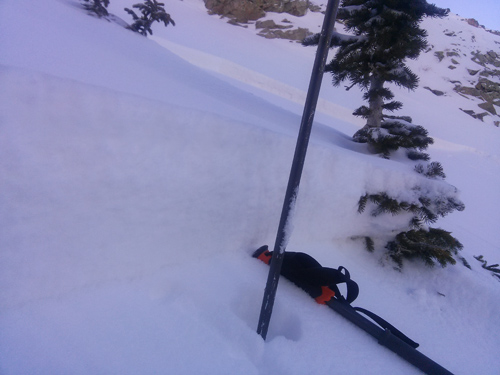 Comments:
Forecaster note: Slab that failed was a 3-8" deep stiff, wind slab that had formed earlier in the week, and that was buried by 4" of loose new snow. Ran on faceted weak layer. Perfectly fit forecasted criteria for the day. Though unintentionally triggered, potential for pocket to release had been recognized, and decision was made to stay off and to the skiers right side of suspect area. About three turns into the run, pocket fractured out to skiers left initiating at about 3" deep and propagating out up to a foot. Skier quickly skied out.