Observer Name
Haffener / Wright
Observation Date
Avalanche Date
Region
Salt Lake » Big Cottonwood Canyon » Mineral Fork
Location Name or Route
Mineral Fork
Elevation
9,200'
Aspect
Northeast
Trigger
Skier
Depth
6"
Width
50'
Comments
We toured from Alta up and over into Cardiff and then into Mineral finishing in BCC. Winds were moderate gusting to strong above treeline in alpine zones all day, with winds ramping up in the afternoon around 1 pm as the front moved in and skies transitioned from clear to mostly cloudy. Winds were southerly and transporting snow onto northerly aspects, cross loading a lot of E and W facing terrain. In the afternoon on our exit, winds picked up considerably, and cross loaded mid elevations resulting in touchy wind slabs on anything that was exposed out of the trees with a northerly tilt. Ski cuts in Room of Doom produced a small wind slab breaking at our feet ~4-7" deep. Once we got into the mid elevations (9100'-9400') we remote triggered a small wind slab avalanche above us (4-6" deep) on a WNW aspect. Descending the mineral gully we ski cut the NE gully sidewalls triggering a 4-8" deep wind slab that propagated and traveled a decent ways down the gully. I believe these soft sensitive wind slabs were failing on lightly faceted snow.
Above treeline conditions on NW-E aspects were a mixture of firm wind board, wind slab, orange peel (faceted old wind slab) some light breakable wind crust, antitracks, sastrugi, and soft faceted wind pressed powder. E and W aspects were more wind damaged with some good skiing where orange peel was present. Due N aspects held the best snow with the least wind effect. Mid elevations in sheltered NW-E aspects held more faceted snow that was quite "loud" to ski through. These areas are most suspect for potential PWL reactivity with the next measurable snow fall. In the am, SW and S held a much firmer breakable MFC. SE held a mixture of soft snow and MFC on SE in the am. Southerly and due W aspects warmed to a damp to wet surface during the day.
There is a decent sized glide crack in upper Room of Doom.
One other note, there are a lot of redundant and bold skin tracks up the middle of steep runs that are not typical ascent routes across the Wasatch right now. Typical ascent routes are used and repeated because they are more defensive, often more avalanche resistant, and safer, while also having the benefit of saving the best lines of snow to be skied and enjoyed, one at a time (while skiing and riding avy terrain).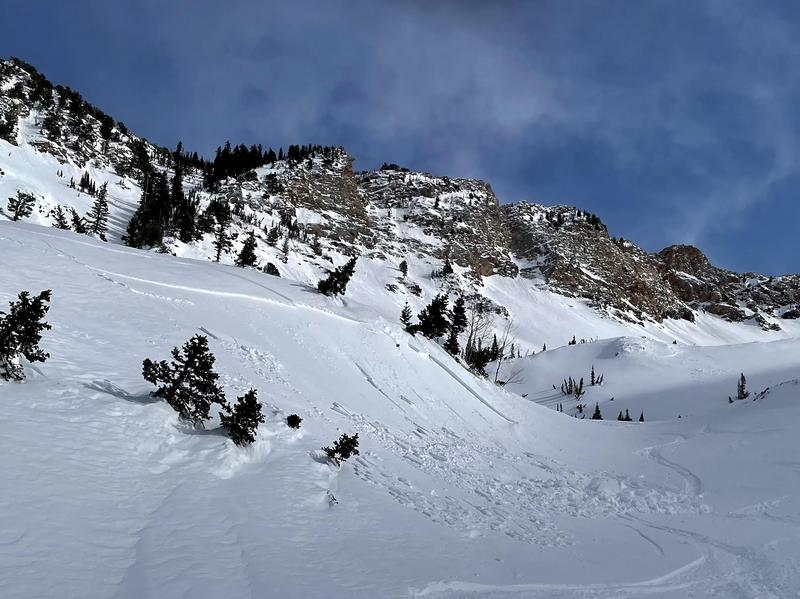 Video
Coordinates