Observer Name
redd
Observation Date
Avalanche Date
Region
Salt Lake » Parleys Canyon » Mill Creek Canyon » Grandeur
Location Name or Route
West ridge of Grandeur
Elevation
7,700'
Aspect
Northwest
Trigger
Skier
Depth
10"
Width
50'
Comments
Quick afternoon trip up the ridge for some questionable skiing.
Overcast and foggy with limited visibility and moderate snowfall rate during the ascent. The storm let up about 5pm up high and the sun peeked out for just before it set. The storm delivered maybe 3-4" of fresh down low, and roughly 8-10" up high, though the depth had a lot of spatial variability due to being shoved around from shifting winds. Most of the wind loading looked to be due to SW winds earlier in the storm, but it shifted NW just before the storm tapered off. Some localized cracking in the storm snow but nothing too spooky on the ridge.
I found some small cornices built by the SW winds hanging over some steep NW terrain, and they broke with very little persuasion. As I kicked the main offender onto the slope it fractured and propagated to 40-50 feet wide, but visibility was quite obscured at the time so I didn't get to explore if it may have gone wider. It broke 6-12"deep and was a very soft slab of drifted storm snow that ran out of sight. It broke on a soft but clean bed surface and the fractures peeled off quickly. I can't speak to the length but knowing the terrain and the speed it took off at I don't imagine it was more than 100-200 feet of vertical, though I can only speculate.
We need a little more snow for this area to ski well, but the herd of ~100 deer and I got a killer sunset view!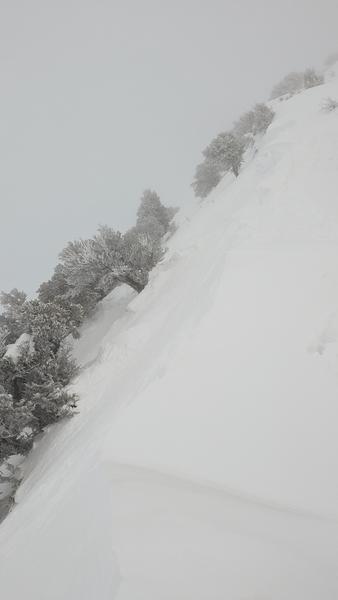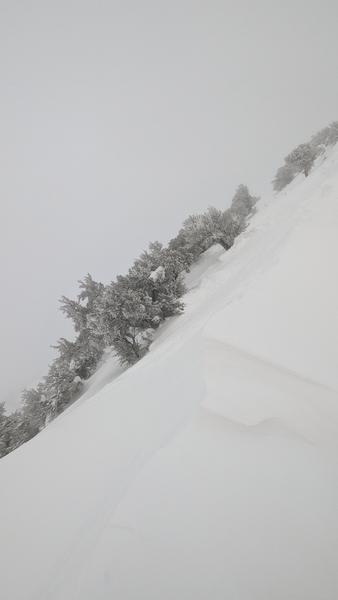 Coordinates