Observer Name
Katz
Observation Date
Avalanche Date
Region
Salt Lake » Big Cottonwood Canyon » Sunset Peak
Location Name or Route
Sunset Peak
Elevation
10,400'
Aspect
North
Slope Angle
35°
Trigger
Skier
Trigger: additional info
Unintentionally Triggered
Avalanche Type
Soft Slab
Avalanche Problem
New Snow
Weak Layer
New Snow
Depth
8"
Width
50'
Vertical
150'
Snow Profile Comments
Super deep snowpack, I had to dig a two meter hole just to strike the ground with my 3m probe! The weak grain in question that is producing these soft slab avalanches appears to be buried stellar crystals 30cm down, of 2-4mm size. My ECTP1 result certainly propagated the full width of the column, but the fracture was not very uniform (pictured).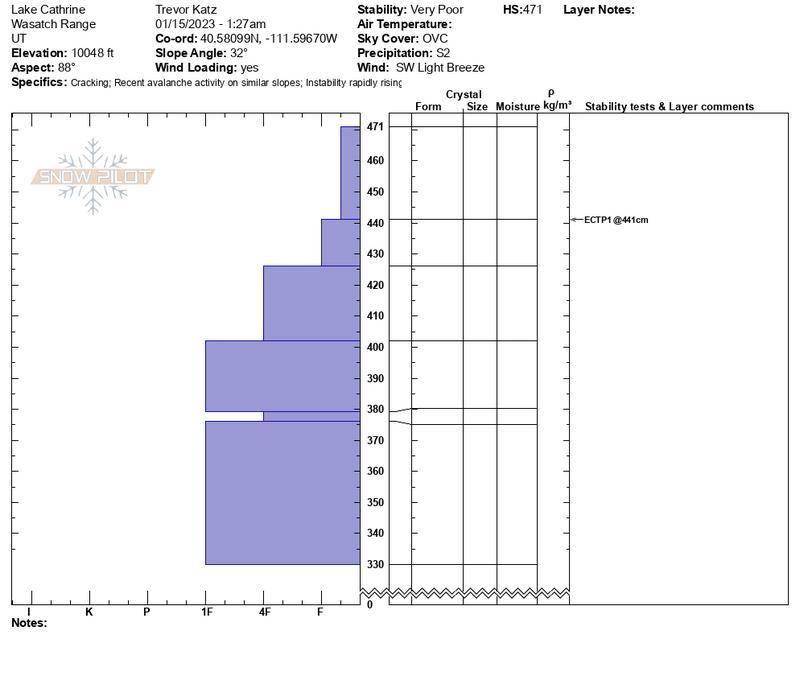 Comments
Skied in the Alta periphery today. Began in Dry Fork where instability, interestingly, was hard to come by. Likely related to the aspects we chose. As skiers began to venture to the Lake Catherine area, instability quickly became obvious and surprising. Widespread almost certain D1 soft slab activity was found on the E through N slopes above Lake Catherine. "Almost Certain" doesn't appropriately describe the reactivity. As I cut a traverse to ski the Sunset doors, I triggered first a D1 soft slab at my feet before the cliff (pictured, skier in photo), and past the cliff, a D1 soft slab broke 50 feet above me, and ran past me, luckily without sweeping me off my feet. (Pictured: crownline photo without the skier - if you can't make out the crown, it runs the width of the photo 8" deep or so). This is the avalanche I am citing in this report, though another party triggered a similar avalanche from the top of Rocky Pt. Didn't get a photo.
As I escaped to non avalanche terrain, I was more than curious to dig. Propagation within the new snow? Blower pow acting as a slab? Sign me up. Snowpit attached. I found that the weak grain in question appeared to be buried stellar dendrites, and I couldn't tell, but maybe some needles were included. In any case, these grains (pictured) reliably produced failures 30cm down on all aspects in handpits. I don't know what changed within the new snow to create this instability, as the snowpack is otherwise rightside up. It should be noted, however, that, for the moment, these avalanches can be triggered remotely; are not limited to breaking at our feet. My hackles are up.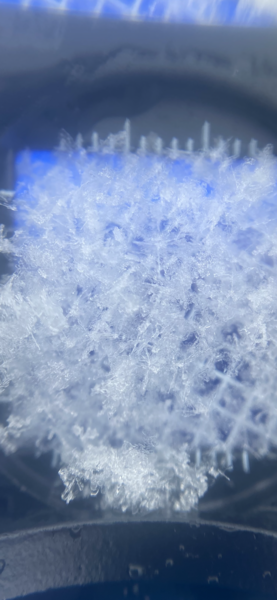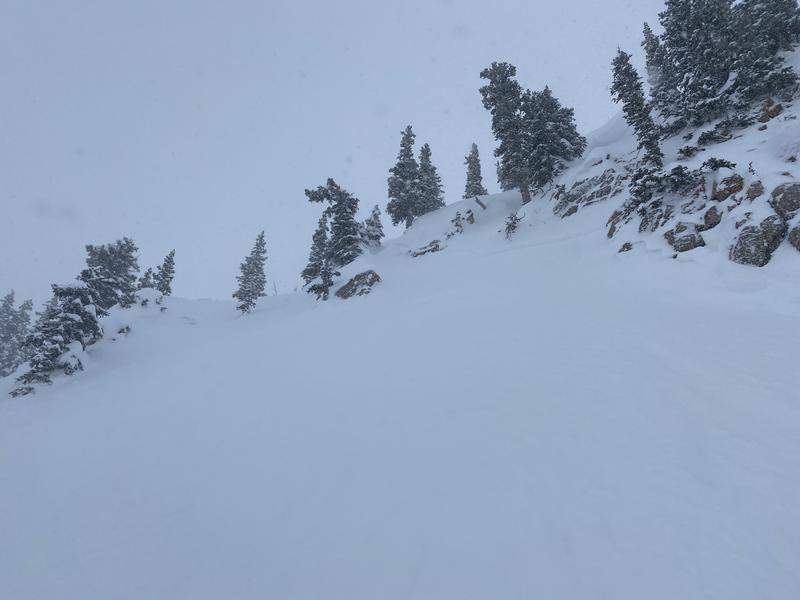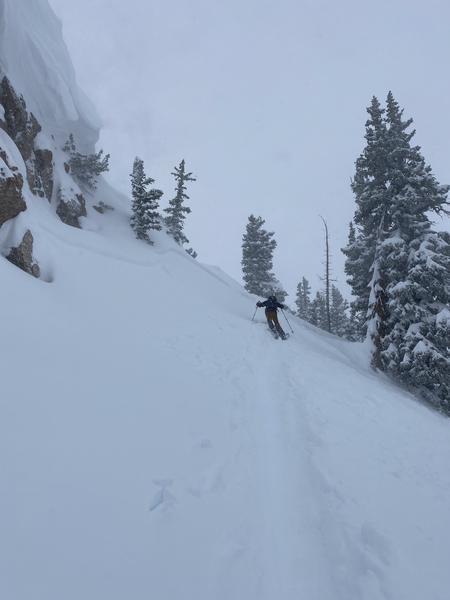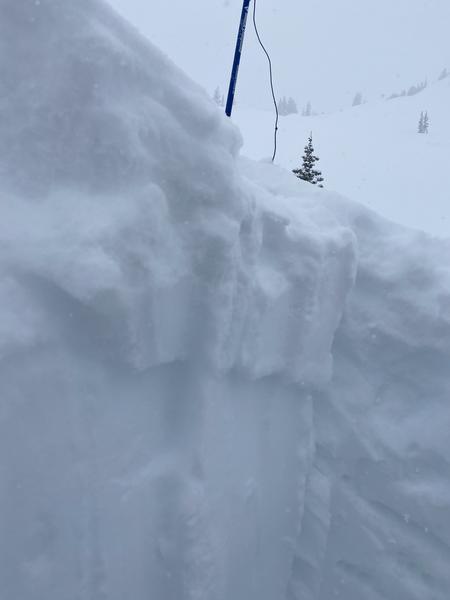 Coordinates