Observer Name
Bill Nalli
Observation Date
Avalanche Date
Region
Salt Lake » Big Cottonwood Canyon » Mineral Fork » Mongo no
Location Name or Route
Mineral Fork - Mongo No
Elevation
10,200'
Aspect
North
Slope Angle
40°
Trigger
Skier
Avalanche Type
Dry Loose
Avalanche Problem
New Snow
Weak Layer
New Snow/Old Snow Interface
Depth
2'
Width
50'
Vertical
400'
Comments
This small dry-loose avalanche initiated in the new snow while skiing a steep north-facing run in upper Mineral Fork. It fanned out an entrained all of the new snow from the Earth Day weekend storm which in this zone ranged from 60-70cm (pic 1, 2). It's likely today's rapid warming allowed it to entrain more snow than was possible yesterday. I was able to ski out in front of the sluff but as it piled up bigger and bigger I had to just pull up onto an island of safety and let it go by. It was barely large enough to bury a person but definitely big enough to not want to get tangled up in it. Another skier triggered a similar smaller slide adjacent to this one shortly before (pic 3 left side).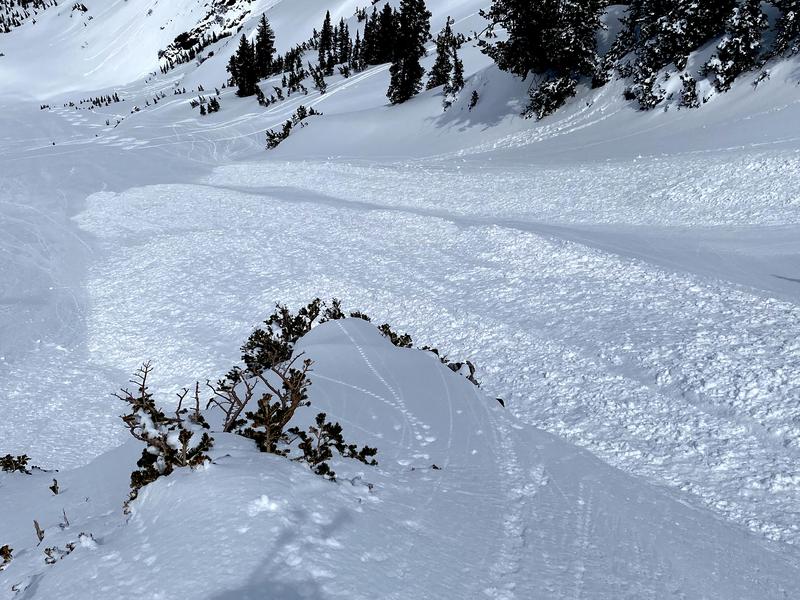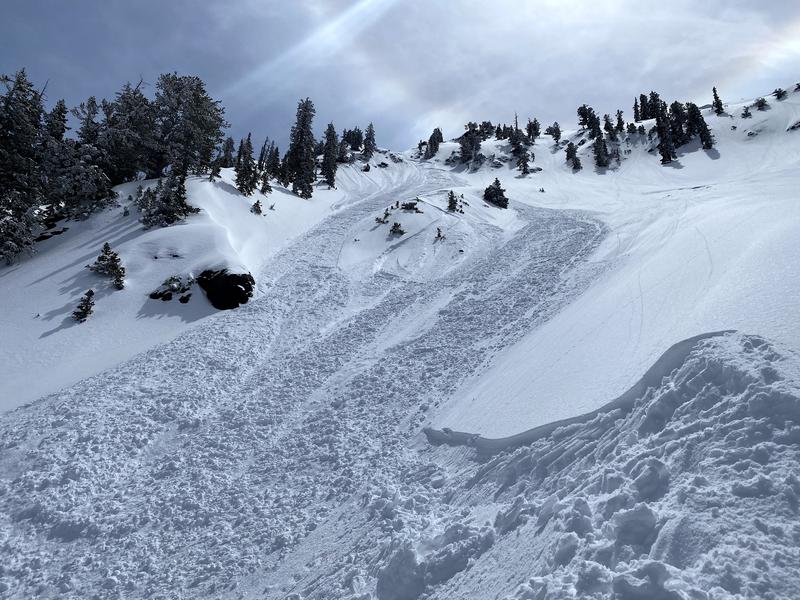 Comments
Overall, this latest storm came in right-side up and bonded well to the old snow surface. It was mostly sublime powder skiing for the last five days! Sunday's breaks in the clouds left a crust at the surface on east, south and west-facing slopes but a small disturbance Sunday night left another 3cm on top (pic 4). High north-facing slopes were spared and provided one more day of cold April powder skiing. I think that's all she wrote for the dry and fluffy however as by mid-day, high thin clouds rolled in and greenhousing occurred. If you must search it out for Tuesday, your only chance will be high, steep, north-facing terrain. Everything else is sure to have a crust in the morning until the really high temps become the main player. I suspect a few more sizable loose-wet avalanches Tuesday in steep terrain all around the compass. So far only small D1 naturals and roller balls were observed from Alta to Cardiff to Mineral (pic 5, 6) west-facing Room of Doom, pic 7 north-facing lower in drainage).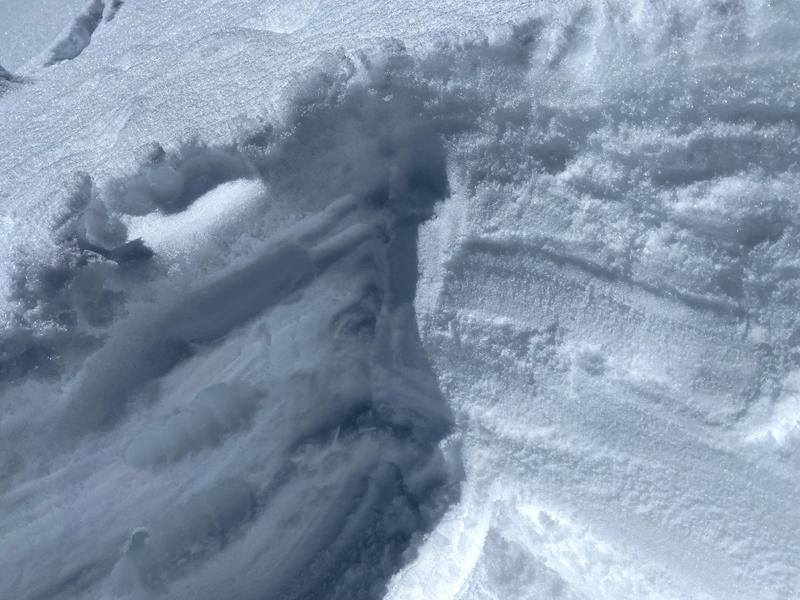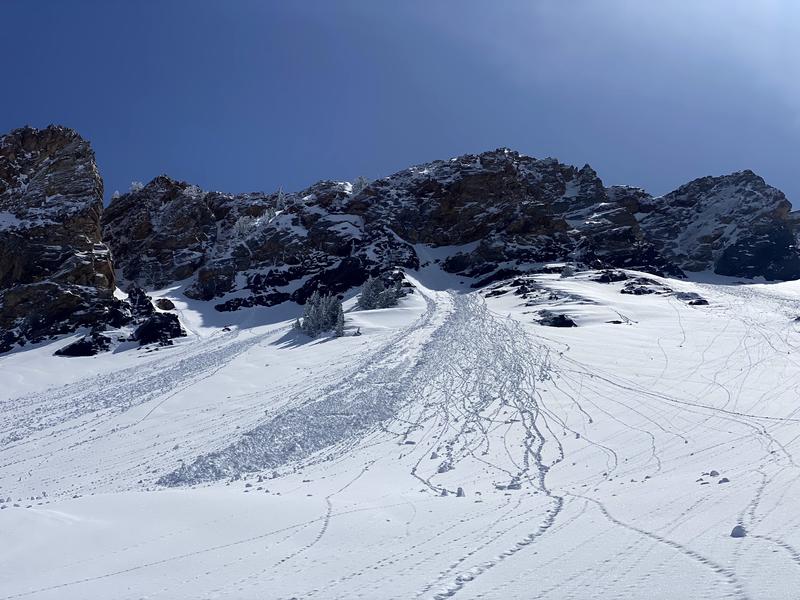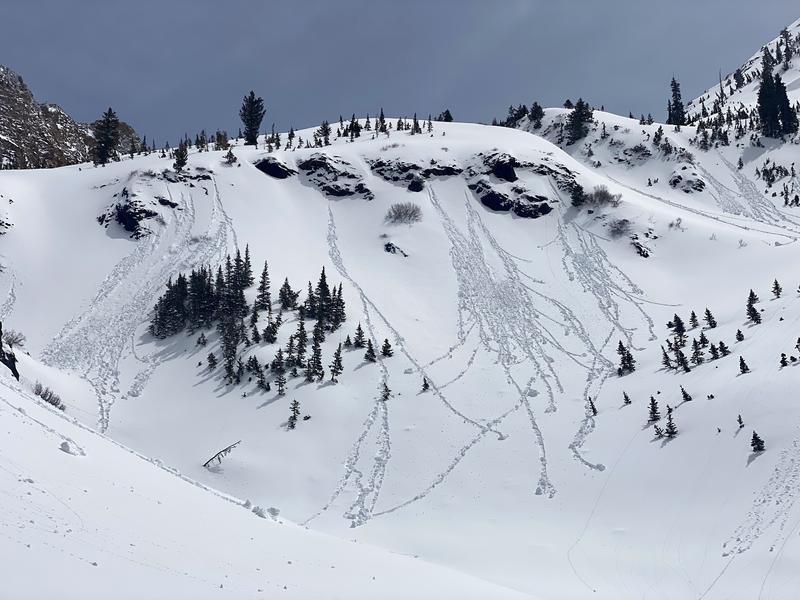 Comments
Just another beautiful halo.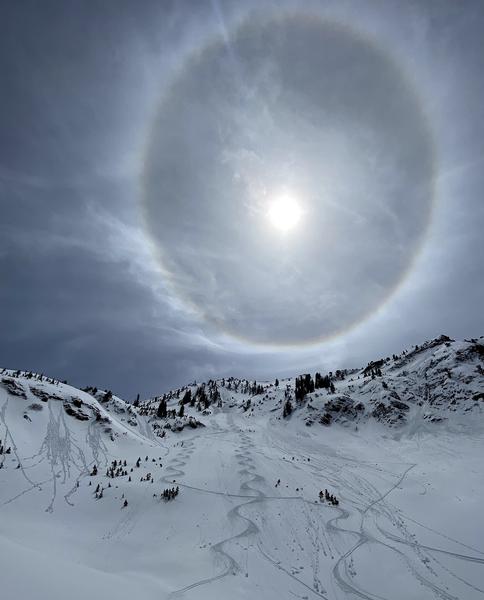 Coordinates