Observer Name
Bill Nalli
Observation Date
Avalanche Date
Region
Salt Lake » Big Cottonwood Canyon » Days Fork » Two Dogs
Location Name or Route
Days Fork-Two Dogs
Elevation
10,200'
Aspect
North
Slope Angle
39°
Trigger
Skier
Trigger: additional info
Intentionally Triggered
Avalanche Type
Soft Slab
Avalanche Problem
New Snow
Weak Layer
New Snow/Old Snow Interface
Depth
18"
Width
50'
Vertical
400'
Comments
Nice cold April storm! Generally 25-30cm of new snow fell in upper LCC and Days Fork by 9 am with another 6cm throughout the day. Moderate to strong WNW wind was interacting with terrain features and loading multiple aspects including leeward cliff bases a bit deeper than that. Upon first inspection, NE aspects along the Emma Ridge had about 30-35cm of new snow on top of the brown old snow surface. The initial 10cm of dense snow seemed bonded fairly well to the dust layer and the rest was right-side up and decreasing density. Wind was actively loading intermittently as seen in this pic skiers left Two Dogs.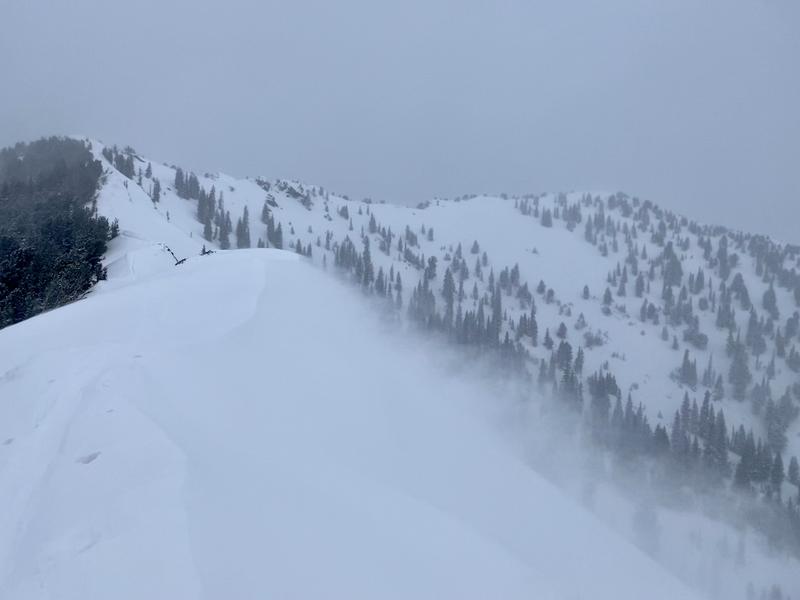 Comments
What follows is a description of what I consider cutting your margin for error a little too close for comfort. We wanted to ski Two Dogs and discussed what seemed to be a manageable plan to stay high along the cliff base to ski cut the steep rounded pillows on the skiers right. Slope angles right along the cliff base are 39 to 40 degrees. With good visibility that the runout was clear I entered high and pushed some loose snow that got moving along the slick old snow surface. I was surprised with two things. This small dry loose slide didn't propagate into the steeper pockets to the right and that it slowly made it most of the way almost all the way to the bottom (Pic 2). Continuing to think it manageable, I skied into the next pocket along the cliff base.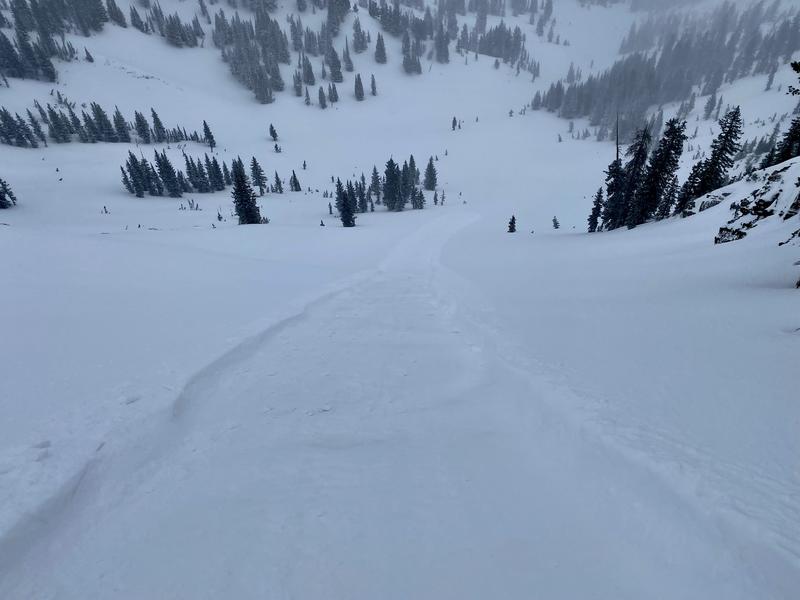 Comments
This next pocket propagated about 10 meters wide and traveled much faster to the bottom of the slope (Pic 3). It was about 35cm deep and failed at the new/old interface that I had previously considered well bonded. I think the combination of a little thicker slab and steeper slope is what pushed it over the top here. At this point it was time to reconsider our plan for a few reasons. First, I had just ruined much of the good skiing on our run and this might push us into steeper unstable slopes to the left and right. Second, were my partners up for navigating more instability than we originally thought? I was still close enough to the ridge to communicate with them and we decided to continue with the second skier skiing left of all the displaced snow. While I stayed in a safe spot under the cliff, he initiated another dry loose slide that caused him to pull up and let the sluff go by. Now we were more committed and continued "managing" our out. Most of the steep terrain had already slid but one pocket still remained to the right. I again entered it high and this one propagated a bit wider and deeper still, 15 meters x 45cm deep (Pic 4, 5).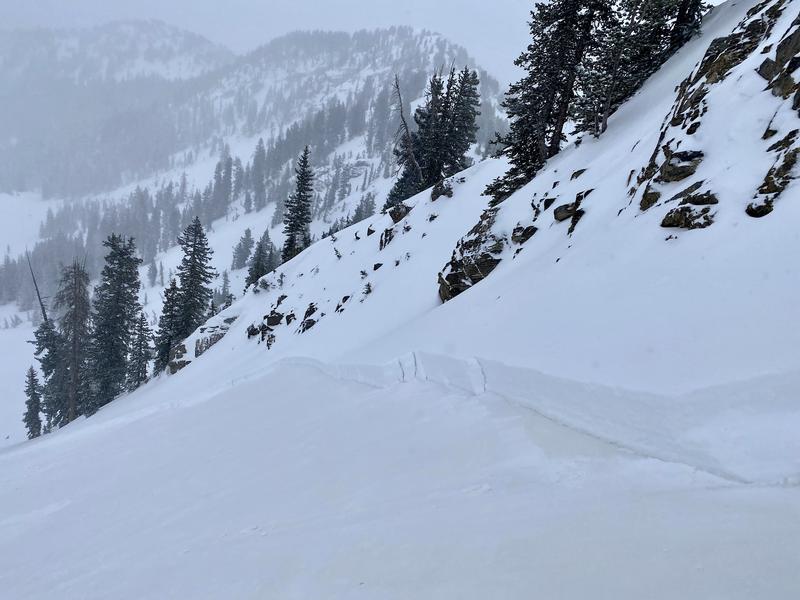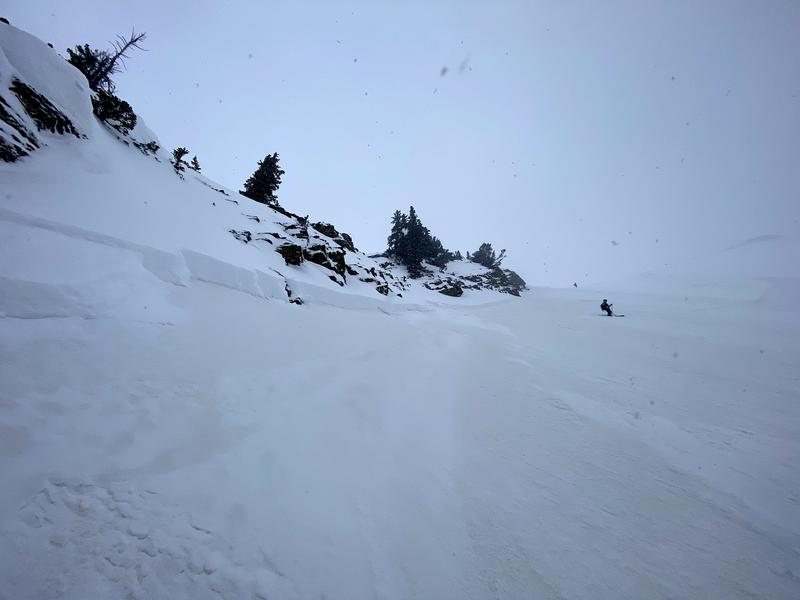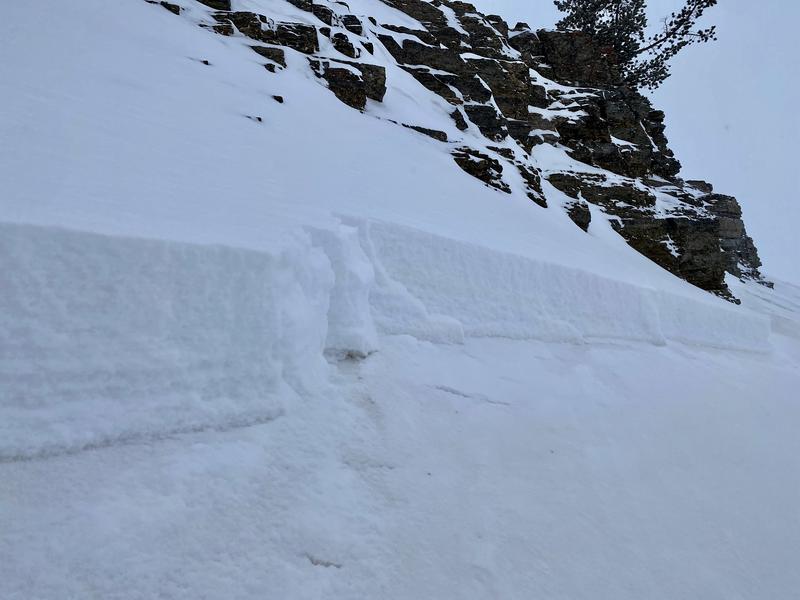 Comments
With most of the main Two Dogs avalanched, we were able to ski one at a time along the flanks without incident and got some quality face shots (Pic 6). In retrospect, I think we pushed our margin for error right up to the line of what should be acceptable. We didn't have to ski the slope. We could have easily chosen a lower slope angle and had fine runs. We chose to "manage" it because I have a lot of experience doing this type of thing and we were a strong group. To be fair, I have been doing this type of active ski cutting for over 25 years both in ski areas and the backcountry and did actually manage it properly. But any time you commit to this extra risk you have to acknowledge there is a lot of uncertainty. What if it was a little more stubborn and waited until I was a few more turns into it to release? Or what if my partner didn't pull up and his sluff knocked him over and tweaked his knee? It's made me re-evaluate my goals for any given ski outing and for this I wanted to share more of the details. Avalanche educator Sarah Carpenter recently wrote a nice article in the latest issue of The Avalanche Review that talks specifically about this idea of manageability. She quotes Dave Richards from Alta and its so poignant I'll re-quote. "...avalanches are not manageable. However, terrain is. And actions are as well. The goal of the backcountry skier is to manage their terrain and actions at all costs."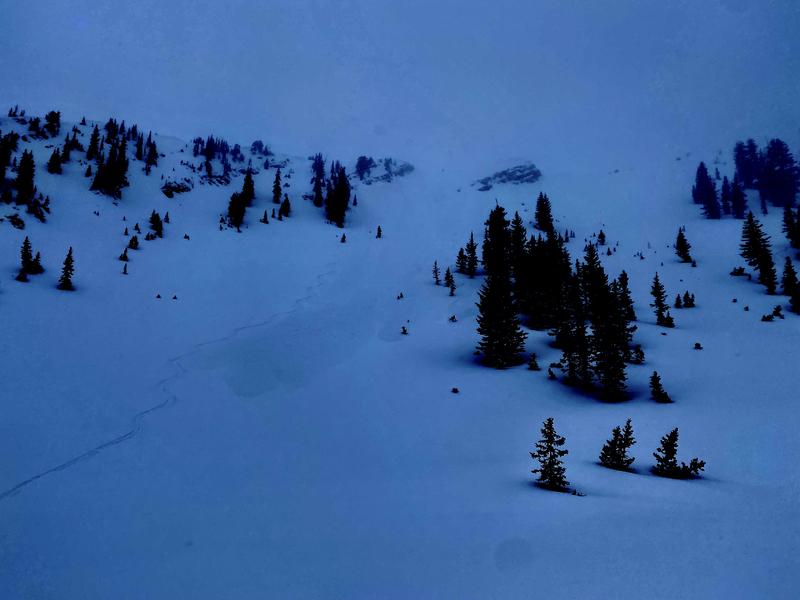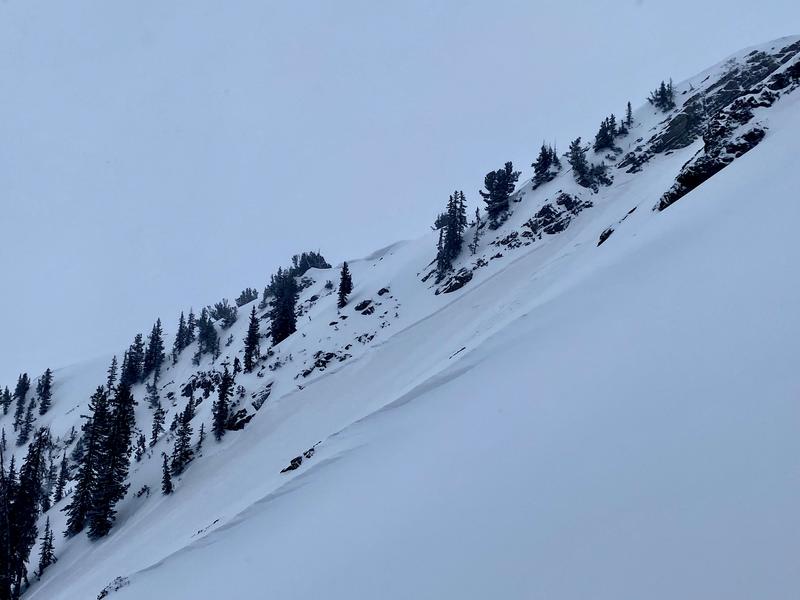 Coordinates