Observer Name
Ben
Observation Date
Avalanche Date
Region
Butler Basin
Location Name or Route
Butler Basin
Elevation
9,800'
Aspect
East
Trigger
Snowboarder
Depth
12"
Width
30'
Comments
[Forecaster Comment: This is an excellent reflection of a valuable learning experience traveling in avalanche terrain. Thank you for sharing.]
Accessed butler basin via butler fork trailhead. 
Took one run down closer to the trees on skiers right for our first run. After, we decided to do another lap more central in the basin. I went first, took a big hard turn. That's when the snow started to slide in all directions, fortunately I was able to ride skiers right out of the slide, to a nearby crop of trees. 
The slide ran 30-40 ft wide, 1 ft deep, and about 200 yards. The slope angle was about 35-38 degrees 
This was the first and hopefully last avalanche I have been involved in. My riding partner Chad and I discussed what happened once we were both out of harms way. 
What we did right: 
1. Traveled with a partner, both of us are avalanche level one trained.
2. Beacon, probe, shovel, and airbag equipped.
3. One by one downhill travel, with partner able to see downhill rider the entire route.
4. Clear communication of safety areas 
What I believe we did wrong:
1. Rode an upper aspect at a dangerous angle on a considerable forecasted day.
2. Ignored a red flag, small slab fracturing (6-8 inches), towards the top while skinning.
3. Assumed more aggressive line was safe, after riding the more conservative line on first run.
As stated above, this was my first and hopefully last time to be involved in an avalanche. 
Ben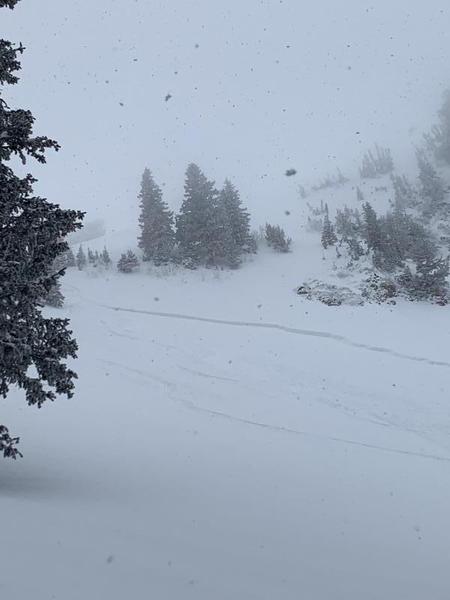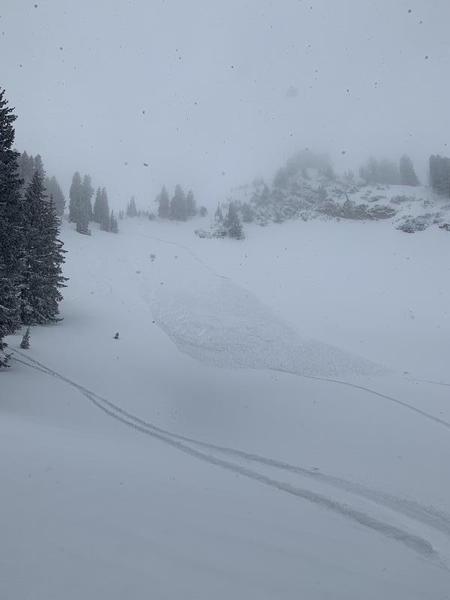 Coordinates