Observer Name
Brian Muller, Willie Benegas
Observation Date
Avalanche Date
Region
Bonkers
Location Name or Route
Broads Fork
Elevation
9,600'
Aspect
Northeast
Slope Angle
Unknown
Trigger
Natural
Avalanche Type
Glide
Avalanche Problem
Gliding Snow
Weak Layer
Ground Interface
Depth
2.5'
Width
150'
Vertical
500'
Comments
The standard Broads Fork glide problem occurred again either late yesterday afternoon or sometime overnight.  When we left Bonkers yesterday just before noon this hadn't yet occurred.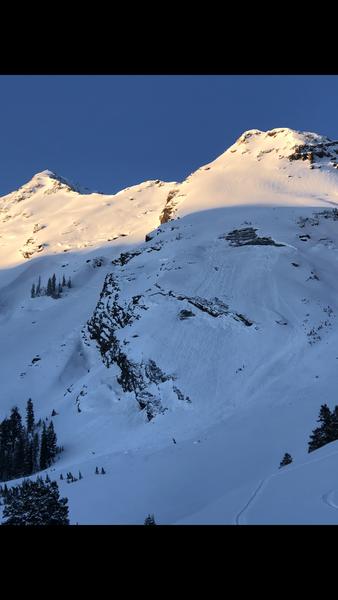 Comments
Other comments from another ob (Peter Donner)
Feel like the Broads Fork Glide Police.
Big glide between Bonkers and the Diving Board, just north of the one that came down March 18.
Pretty sure this new glide came down between 12:30 pm and 2:30 pm Sunday March 31.  Touring Gobblers Knob w my partner on the 31st we looked at Broads from the Mill A Basin ridge as we ascended for the first of two runs and did not notice anything.  On our second lap ascending the ridge at 2:30pm we were stunned to see a large debris pile in the flat of Broads.
Exact dimensions were hard to determine from Gobblers, but it looked like a slab of snow 200 feet by 200 feet glided off the steep shear rock face just south of Bonkers and ran about a 1000 vertical feet leaving an impressive debris fan and pile.  Looked to have stopped just as it hit the flat.
Thinking about getting a camera to submit photos of the sights.
Not to be preachy, but the glide paths in Broads are visibly sagging from miles away and the areas of glide deformation are getting bigger as each day has more sun and average daily temps rise.  Lots of tracks and those lines are some of the best in the Wasatch and it is a shame for them to go unskied after these delightful spring powder storms so I understand the impulse and no one reading this needs to be warned.  All I can say is I have a hard time thinking about hitting runs like Bonkers, Diving Board, and Blue Ice this time of year but but if I were able to bring myself to go there it would be a quick strike during or immediately after a storm.  In fairness, this seems to have been the strategy of those that hit Broads this last storm.  Any sustained increase in sun and temps and it seems like large slabs that haven't yet glided will.