Observer Name
Dan Hadley
Observation Date
Avalanche Date
Region
Little Cottonwood Canyon
Location Name or Route
Scruffy Band
Elevation
5,700'
Aspect
North
Trigger
Hiker
Depth
8"
Width
20'
Carried
1
Comments
Once again, I found myself on lead while ice climbing in what ended up with sketchy snow conditions. In between the 1st and 2nd pitch there was a layer of thin ice with a 4" layer of faceted snow and a 2-3" layer of ice on top of that. This layering was observed for about half of the snow slope in between the lower and middle aprons of ice.  It was about 20' wide and 40' long. Their was a ominous whumpf right before it slid that happened just as I stepped onto it thinking it was solid ice. I was carried down a few feet before I was able to catch myself with my tools while the rest of the snow and ice slid past. I had one mediocre screw in place that possibly would have caught the fall, if not it would have been a big whipper.
Thankfully there were 2 pitons to bail off nearby since I noticed other slopes had the same layering characteristic on the intended route.
Fortunately the belay location was under overhanging rock and protected from the debris.
I took pictures of the piton anchor in case anyone else finds they want to bail off them instead of crossing the same way. It would be tricky to find a place for a V thread or other bail option in that area so once you're in it you're committed.
It was a close call!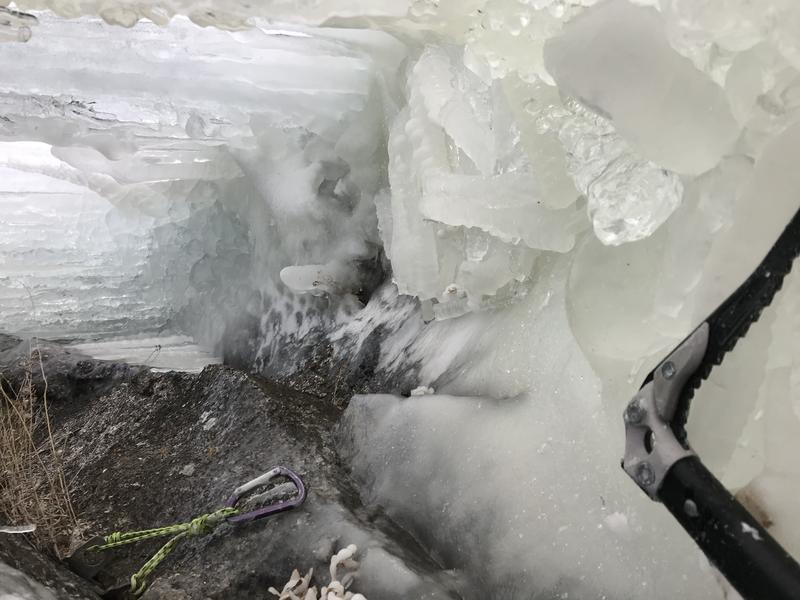 Coordinates