Observer Name
Mark Staples
Observation Date
Avalanche Date
Region
Salt Lake » Big Cottonwood Canyon » Days Fork » Two Dogs
Location Name or Route
Two Dogs
Elevation
10,200'
Aspect
Northeast
Trigger
Natural
Comments
Two different avalanches reported in the area that occurred during the storm.
From T. Glew observation: "The only avalanche I saw was a steep north facing slope near the ridge line to the East of Upper Days. It seems to have run mid the storm and was about a foot deep and maybe a hundred feet wide."
From email from J. Campanelli: "Honestly I couldn't really tell what was going on here. At 12:30pm 4/13, it looked like a crown with an up track triggering it far lookers right(the usual two dogs skinner). It didn't look like any other tracks on two dogs or at the bottom. There were 4 people standing at the bottom where you would transition. Hopefully they report with better details. Im pretty sure it was an avalanche, but maybe it was just a goofy ski track...that is how certain I am. Pink line is where I thought the crown was."
Photo below from J. Campanelli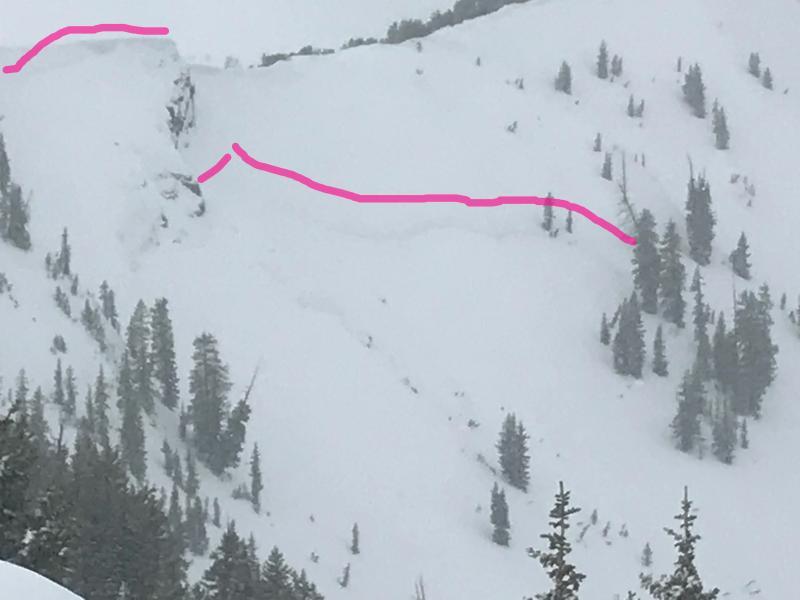 Coordinates