Observer Name
Mark Staples
Observation Date
Wednesday, December 27, 2017
Avalanche Date
Tuesday, December 26, 2017
Region
Ogden » Monte Cristo » Whiskey Hill
Location Name or Route
Whiskey Hill
Elevation
8,800'
Aspect
Northeast
Slope Angle
36°
Trigger
Snowmobiler
Trigger: additional info
Remotely Triggered
Avalanche Type
Hard Slab
Avalanche Problem
Persistent Weak Layer
Weak Layer
Facets
Depth
2.5'
Width
2,500'
Vertical
350'
Carried
4
Caught
4
Buried - Partly
4
Accident and Rescue Summary
A group of 5 was riding in the Monte Cristo area just north of Eccles Peak under a slope called Whiskey HIll. One member of the group stayed in a big meadow to the east while the other four members rode into the run out zone of Whiskey Hill on the northern end (looker's right side).
One person saw the avalanche breaking and yelled to the other three. The tried to get away but all 4 were caught and partially buried. Three were able to get out on their own. The fourth deployed his air bag backpack. He was buried face down with only one boot and part of his air bag showing. The other three dug him out.
They knew the avalanche danger was high because they had heard it mentioned in local news stations. They all had avalanche transceivers, but not all of them had probes. It is unclear how many had shovels.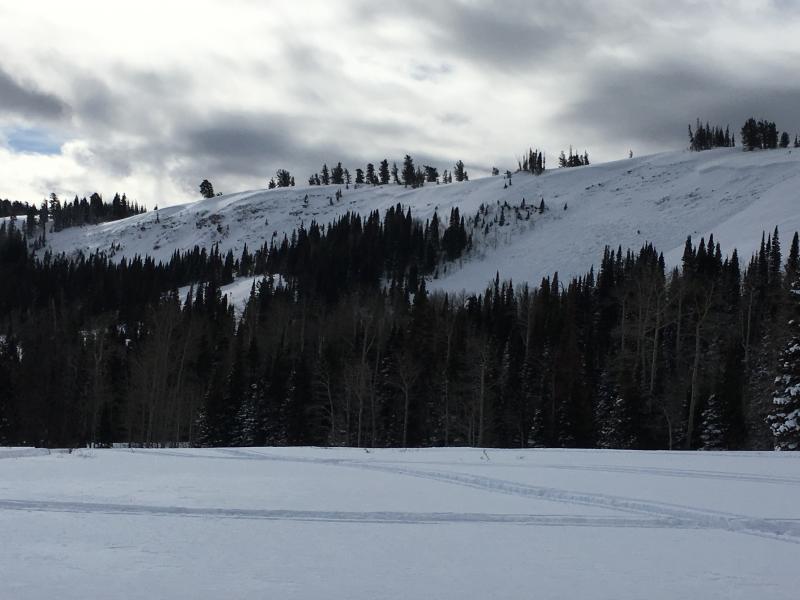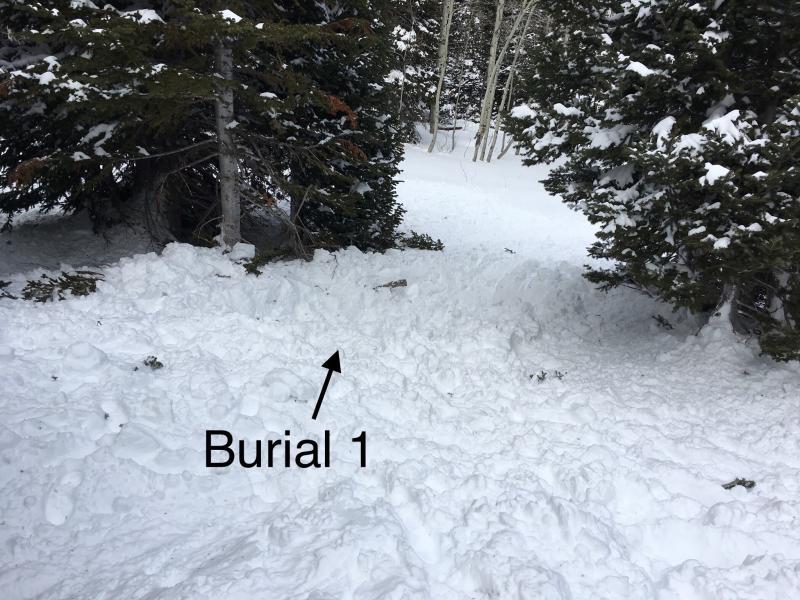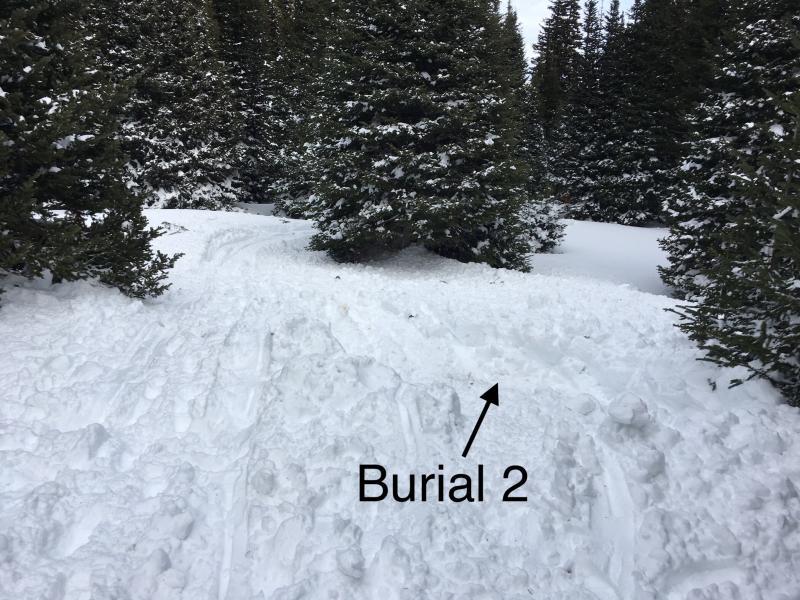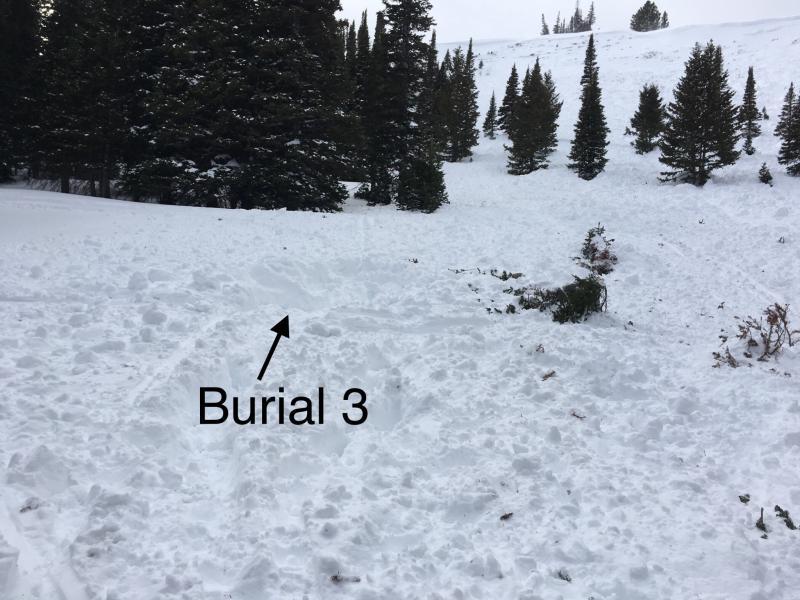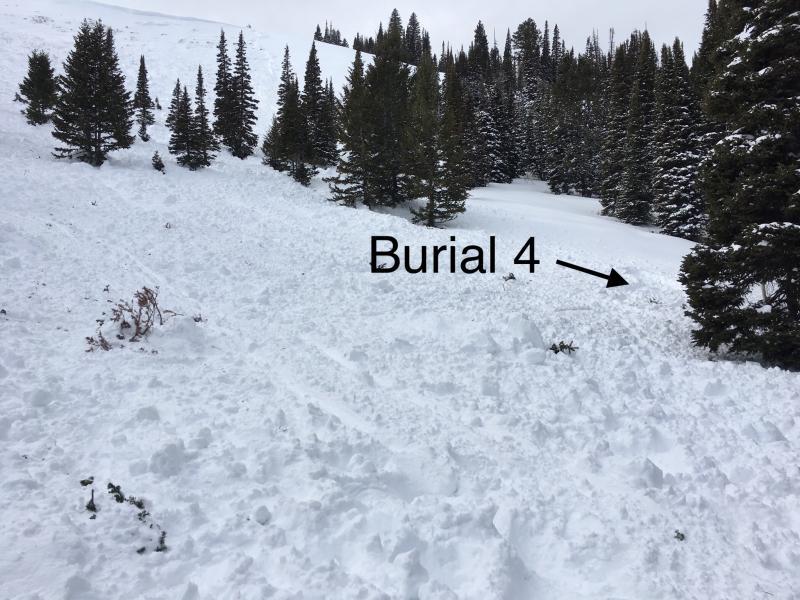 Terrain Summary
This is a ENE facing slope that held old snow that fell in September, October and November.
The alpha angle of this avalanche is 23 degrees
The average angle of the starting zone is 36 degrees.
The slope angle near the toe of the debris is only a few degrees in steepness - basically flat.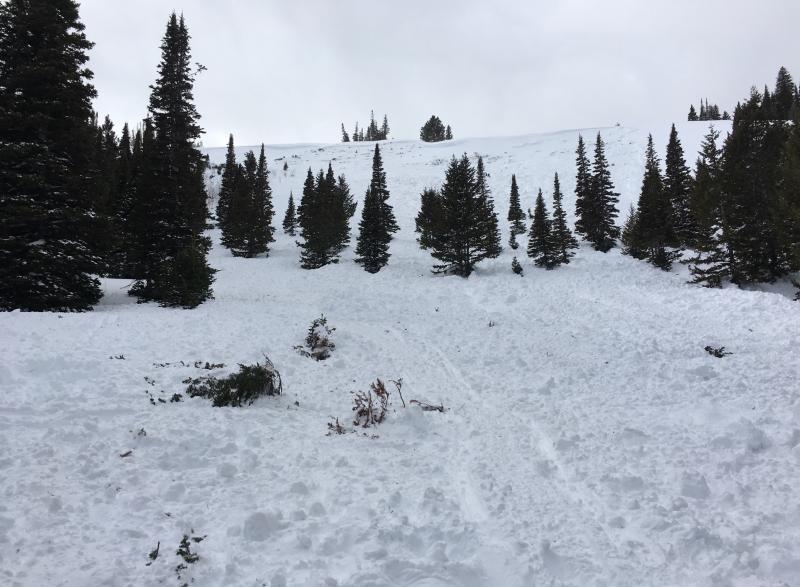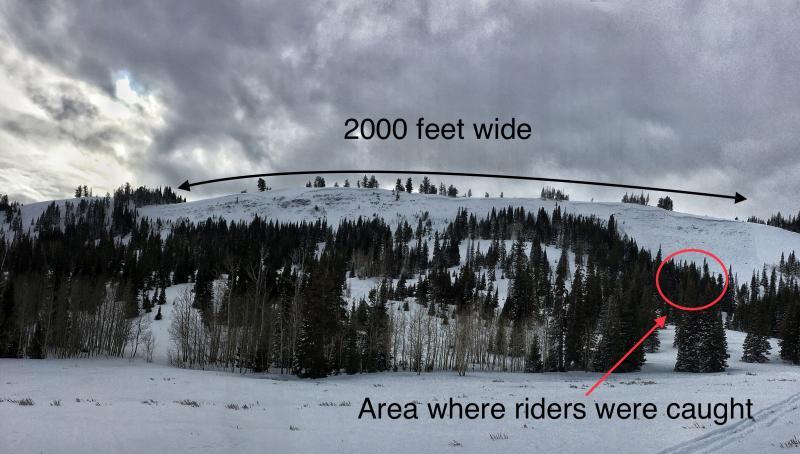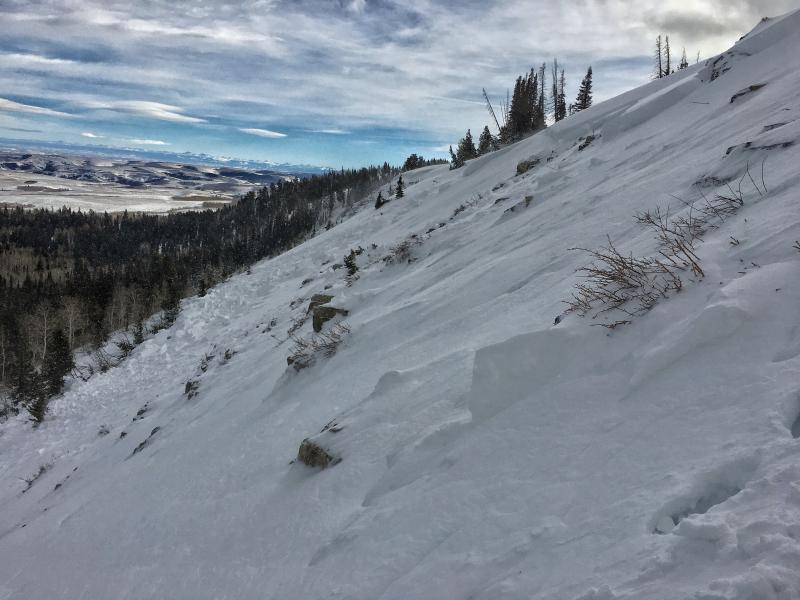 Weather Conditions and History
There were two storms that loaded this slope:
One on Saturday, December 23 which brought 20 inches of snow (1.7 inches of water).
Another on Christmas Eve/Christmas morning which brought about 7-8 inches of snow (0.7 inches of water).
This precipitation data comes from the Monte Cristo Snotel Site which is approximately 3 miles away to the southwest.
Notable winds averaged 20 mph and gusted to 30 mph from the SW and NW on Dec 24th. These wind speeds were recorded on James Peak which is 18 miles to the WSW. However, this slope has a large flat area above it that allows any westerly wind to load it with wind drifted snow. See photo below of the terrain just above Whiskey Hill.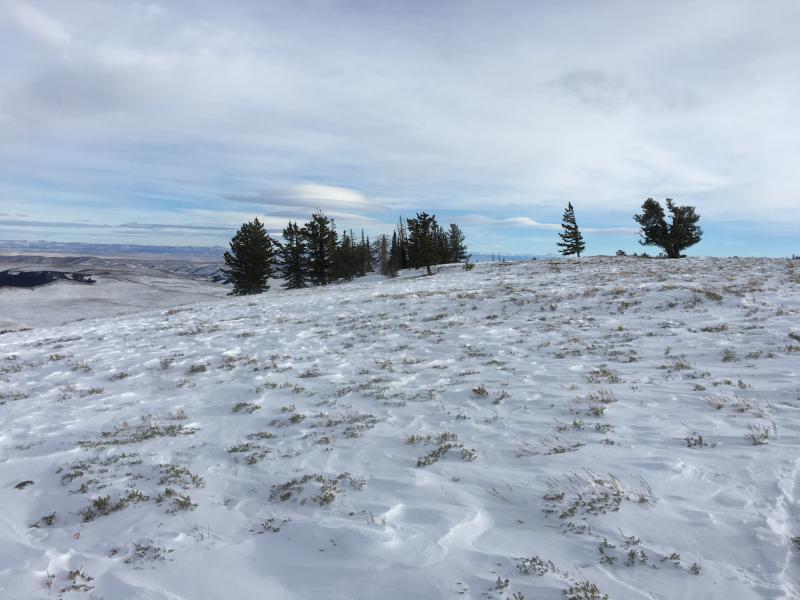 Snow Profile Comments
Attached are two profiles. The first is from the crown. The second is from Monte Cristo Peak the day of the avalanche at a similar aspect and elevation.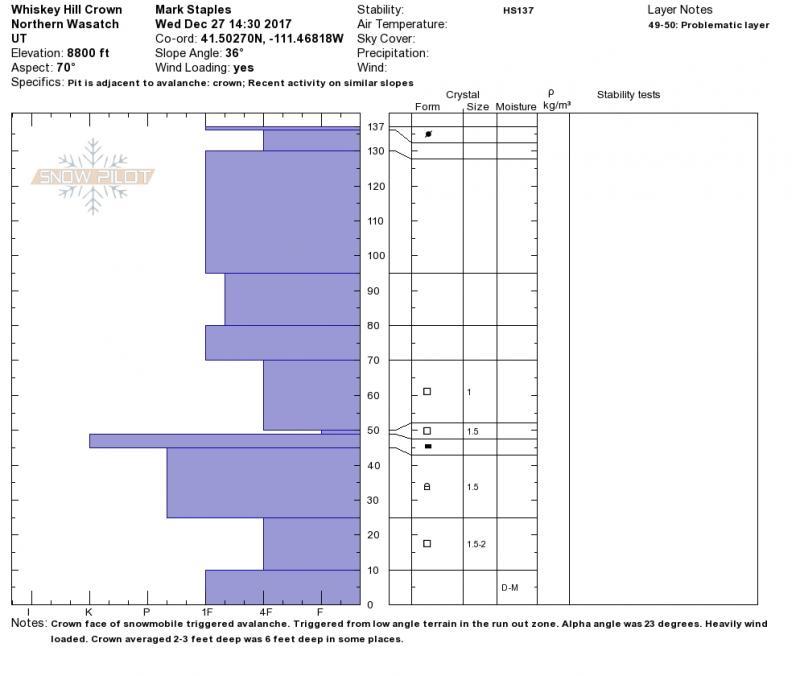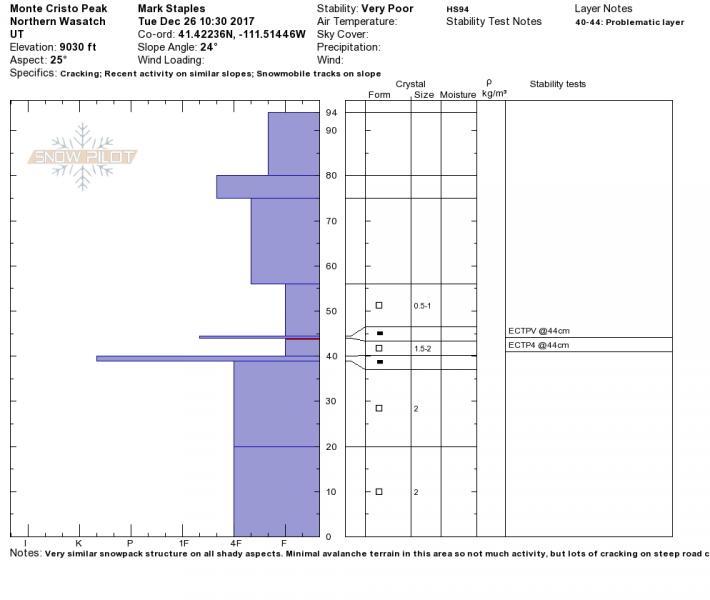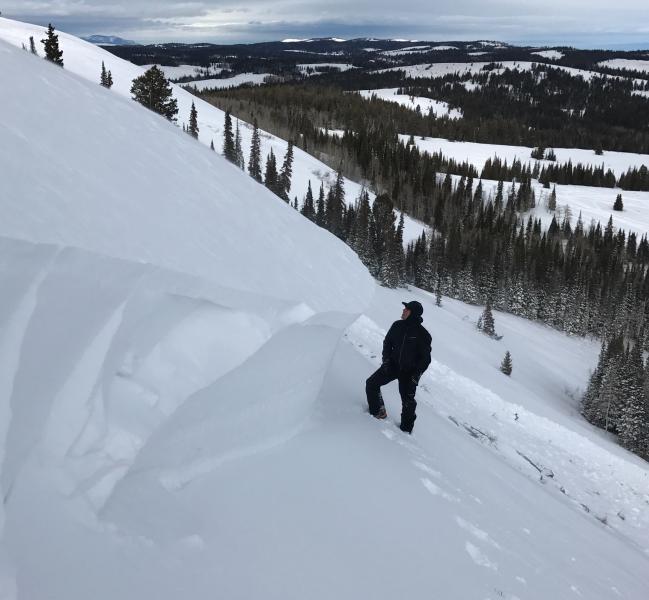 Comments
Another party triggered "Beer Hill" on the way to look at the Whiskey Hill avalanche. This is a major red flag of continued unstable conditions. Read more about this avalanche HERE from the party that triggered it.
Video
Video
Coordinates