Observer Name
Mark Staples, Jake Ward, Chad Brackelsberg, Andy Paradis
Observation Date
Wednesday, January 25, 2017
Avalanche Date
Wednesday, January 25, 2017
Region
Salt Lake » Parleys Canyon » Mt Aire
Location Name or Route
Mt. Aire
Elevation
7,900'
Aspect
Northwest
Slope Angle
36°
Trigger
Skier
Trigger: additional info
Unintentionally Triggered
Avalanche Type
Soft Slab
Avalanche Problem
Persistent Weak Layer
Weak Layer
Surface Hoar
Depth
20"
Width
200'
Vertical
200'
Carried
1
Caught
1
Accident and Rescue Summary
3 Skiers approached Mt Aire from Lambs Canyon, Wednesday morning January 25. They ascended a North-South running ridge on Mt Aire and experienced at least one collapse in low angle terrain during the approach. They skied an East aspect off the ridge and did not report any collapsing or cracking. They switched to the West side of the ridge on a slope with a NW aspect. Skier 1 descended and continued to the trailhead. Skier 2 triggered the slide, but skier 1 did not know this. Skier 2 was caught and carried approximately 75 feet downhill to some trees but was not buried and not injured. Skier 3 descended to perform a rescue.
Skier 2 was ok. Because they did not see skier 1, they assumed he was buried. They performed a beacon search but did not receive a signal. They reported that Skier 1 had been having some sort of trouble with his beacon this year; therefore, they assumed he was buried but his beacon was not working. At that point, they called 911 to get help. With no beacon signal, Skier's 2 & 3 and began probing areas with a high probability of burial (like the uphill side of trees). They scoured every inch of debris continuing to probe all likely areas. As they worked closer to the toe of the debris, they spotted skier 1's ski tracks which were not obvious. They followed his tracks to the trail head and discovered he was ok. While skiing back to the trail head, another avalanche was triggered on buried surface hoar.
We at the UAC are all very happy no one was injured or killed. We are also very appreciative that members of the party were very open and willing to talk about this incident so that the rest of us can learn and be safer. Avalanches are stressful and confusing events. What is important in this scenario is that they exposed only one person at a time to the avalanche terrain. Despite the confusion, only one person was caught. Skier 2 was lucky to have avoided trauma. Even small avalanches moving slowly can cause serious trauma. Running into a tree a 20 mph (which is slow for an avalanche) can hurt.
Terrain Summary
Not an obvious place for an avalanche other than slope steepness. It was 36 degrees at the steepest and transitioned to 34 degrees and even lower on the far side of the crown. While this is definitely avalanche terrain, from a skier's perspective it is not very steep and seemingly benign.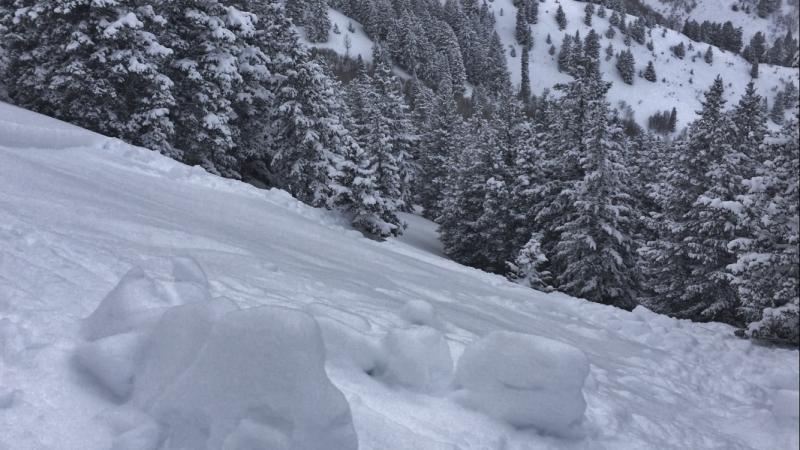 Weather Conditions and History
A ridge of high pressure with clear skies and cold nights last week created small facets and surface hoar on the snow surface. Surface hoar just like frost on a car windshield except it is very fragile and can easily be destroyed by wind or sunshine. Winds began to increase on Wednesday night (1/18) and into Thursday morning (1/19), before diminishing midday on Thursday. At the
Reynolds Peak
wind station at 9400 ft, winds blew generally from the S and SSW 10-15 mph with only slightly stronger gusts. A the
Parleys Summit
weather station at 7000 ft, the strongest winds blew 10 mph gusting to 15 mph from a generally westerly direction. In contrast, winds at 11,000 ft in Little Cottonwood Canyon briefly blew 30 mph gusting to 50 mph from the S.
A weak storm system deposited 3-5" in the Salt Lake mountains on Thursday. This snow capped and preserved this surface hoar layer on sheltered slopes where it wasn't destroyed by the wind. Snowfall since Thursday contained 1.8 inches of water at the
Parleys Summit SNOTEL
site at 7500 ft just north of Summit Park and I-80. Snowfall since Thursday contained 2.08 inches of water at the
Spruces
weather station at 7400 ft in Big Cottonwood Canyon. On the day of the accident, we found 18-26 inches of snow on top of the surface hoar layer which corresponds well to these water numbers.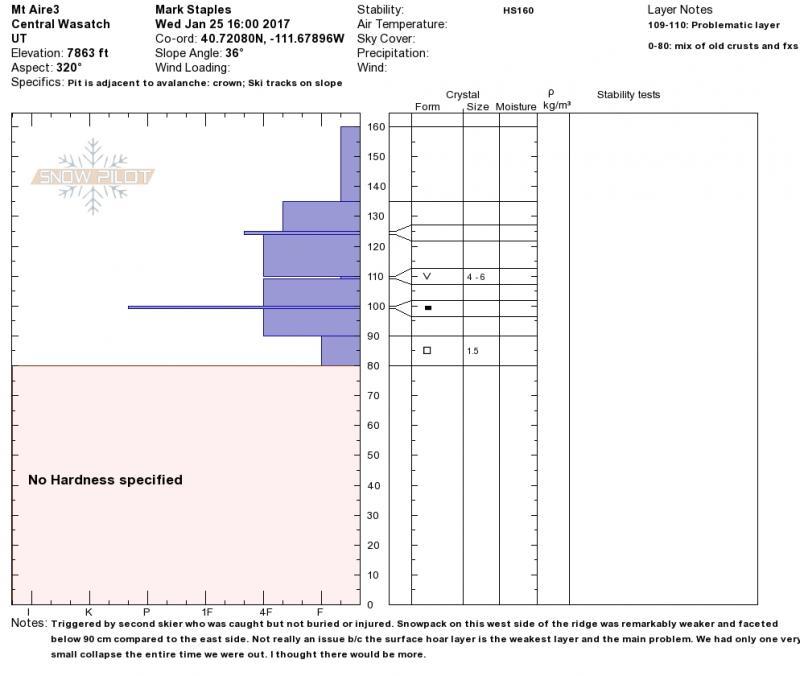 Comments
Photo of surface hoar crystals and the obvious stripe in the snowpit wall. The blue card was inserted behind the layer to make it more visible for the photo, but it's easy to see in person. HOWEVER, this layer would be very difficult to find by digging with your hand. Using a shovel and making a clean pit wall makes it easy to see.
The snow profile below is from an E aspect.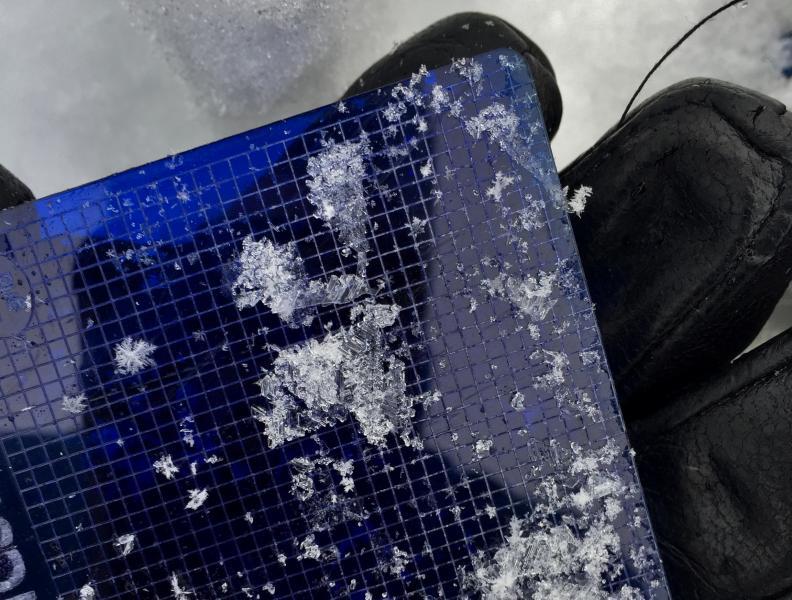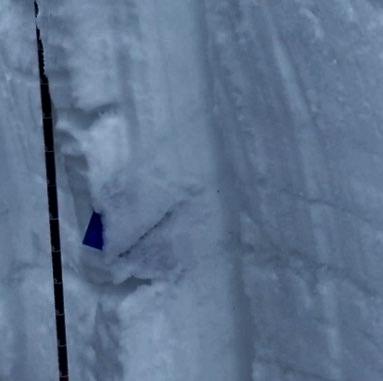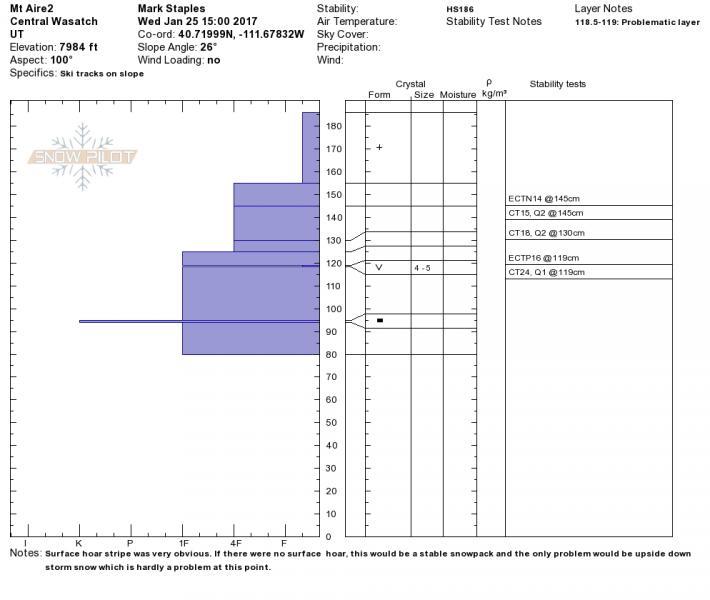 Comments
The first skier triggered this slide on his way to the trail head. The surface hoar layer was very obvious here as well. This slide was about 400 feet wide and ran only 100 feet. It nearly spans the width of the photo.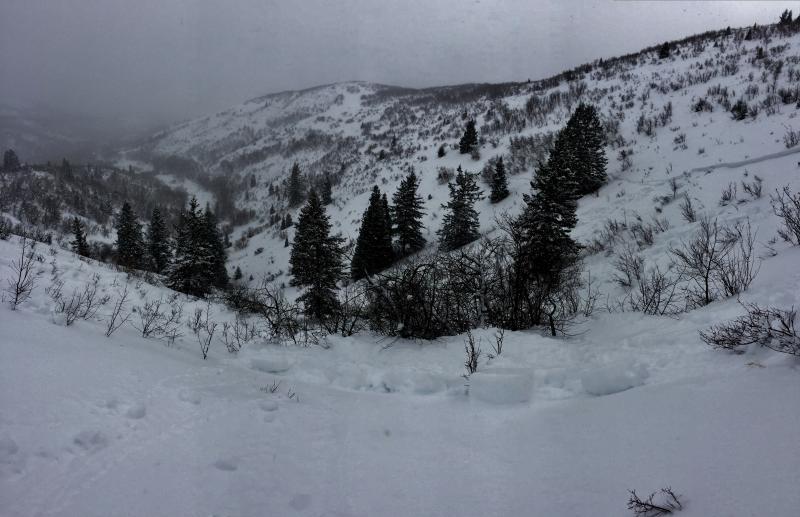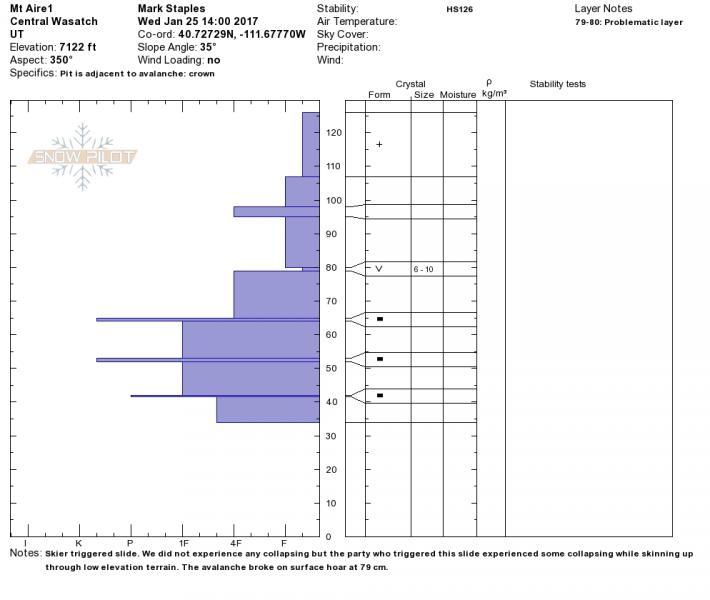 Video
Video
Video
Coordinates