Observer Name
Darce Trotter / Steve Cote
Observation Date
Avalanche Date
Region
Electric Lake
Location Name or Route
Electric Lake Bowl
Elevation
9,600'
Aspect
Northeast
Slope Angle
33°
Trigger
Skier
Trigger: additional info
Unintentionally Triggered
Avalanche Type
Hard Slab
Avalanche Problem
Persistent Weak Layer
Weak Layer
Surface Hoar
Depth
2'
Width
250'
Vertical
600'
Comments
We had all been talking about the weak layer that had formed last weekend then was buried by three different storms during the week.  We had purposely ran our uptrack over smaller test slopes but had no collapses, cracking or other evidence of weakness.  We had seen storm related activity along Wedding Ring Ridge, in the trees near Huntington Lake, and the Phone Shot, along with numerous pockets pulling out in the the upper layers of storm snow.  As we accessed the bowl from low angle terrain at the top, we noted fracturing all over the place, on the first breakover, and even some debris in the lower part of the main bowl, and we thought that was the extent of the activity in the area. We decided to dig a pit just above the cracks on lower angle terrain to look for that weakness. 
Comments
Taking a look closer for weak layer, what we found scary was we were not able to get it to fail on ECT test, yet all it took to trigger this was a basketball sized chuck of snow that rolled over the edge?  Slope angle at the crown was 33 degrees, but near 38 degrees at the second breakover, and we wonder if the roller got to the steeper section triggering slide and lower angle got pulled along
Comments
a closer look at the bed surface
Comments
some similar activity we noted in terrain near Huntington Lake, again, sheltered, N facing on our drive about this morning early.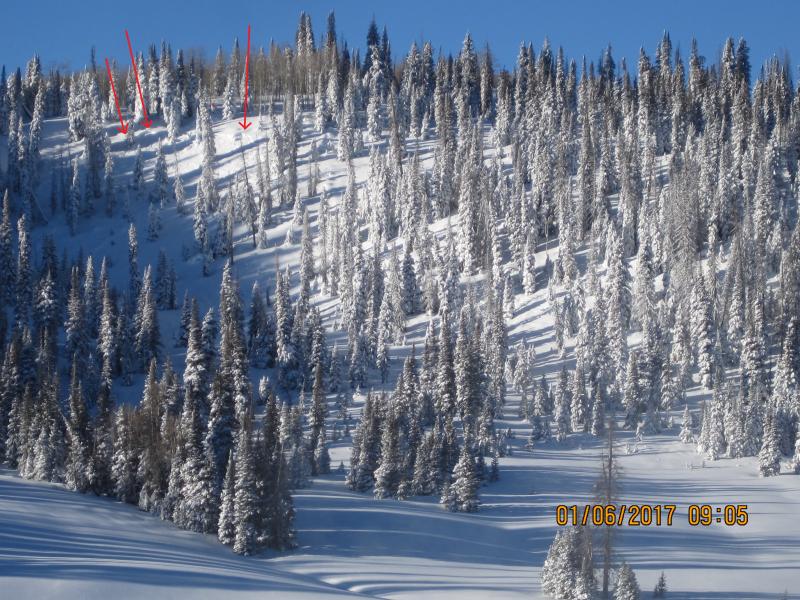 Video
Video
Video
Coordinates