Observer Name
Local Rider
Observation Date
Saturday, December 19, 2015
Avalanche Date
Saturday, December 19, 2015
Region
Logan » Logan River » Tony Grove » Beginner Ridge exit
Location Name or Route
Tony Grove Campground, Beginner Ridge exit line
Elevation
8,400'
Aspect
North
Slope Angle
40°
Trigger
Snowboarder
Trigger: additional info
Unintentionally Triggered
Avalanche Type
Soft Slab
Avalanche Problem
Persistent Weak Layer
Weak Layer
Facets
Depth
18"
Width
150'
Vertical
250'
Carried
1
Caught
1
Buried - Partly
1
Injured
1
Accident and Rescue Summary
A very experienced local rider separated from his partner in last part of the party's final run of the day in the Beginner Bowl Area above the Tony Grove Campground.. He started down a sub-ridge on the east flank of the avalanche path and then turned skier's left into the small steep bowl, which triggered the avalanche. He was caught and carried into the trees below and pushed headfirst into the trees where he was shallowly buried, with only his feet sticking out of the snow. Luckily, he was able to clear the shallow snow from around his face, but he remained trapped by the debris and the trees he was hung up in.
When he didn't show up at the sleds parked below the slope in the campground, his partner became concerned and decided to hike back up to find out what had happened. He was able to locate the trapped and injured rider in around 20 minutes after the avalanche and help to excavate him. The lucky and well beaten up rider was able to ride his sled out of the backcountry on his own, and although hurting, was able to tell his incredible story to me this morning. We hope that getting the word out about this very close call will help people to make conservative decisions and avoid avalanche terrain as backcountry avalanche conditions are quite likely get more and more dangerous in the next few days....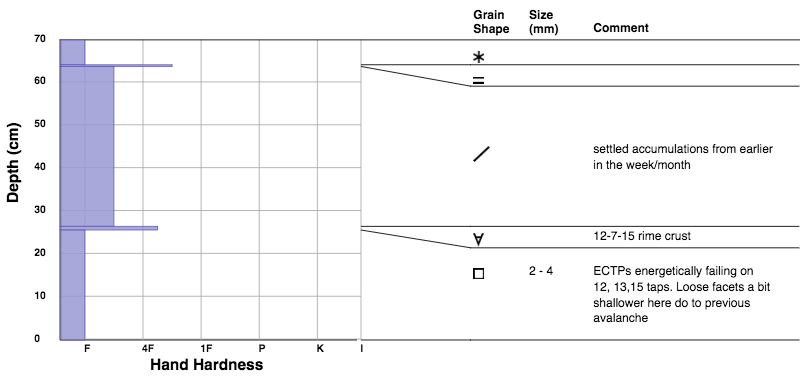 Comments
Avalanche size and running distance are estimated. The avalanche is a repeater, the slope having avalanched, by remote trigger almost exactly a month ago on 11-20-15.
Video
Coordinates