Observer Name
UAC Staff
Observation Date
Avalanche Date
Thursday, January 31, 2002
Region
Uintas » Upper Weber Canyon » 1000 Peaks » Windy Ridge
Location Name or Route
Windy Ridge; One drainage east of Stillman Creek
Elevation
9,400'
Aspect
Northeast
Trigger
Skier
Trigger: additional info
Unintentionally Triggered
Avalanche Type
Hard Slab
Avalanche Problem
Persistent Weak Layer
Depth
3'
Width
150'
Vertical
700'
Carried
1
Caught
1
Buried - Fully
1
Killed
1
Accident and Rescue Summary
During the second half of January various backcountry travelers triggered about a dozen large avalanches in the backcountry on the January 6th crust, which caught people on three different occasions. Finally, on January 31st, the inevitable happened—the first fatality occurred on that fateful layer.
The death of Brian Roust shook the avalanche community to its core because Brian was not only a fellow avalanche worker, but he was very experienced and cagy. Yes, Brian fit the description of the typical avalanche victim as he was male in his late 20's and was very skilled in his sport. But he did not fit the profile in that he was a very experienced avalanche worker who had patrolled at Park City and was a route leader at the Canyons Resort at the time of the accident. Not many avalanche professionals die in avalanches.
Brian was skiing in one of his favorite backcountry areas on the Thousand Peaks Ranch, which is private land in the western Uinta Mountains in the Weber River drainage east of Oakley. At least three different parties were skiing in the area and one party of four had skied in the area the day before. As the party of four skied one bowl, Brian and his partner skied an adjacent bowl with his two dogs. The party in the other bowl triggered a large avalanche some distance away from their ski track but no one was caught. Brian and his partner saw this avalanche occur and were on their way back up to the top to regroup with others and talk about the situation.
Brian, a notoriously fit backcountry skier, was out ahead of his partner as they climbed. When Brian neared the top of the slope, he triggered the avalanche that killed him. We do not know yet whether he was going up or down when he triggered the avalanche. The avalanche carried Brian and his dog down the slope and buried them.
Brian's partner and members of the other party searched the debris with avalanche rescue beacons. The first beacon they found was loose in the snow and not attached to anything—which was a beacon that Brian had attached to his dog and the avalanche had apparently stripped off. The searchers found Brian when they located the second beacon, buried 4 feet deep and he was apparently dead from the trauma of hitting trees on the way down.
We do not know whether Brian called the avalanche report before heading out, although the Uinta Mountains are outside our forecast area. On that day, Tom Kimbrough's forecast prophetically called the conditions "tricky and dangerous" and that the avalanches "break unexpectedly above you and wider than usual."
On the same day, an experienced ski patroller triggered an avalanche in the backcountry of Cardiff fork, and rode the avalanche about 1000 vertical feet.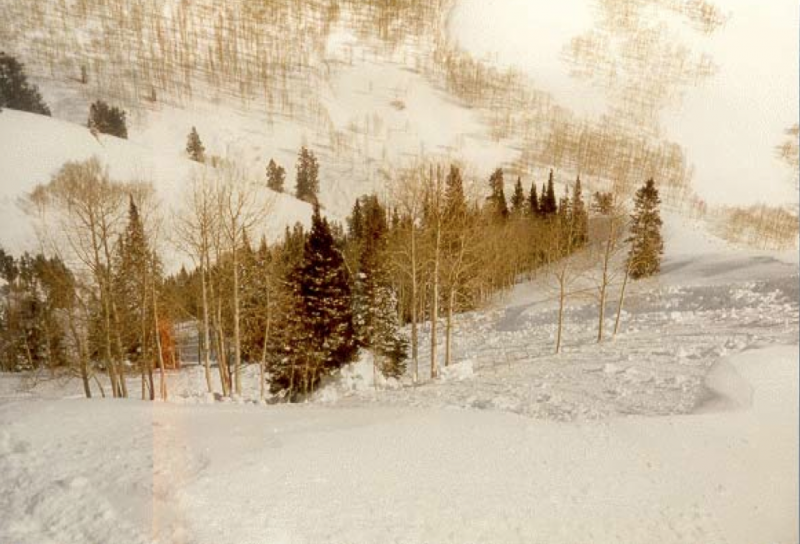 Coordinates