Observer Name
Snowy Torrents/UAC Archives
Observation Date
Avalanche Date
Saturday, January 11, 1997
Region
Logan » Logan Dry Canyon » Logan Peak
Location Name or Route
Logan Peak- Dry Canyon
Elevation
8,800'
Aspect
Southwest
Slope Angle
35°
Trigger
Natural
Avalanche Type
Hard Slab
Avalanche Problem
Wind Drifted Snow
Weak Layer
Facets
Depth
3.5'
Width
40'
Vertical
700'
Carried
3
Caught
3
Buried - Fully
3
Killed
3
Accident and Rescue Summary
3 people were killed while they were sleeping in a tent. A very large natural avalanche released high above and buried them.
Accident Report-Utah Avalanche Forecast Center-Logan, 1/14/97 Folly Avalanche Accident
Bear River Range, Wasatch-Cache National Forest
Report Submitted by Mike Jenkins and Kevin Kobe, UAFC-Logan
---
Avalanche location: the "Folly", Dry Canyon, Logan Peak area, east of Little Big Mountain 3 backcountry skiers/ campers buried and killed
Date: 1/11/97-1/12/97
Time: Unknown, (guess: evening hours 1/11/97)
Type: Hard Slab (HS) Class 4 Crown height: 3.5 Crown width: 40 ft.
Size (width): 300 ft.
Maximum debris depth: 10 ft.
Vertical drop: 680 ft.
Aspect: 235 degrees
Starting zone elevation: 8820 ft.
Starting zone slope angle: 35 degrees
Bed surface: Rain crust (formed 1/1 and 1/2/97)
Weak layer: Upper layer faceted snow above rain crust
Trigger: Natural, resulting from heavy precipitation and strong winds from NW thru E; associated with passage of an arctic cold front at 1800 hrs., 1/11/97
---
Rescue: The skiers were reported missing when they failed to return from a camping/ski trip on schedule. A hasty rescue party of 10 skiers and 1 Rocky Mountain Rescue Dog dispatched by the Cache Co. Sheriff SAR at 2100 hours on Jan. 13, 1997. Snow machines took the skiers to within
2 miles of the slide.
Information from witnesses who had seen the party earlier in the day on Jan. 1 1 helped the rescuers locate the debris by 2230.
One of the victim's transceivers was still on transmit and a beacon search quickly located the burial site 50 feet above the toe of the slide in thick timber. The victims were located under 4-6 feet of snow using probes. Shoveling was difficult and the bodies were not filly uncovered until 2400. All three victims were in their sleeping bags in their tent which was wrapped around a tree. The cause death appeared to be suffocation.
The avalanche occurred on a SW facing slope known locally as "the folly". It is on the ridgeline that separates Logan Cyn. from Dry Cyn. the drainage leading west from Logan Peak to the city center.
The avalanche was a hard slab, class 4 which released naturally. The hard slab was formed by strong winds from the NW through E associated with a cold front that arrived in our area at about 1800 hours on the evening of the accident. An additional foot of snow fell overnight adding to a foot that fell during the day. Winds preceding the accident were 25-50 mph. The new snow and wind redeposited snow fell on about 6 inches of upper level recrystalized snow which rested on a 5 inch rain crust formed January 1 and 2. The avalanche ran farther and faster than might have been expected due to the presence of the rain crust.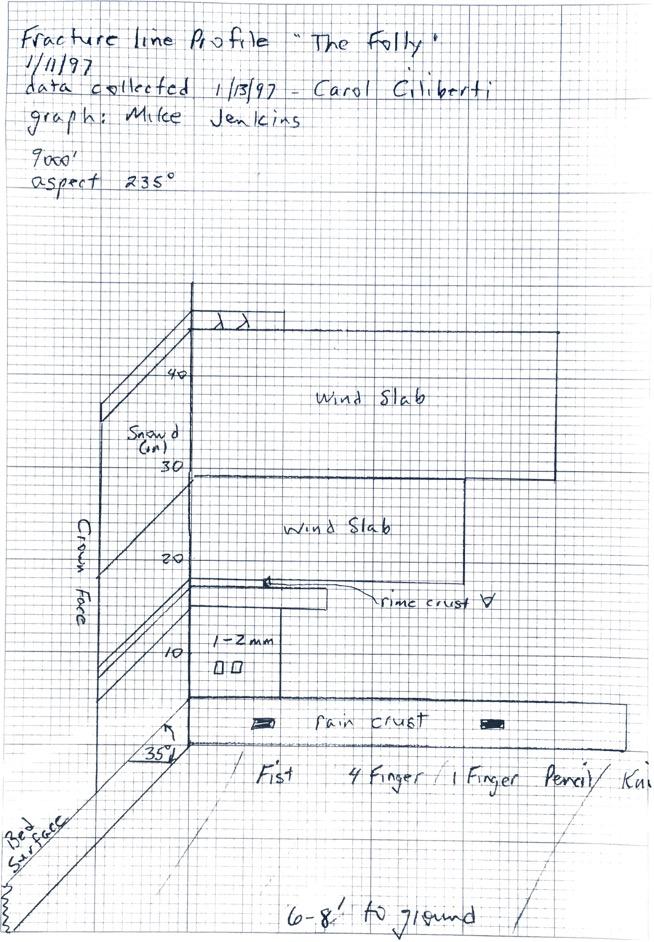 Comments
Avalanche Danger from the Utah Avalanche Forecast Center-Logan Advisory, 1/11/97: "Today there will be moderate hazard of human triggered avalanches on NE, E and SE facing slopes steeper than 35 degrees with recent deposits of wind drifted snow. These areas will be most common near exposed ridgelines, but crossloading on subridges and around terrain traps is also likely. A moderate hazard means that human triggered avalanches are possible on steep terrain, but that the hazard is localized. Additional new snow or wind will cause the hazard to increase today. Snow conditions will range from scour to breakable sun crust to wind crust. The sensitive wind slabs may be hard to identifr, but will be easy to recognize if you dig down your hand or shovel and observe the layering and shear strength above the prominent rain crust. The best boarding and skiing conditions will be found today on sheltered mid elevation slopes. Individuals without well developed route finding and hazard evaluation techniques should restrict their travel to slopes 30 degrees and less in steepness.
Actual Weather Conditions: The entire Wasatch Front was inundated with a surprise (not forecasted) intense weather system which generated two inch per hour snow fall rates in association with moderate to strong NW, N and then E winds on the afternoon of 1/11/97 and into 1/12/97. Logan Canyon, and both the Cottonwood Canyons in the Central Wasatch were closed because of snow associated problems. The Cottonwoods experienced several road threatening natural avalanches. Many empty autos were buried, a Sheriffs car was struck and buried, and several other people were also buried in Little Cottonwood. Natural avalanches occurred throughout the evening and into the early morning hours of 1/11/97 and 1/12/97 in the entire Wasatch Range. It is these unpredicted snow fall rates and winds which attributed to the fatal avalanche that took the lives of these experienced backcountry travelers.
An avalanche warning was issued by UAFC in SLC for the entire Wasatch Range at 1500 on the day of the incident.
Article from Jackson Hole Daily News
Memories of fatal '97 avalanche still fresh
Narrative below provided by The Snowy Torrents, courtesy of the American Avalanche Association.
Williams, Knox; Logan, Spencer, Walker, Emma, and Reardon, Blase (2017). The Snowy Torrents 1996-2004: Avalanche Accidents in the United States. American Avalanche Association
Photo of Rescuers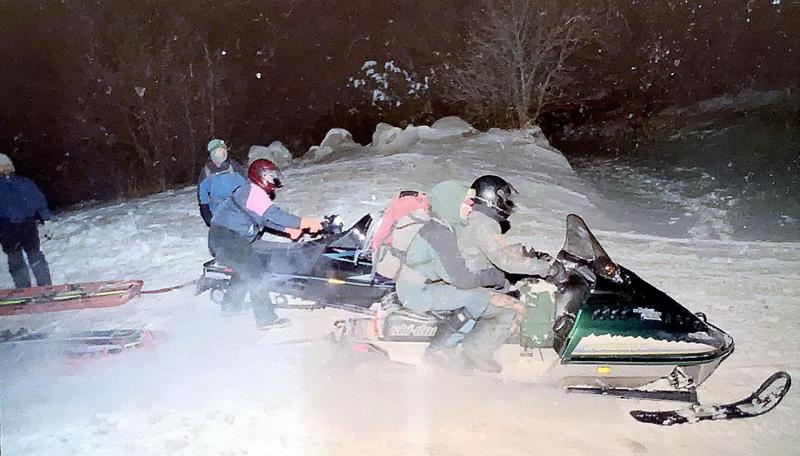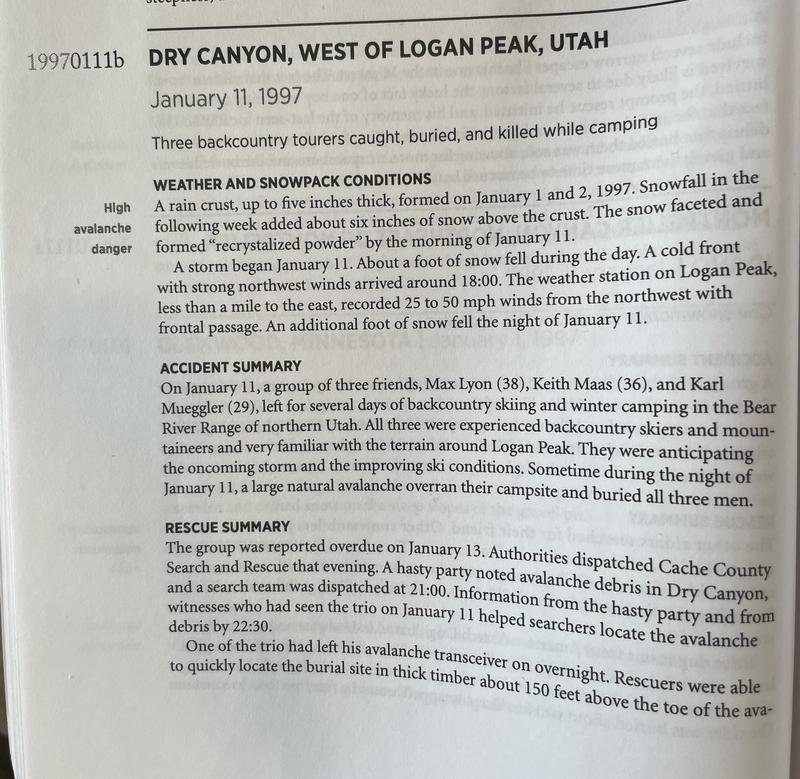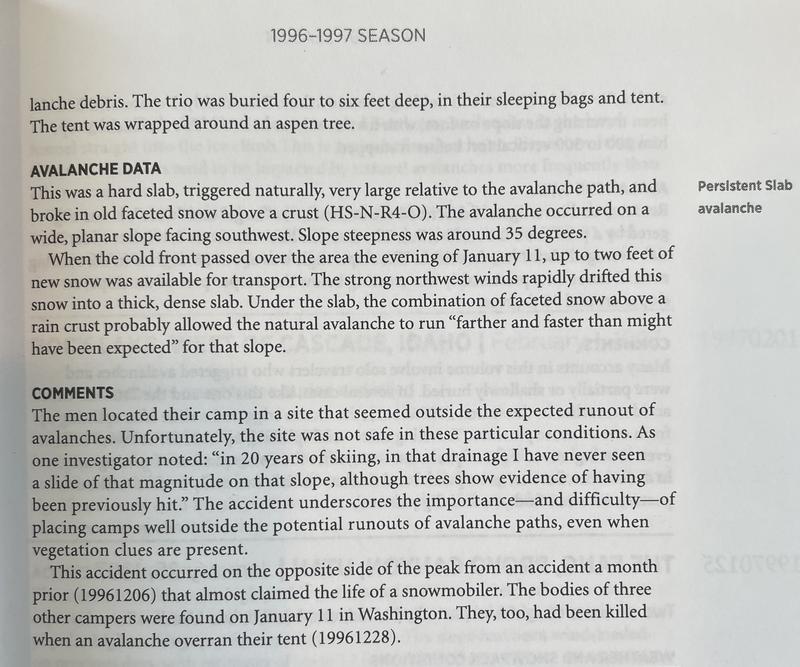 Coordinates