Observer Name
Snowy Torrents/UAC Archives
Observation Date
Avalanche Date
Thursday, December 26, 1996
Region
Salt Lake » Little Cottonwood Canyon » Flagstaff Gully
Location Name or Route
Flagstaff
Elevation
10,000'
Aspect
South
Slope Angle
35°
Trigger
Snowboarder
Trigger: additional info
Unintentionally Triggered
Avalanche Type
Soft Slab
Avalanche Problem
New Snow
Depth
16"
Width
Unknown
Vertical
Unknown
Carried
1
Caught
1
Buried - Fully
1
Killed
1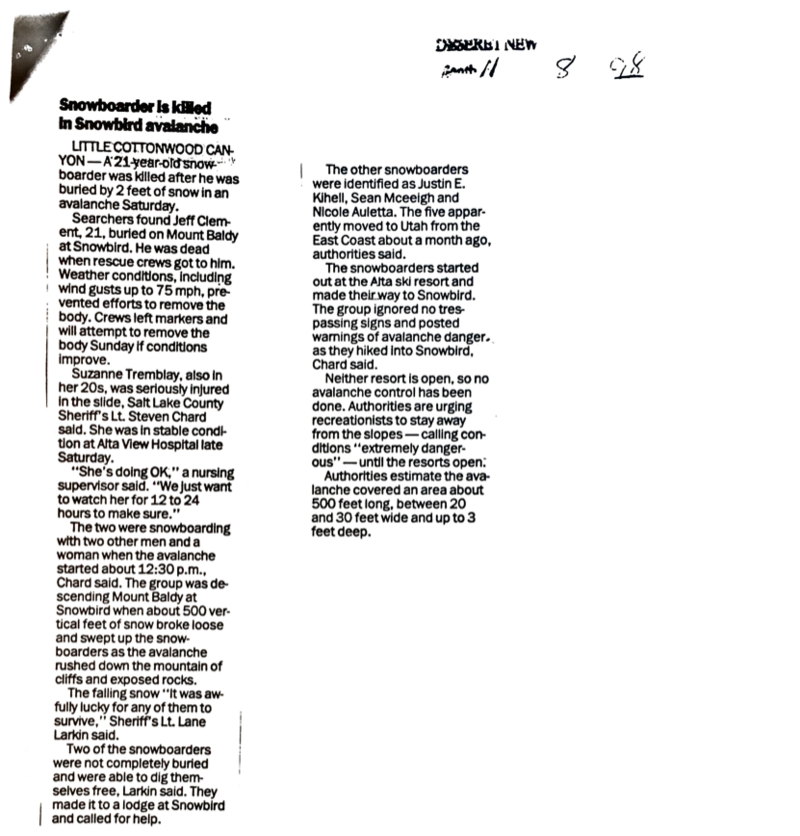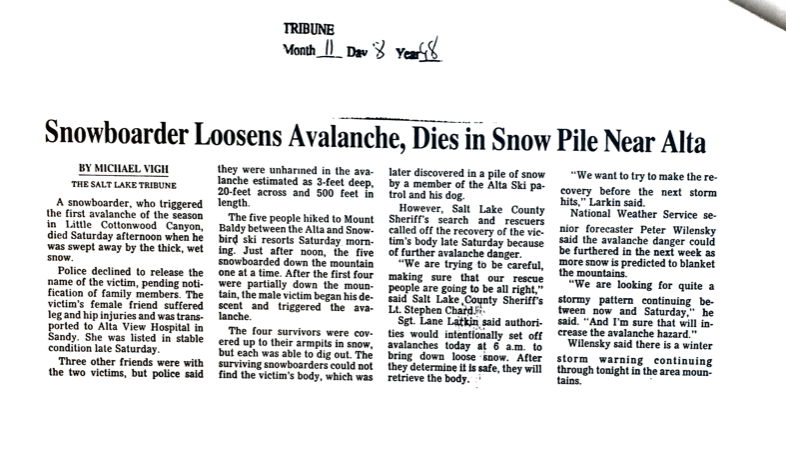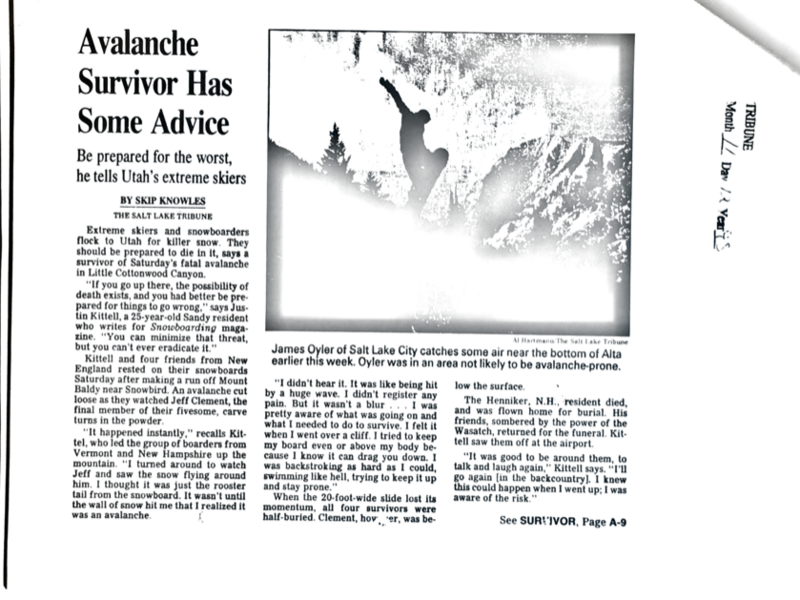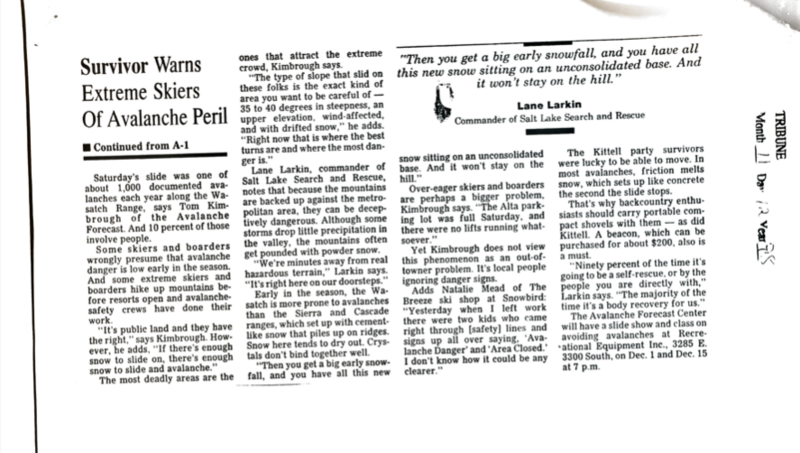 Comments
December 26, 1996
Flagstaff Pk. , near Alta Utah
Snowboarder Fatality
Greg Dres, 35, from Park City, Utah was killed in an avalanche he presumably triggered while snowboarding alone in the backcountry near Alta Utah. He was reported missing and a search team located his body with a beacon two days later.
The first sign of trouble occurred when he failed to pick up his girlfriend from the airport that evening at 8 : 00 pm. He was last seen around 3:00 pm heading up Flagstaff Mountain, a popular snowboarding area in the backcountry above the town of Alta. His girlfriend began the search for a missing person that night when she noticed that his snowboard gear and beacon were gone. His friends said that he was planning on taking a quick run at Flagstaff before he picked up his girlfriend at the airport. By the following morning they discovered that his car had been towed at Alta that night. It was parked at the common departure point to Flagstaff ridge.
Al Soucie, the Forest Service Snow Ranger for Little Cottonwood Canyon, flew in a Life Flight helicopter to search for the victim late in the day on December 27th. They noticed a large avalanche in Day's Fork, the drainage just to the north of Flagstaff Mountain. However it was too windy to land and also too late in the day to launch a search, so the search began at 7:00 am the following morning.
According to his girlfriend, he would often boot up Flagstaff ridge, take a quick run in Day's Fork, boot back up to Flagstaff and snowboard back down to Alta. So the Day's Fork slide became the primary search area. She also said that he always wore an avalanche beacon.
At 7: am the morning of the 28th, myself and several other searchers broke a trail up the south—facing Flagstaff ridge, dropped into north—facing Day's Fork and searched all the avalanche debris with beacons. It was a very large avalanche which broke several hundred yards wide and the debris covered several acres. However we found no beacon signal and avalanche search dogs were called in.
Immediately myself and Dave Medara, a Utah Department of Transportation avalanche forecaster, headed onto the south side of the ridge to see if he was caught while descending back to Alta. There was avalanche debris on that side but it was assumed the debris was from routine avalanche control over the village of Alta from the previous morning.
We found his beacon signal near the toe of the avalanche debris in the bottom of a narrow gully, about 1000 vertical feet below the starting zone. He was buried 3—4 feet deep, face down, head downhill with his snowboard still attached to his feet. With his hands near his chest, he was not able to make an air pocket.
The avalanche broke on a south facing, 35 degree slope at around 10, 000 feet in elevation. The starting zone was a commonly— windloaded bowl and drains into a narrow gully. Although subsequent snow, wind and avalanche control later covered up the evidence, we assume it broke about 1—2 feet deep, within new snow, with a light—density layer within the new snow as a weak—layer. The slab was a moderately rimed wind slab which was being formed the same day as the accident. The bed surface was a subtle rain and rime crust which formed on Christmas day.
The avalanche bulletin for that morning called for a high danger on any slope steeper than 35 degrees especially in wind loaded areas. No one knows if he called the avalanche bulletin that day. The weather was snowy and windy with a rapidly rising avalanche danger. An avalanche warning was issued by the following morning for widespread natural avalanche activity.
Reported by
Bruce Tremper
Forest Service
Utah Avalanche Forecast Center
---
Williams, Knox; Logan, Spencer, Walker, Emma, and Reardon, Blase (2017). The Snowy Torrents 1996-2004: Avalanche Accidents in the United States. American Avalanche Association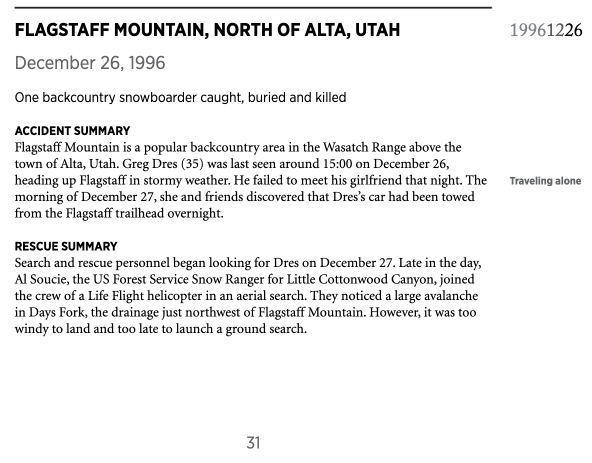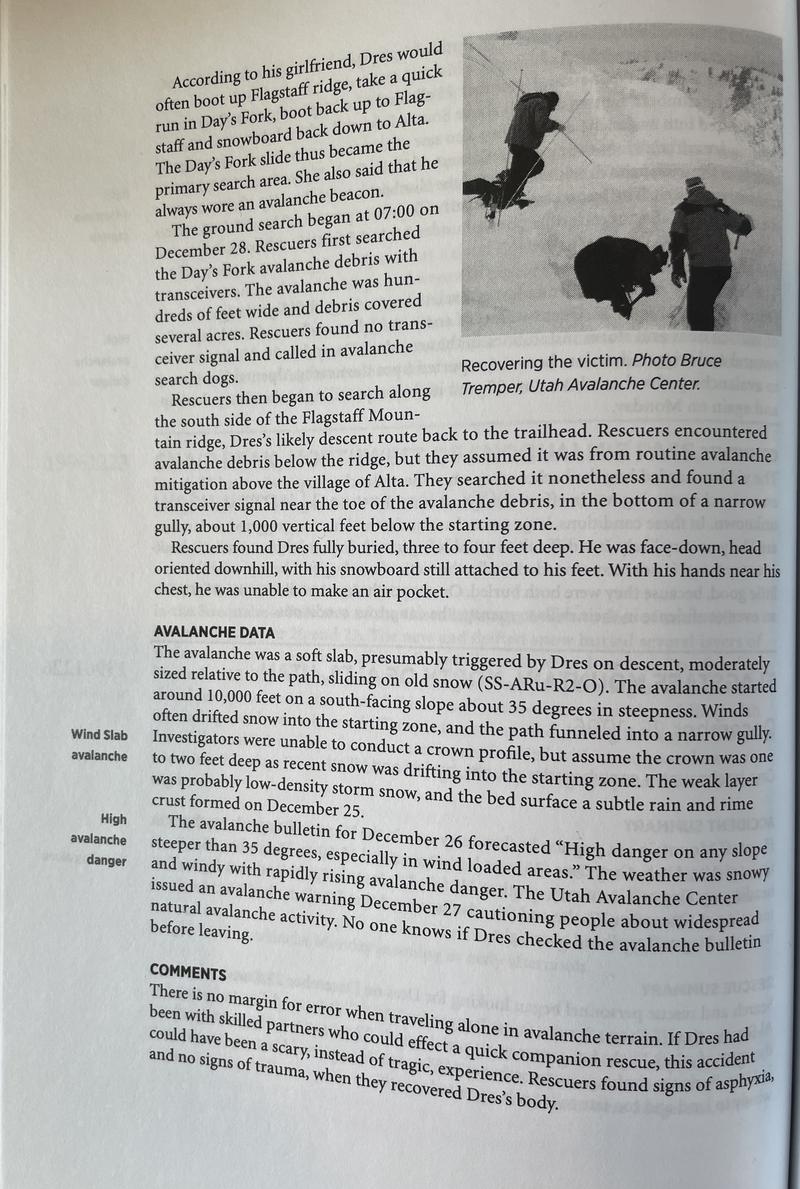 Coordinates