Observer Name
Craig Gordon
Observation Date
Wednesday, December 26, 2007
Avalanche Date
Tuesday, December 25, 2007
Region
Uintas » Bear River Ranger District » Bear River West Fork » Moffit Basin » Super Bowl
Location Name or Route
Elevation
10,500'
Aspect
North
Trigger
Snowmobiler
Trigger: additional info
Unintentionally Triggered
Avalanche Type
Hard Slab
Weak Layer
Depth Hoar
Depth
3.5'
Width
1,000'
Vertical
400'
Carried
1
Caught
1
Buried - Fully
2
Killed
1
Accident and Rescue Summary
Details are still being sifted through, but what we know is this- a group of six male snowmobilers left the Smith-Moorehouse trailhead, near 1000 Peaks Ranch for an afternoon Christmas ride at about 13:00. They climbed the terrain surrounding the ranch, playing in low angle meadows before ascending Windy Peak and dropping into the Super Bowl. There's conflicting stories as to how the victim became buried, but at approx. 15:30 a phone call to 9-11 was placed and a search ensued. A Summit County Search and Rescue team found the man at approx. 17:30 with an organized probe line. He was not wearing a beacon, but some members in his party had beacons, shovels and probes.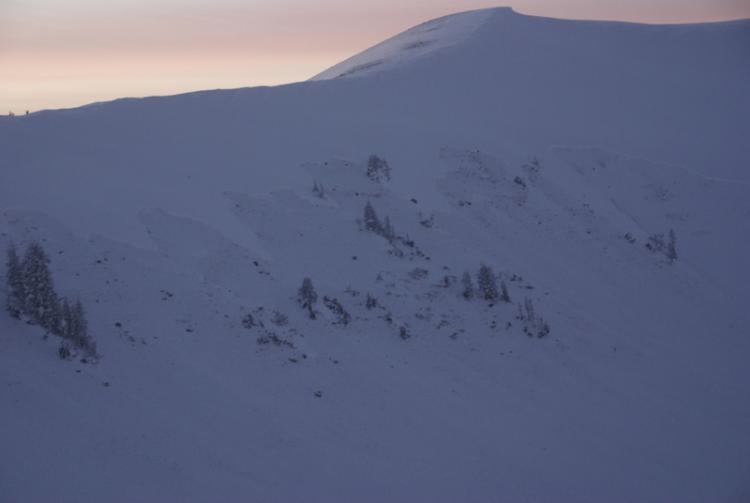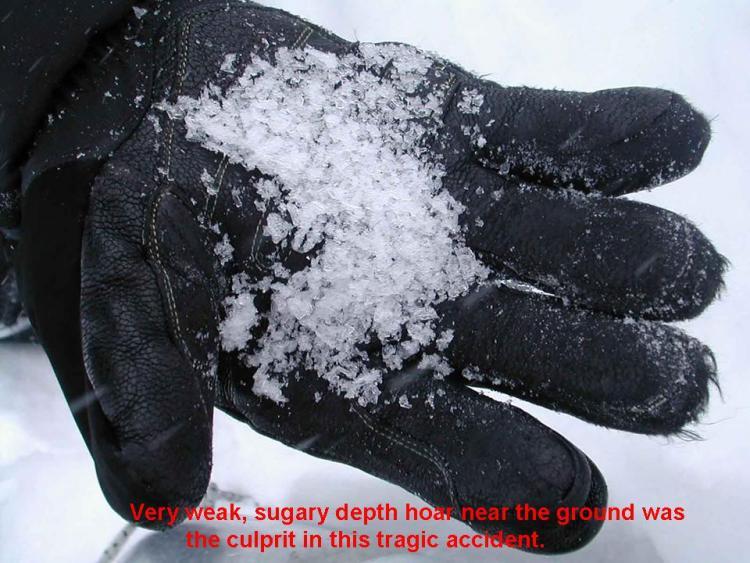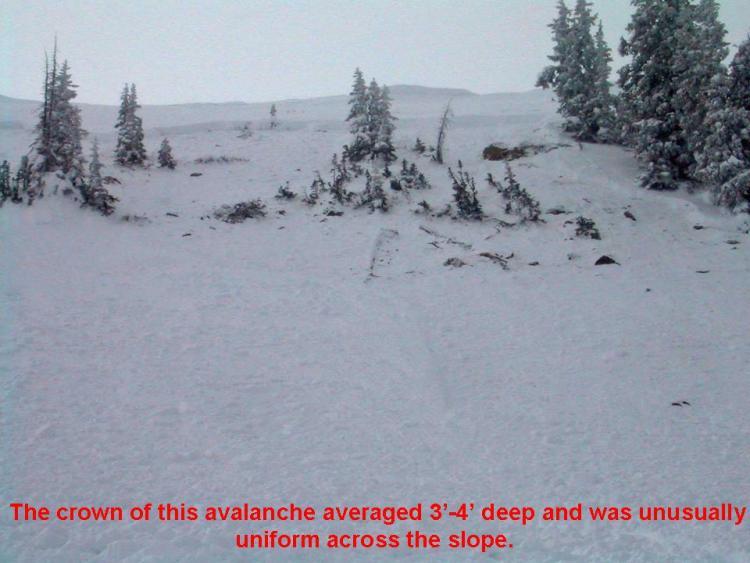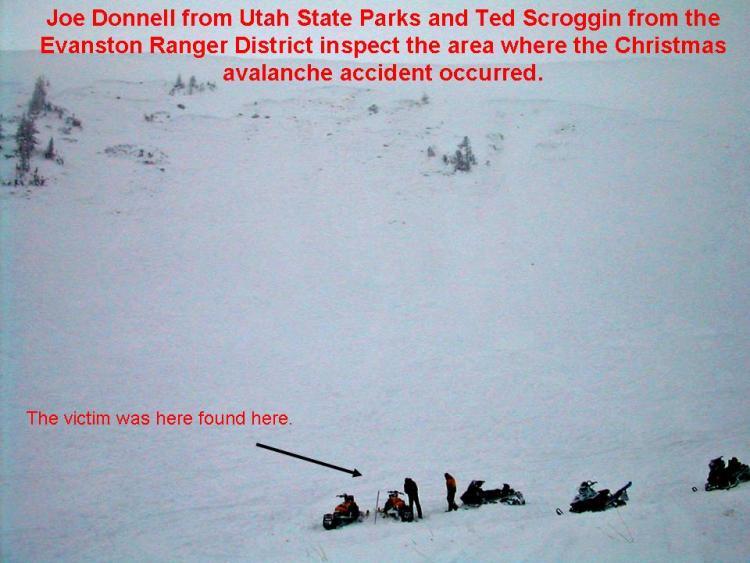 Comments
Media Reports:
Desert News
Authorities are warning of increased avalanche danger as more storms move across Utah.
It comes as the second avalanche fatality of the week struck in the backcountry near Oakley, in Summit County. Authorities said 53-year-old Dave Balls was snowmobiling in an area known as the Super Bowl on the east side of Windy Beak in the Whitney Basin area on Tuesday when he died in an avalanche.
"He was buried for over an hour and a half," the Utah Avalanche Center said in a statement on its Web site Wednesday. "He was not wearing a beacon and was found with an organized probe line."
Authorities were expected to investigate the cause of the slide today. The Utah Avalanche Center said the slide was as much as 400 feet wide and 4 feet deep.
"Wind loading on a weak faceted snowpack is the most likely structure," the Web site utahavalanchecenter.com said.
Balls' family released a statement Wednesday saying David was snowmobiling with his sons in an area they were all familiar with. Balls and his sons were "very experienced" snowmobilers, the statement said.
He was the founder and owner of Valley Ready Mix, which he ran with his brother-in-law Brent Baker.
Balls is the second person to die in an avalanche this week. An 11-year-old boy is making a remarkable recovery after he was buried for 33 minutes in an avalanche on Sunday.
Max Zilvitis was one of three skiers trapped in an avalanche on an inbounds trail at The Canyons. Jesse R. Williams, 30, of Grand Junction, Colo. died of head trauma when the slide carried him into a tree. Zilvitis and his father, Brian, were also caught in the slide.
"A man and a child below were engulfed, with the man partially buried and the child totally buried," according to a report from the Avalanche Forecast Center.
"The father was able to dig himself out while his son remained completely buried. The ski patrol arrived and performed an outstanding rescue. They set up a probe line using volunteers on the scene. Within minutes, there was a strike by a 15-year-old girl that was on the probe line that the snow safety had organized, and the boy was excavated from the debris with no pulse or respirations."
Monday afternoon Max regained consciousness and has made dramatic improvement each day. Wednesday, Primary Children's Medical Center listed him in good condition and said he had been taken out of intensive care.
Brian and Samantha Zilvitis, of Park City, released a statement Wednesday about their son's recovery.
KSL
More snowmobilers getting caught in avalanches
December 26th, 2007 @ 6:02pm
John Hollenhorst reporting
More snow fell today, and more is in the forecast, all adding to the danger of an avalanche season that has killed two people in the past few days.
The most recent fatality is David Balls of Oakley. He died yesterday while snowmobiling in the mountains above that town. That death highlights a strong trend that's taken place over the last 30 years: Snowmobiling has replaced backcountry skiing as the leading cause of fatal avalanches.
A lot of people feel very powerful when they're on a snowmobile, but they are no match for the power of nature when snow starts to slide. Backcountry skiers have learned the hard way for many years. In recent years, snowmobilers have been forced to learn the same lessons.
A safety video put together by the Utah Avalanche Center shows that winter sports can be exhilarating, spectacular and terrifying. "Getting caught in an avalanche is kind of like being in a car wreck. I mean you just don't want to be in one," one skier says.
Daredevil backcountry skiers and mountain climbers used to be the recreationists most at risk. But since the 1980s, avalanches are increasingly a phenomenon of snowmobiles.
"It used to be snowmobiles couldn't get back into areas that normally people could hike or ski into," explained Eric Stucki, of Utah State Parks and Recreation.
New powerful machines now routinely go where angels fear to tread.
For a half century, avalanche deaths have been steadily increasing. Over time, the death rates have shifted. Skier and climber deaths have declined, relatively, while snowmobiler deaths have shot up to about 40 percent of all avalanche deaths.
Experts now stress avalanche training and equipment--probe poles, locater beacons, and shovels--for all backcountry snowmobilers, and the safety gear ought to be on the rider, not the machine, in case they get separated.
"They're just kind of on the back side of the learning curve a little bit maybe," Brett Kobernick, of the Utah Avalanche Center, said. "They're kind of in the same boat that skiers and snowboarders were 10 or 15 years ago."
The goal, of course, is to never have to use avalanche tools, to avoid going into areas when they're dangerous. "As long as you check the forecast, as long as you know before you go, I think they can go back into those areas, as long as they are prepared," Stucki said.
In other words, get information so you know when to go and when to stay home. "Keep in contact with what the current conditions are, and that way they can make wise and informed decisions when they travel into the backcountry," Kobernick said.
The Utah Avalanche Center now provides forecasts specifically tailored to snowmobilers, and they do educational programs for all sorts of different groups.
The experts Eyewitness News talked to say the message is sinking in, and snowmobilers are much more safety conscious than they used to be.
UPI.com
OAKLEY, Utah, Dec. 26 (UPI) -- A father of six was killed in a 400-foot-wide avalanche in Summit County, Utah, the second victim of a local avalanche this week.
Bishop Howard Sorensen, a local religious leader, said Dave Balls, 53, was snowmobiling with his four sons when he was unable to avoid the avalanche and was lost in a wave of snow, The Salt Lake Tribune reported Wednesday.
"He was up enjoying the day when the slide broke loose," Sorensen said of accident Tuesday. "He just wasn't able to out run (it)."
Along with his four sons, who managed to avoid the avalanche, Balls had two adopted daughters from Russia, the Tribune said.
The newspaper said that Balls' death came in the wake of last weekend's avalanche in Summit County that claimed the life of 30-year-old Colorado native Jesse R. Williams. In addition to killing Williams, Sunday's avalanche at the Canyons ski resort also critically injured an 11-year-old boy.
Coordinates