Observer Name
Michael Janulaitis
Observation Date
Avalanche Date
Region
Geyser Pass
Location Name or Route
Geyser Pass to Manns
Elevation
11800
Aspect
Southwest
Slope Angle
Unknown
Trigger
Natural
Avalanche Type
Hard Slab
Avalanche Problem
Wind Drifted Snow
Weak Layer
New Snow
Depth
3'
Width
100
Vertical
800
Comments
When skinning up to Manns, I observed a large slide down the SW face of Tomosaki.  The slide appeared to have naturaled after the end of the last snow fell. My best guess is Sunday when the sun came out.  The debris had no new snow on it.  The debris pile was quite large and the storm slab had pulled out all the old snow most of the way down.  The debris was very close to the summer trail at the bottom and if caught would certainly have buried and possibly killed someone as they got drug over the ground surface.  This was an eye opener and was an obvious indicator to stay off steep south facing wind effected slopes.
I dug a pit higher up the drainage below Manns at about 11,800 just below the tree line facing south.  New snow depth was about 10 inches.  HS 160 CTN, moderate shovel sheer pulled out about 2 feet of snow on a very thin weak layer ( 1 cm thick ) of buried near surface facets.
The snow has filled in very nicely in the La Sals (180 cm in sheltered terrain) however much of the alpine has been scoured clean, the tree line and lower is deep and quality is very high.  I expect the sun to have it's way with the snow today and begin our first corn cycle.  I expect the steep south slopes to off limits mid-day as the sun bakes the snow into wet mush.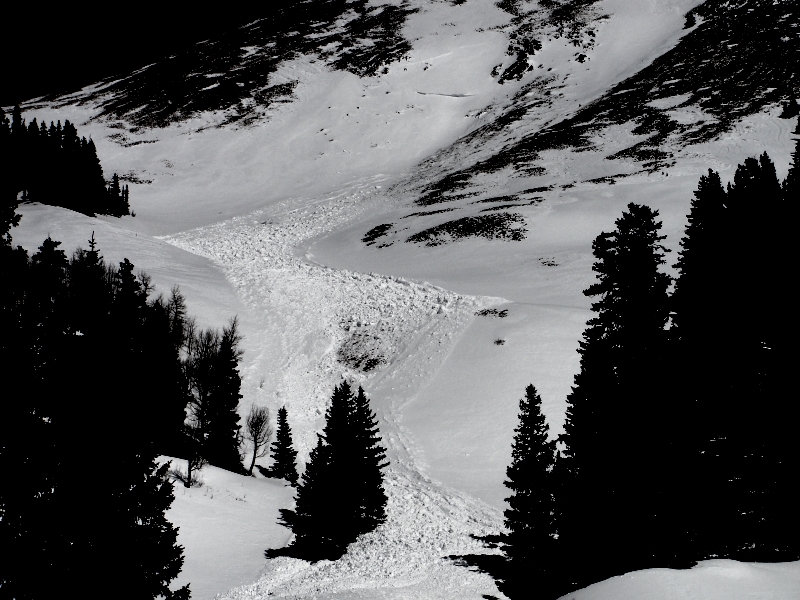 Coordinates