Observer Name
Kobernik
Observation Date
Avalanche Date
Region
Skyline » Salina Canyon » Salina Creek » White Mountain
Location Name or Route
Southern end of the Manti Skyline just east out of 12 Mile Canyon
Elevation
10,400'
Aspect
Northeast
Slope Angle
38°
Trigger
Snowmobiler
Avalanche Type
Soft Slab
Avalanche Problem
Persistent Weak Layer
Weak Layer
Facets
Depth
2'
Width
350'
Vertical
250'
Carried
1
Caught
1
Buried - Fully
1
Killed
1
Accident and Rescue Summary
We have not spoken with anyone who was involved in that accident. The following accident summary was related to us through the Sevier County Sheriff.
A group of snowmobilers left 12 mile Canyon for a day of snowmobiling. Just east of the head of 12 mile Canyon the group was playing in a broad flat bottom valley with small steep slopes on the west side. The group was separated some what as everyone was having fun on different terrain features. At about 4 o'clock or a bit later the group noticed that one member was missing. They backtracked a bit to find a fresh avalanche and figured he must be buried in it. There was no sign of him or his snowmobile and he was not wearing an avalanche beacon. The group was not able to locate him and were forced to call search and rescue. The search and rescue team arrived and was able to finally locate part of the buried snowmobile. The victim ended up being buried beneath the snowmobile and the rescue team extricated him but it was too late. The victim was a 30 year old male buried at least 4 feet deep.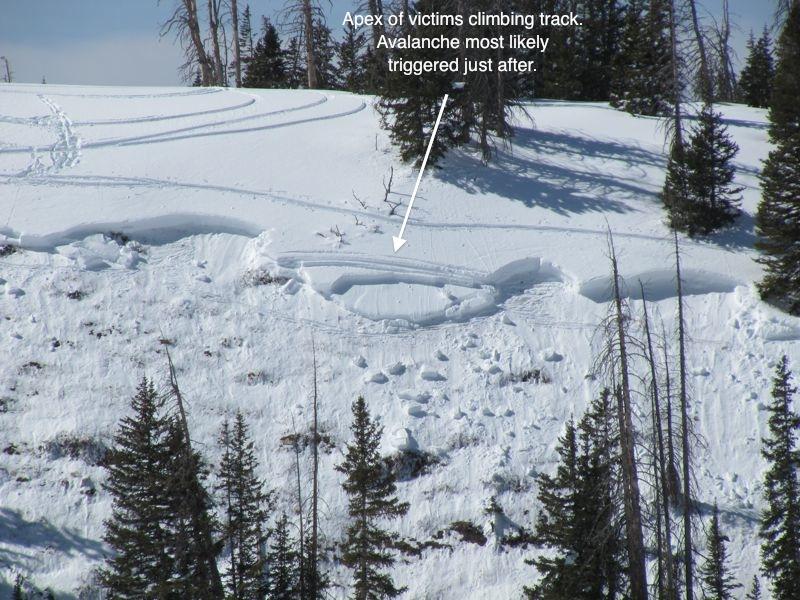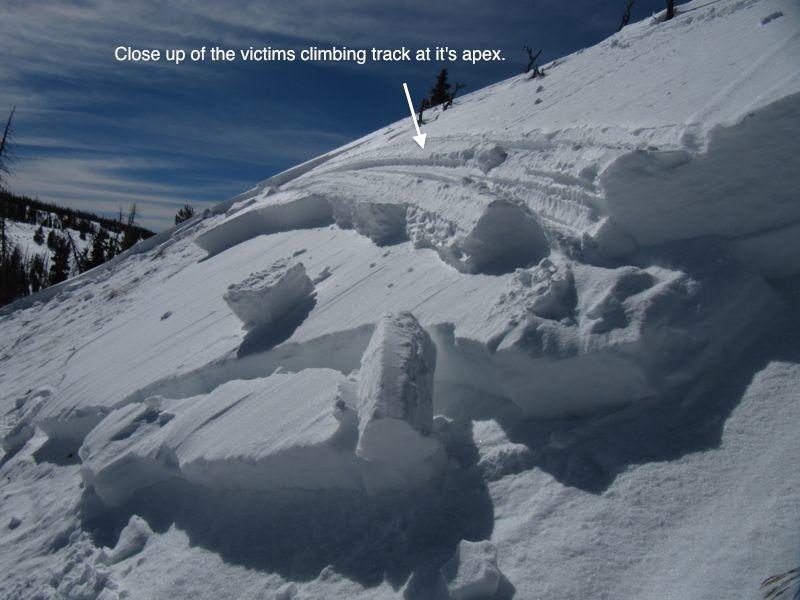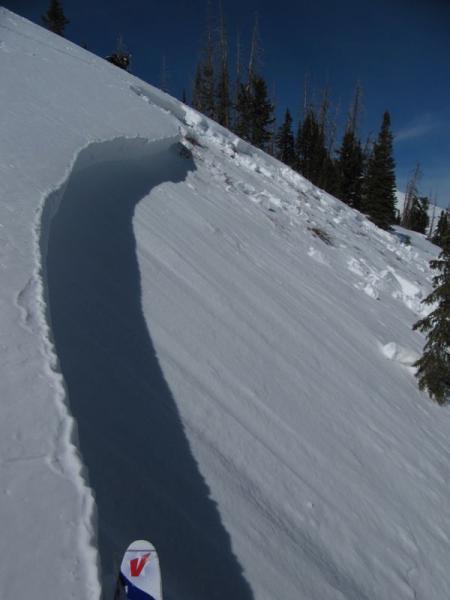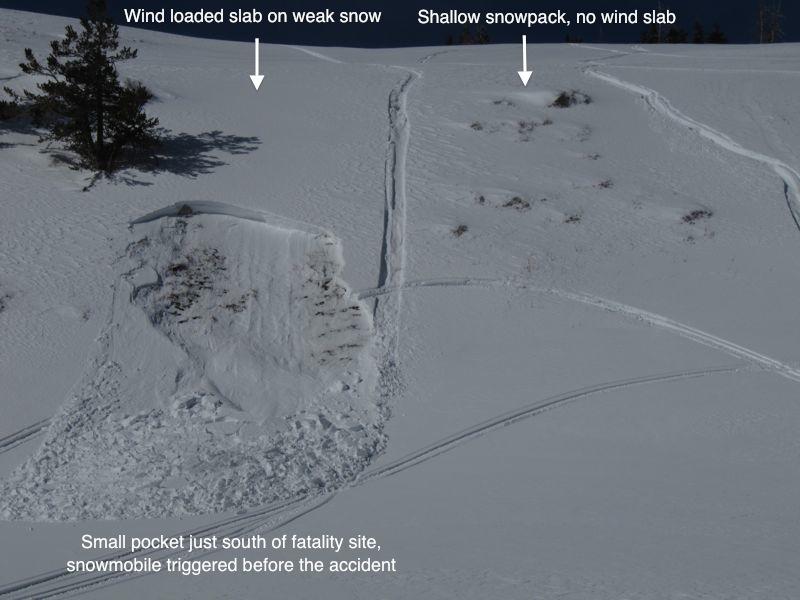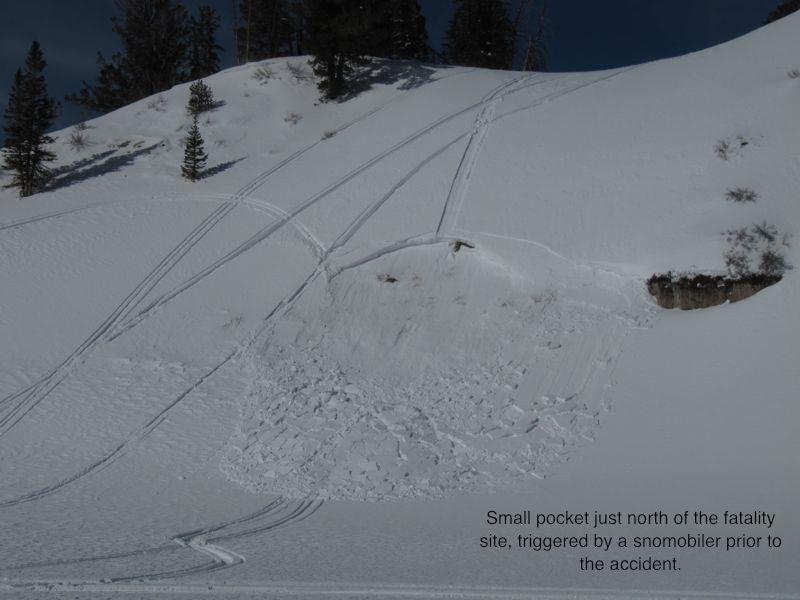 Terrain Summary
The slope was an average of 38 degrees in steepness but rolled over to 40 degrees at the bottom. It had an abrupt transition in the runnout zone. It started at 10,400' and faced northeast.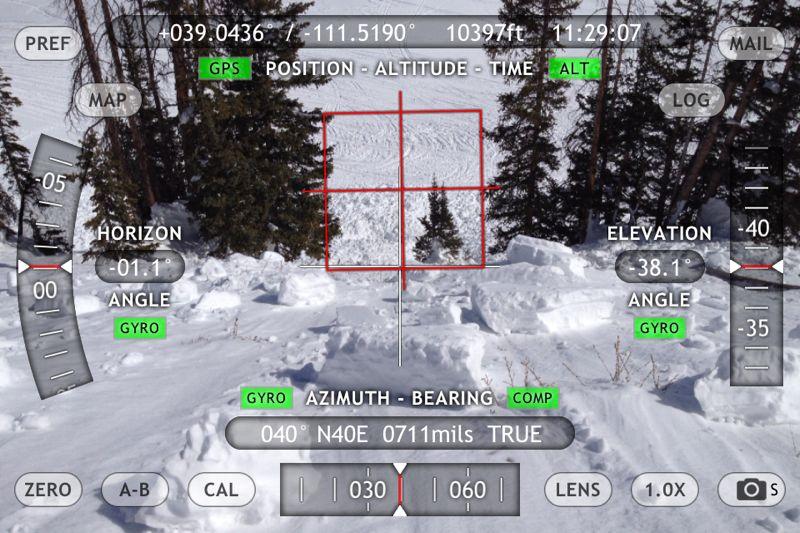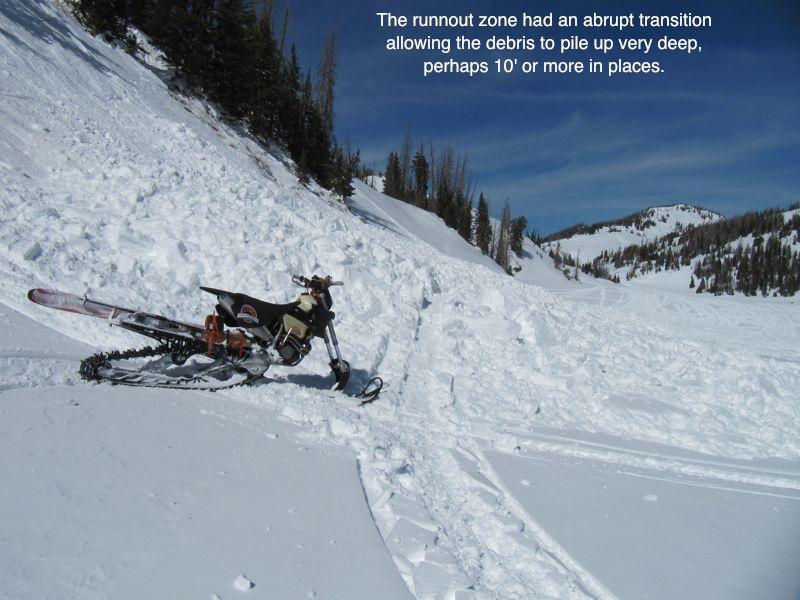 Weather Conditions and History
The snowpack in the southern part of the Manti Skyline has remained shallower than average for most of the winter especially early on in December and January. It is about half the depth of areas above Fairview and Mt Pleasant. A shallow snowpack is very susceptible to having weak sugary snow form especially in the cold months of December and January. This is exactly what happened this season and these weak layers that formed got buried by snow storms. A few snowmobile triggered avalanches in this region occurred in early February (
Slide 1
Slide 2)
revealing the potential that these weak layers had. Snow storms in February along with some recent westerly winds created a slab on top of these weak layers. This region has a very shallow snowpack of only up to about 2 feet deep. A telltale sign of a slab over week sugary snow is when you notice your snowmobile track sinking through the upper layer and sandboxing in the sugary snow.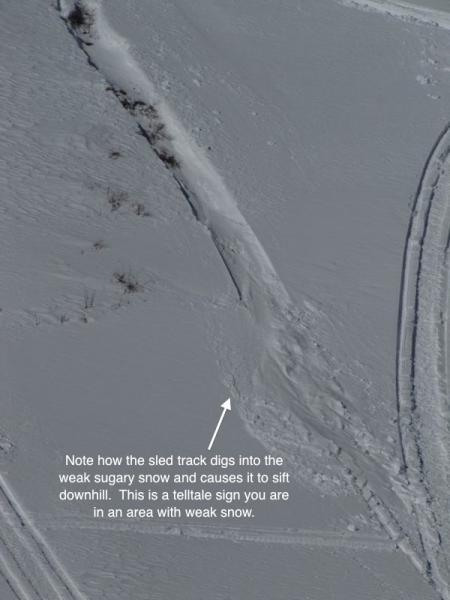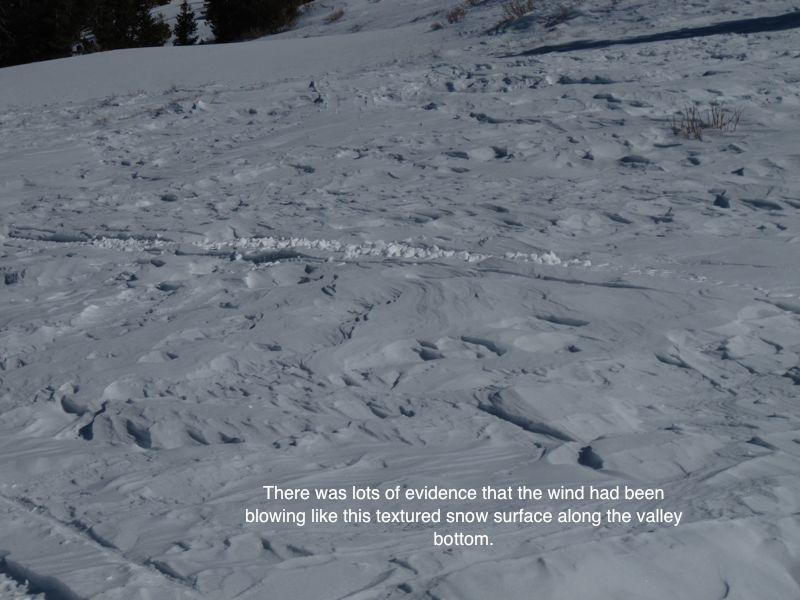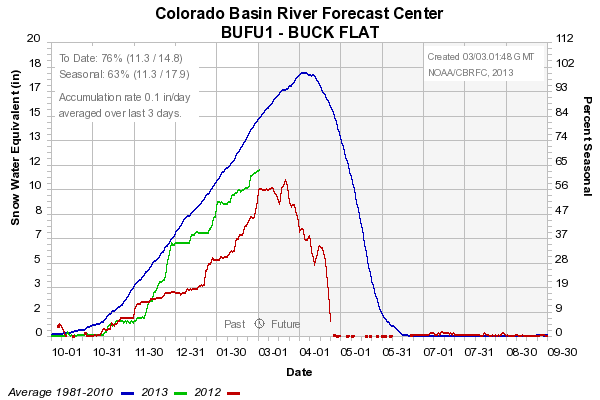 Comments
FORECASTER COMMENTS:
It is not uncommon for groups of snowmobilers to get scattered about in play areas but, obviously, this poses a serious risk when someone climbs a steep slope without a partner watching them. The only sure way of staying out of an avalanche is to stay off and out from under all slopes that are 30° in steepness or steeper. However, many of us, including myself, choose to recreate in avalanche terrain.
One of the methods that I use to reduce my risk is to closely follow the snowpack progression on certain steep slopes throughout the entire winter. This way I am aware of any weak layers that form. I then know if it is safe to get onto these steep slopes after every subsequent snowstorm.
It is a risky endeavor to draw conclusions about a slope with out actually getting on to it and digging into the snow. This takes a high level of avalanche skill and years of assessing snowpack layering to be able to determine how much new snow and wind a certain slope can withstand before avalanching.
Keeping track of certain slopes may seem unreasonable if you only get out a few times a winter or travel to many different areas. Also, you can literally get on to hundreds of avalanche slopes in one day on a snowmobile. How is a person supposed to be able to keep track? It is near impossible and without knowing the underlying structure of the snowpack, it's a 'crap shoot' getting onto steep avalanche terrain.
A good line of defense if you are going to risk getting into steep terrain is to learn to recognize buried weak sugarary snow and learn to recognize when a slab has formed on top of it.
Brett Kobernik Avalanche Forecaster Utah Avalanche Center
Video
Coordinates