Description:
Unfortunately, our shallow snowpack has taken a hard hit the past few weeks, with many upper elevation slopes facing the north half of the compass deteriorating into a weak, sugary mess... and that's bad news once it does start snowing. Problem is... we're naturally drawn to this exact type of terrain because those slopes have the best coverage and we won't be slamming into rocks. However, we've gotta be a ninja and think like the snowpack if we plan to ride safely. So the key to avalanche avoidance is to simply steer clear of steep, upper elevation, shady slopes facing the north half of the compass because the snow structure is a house of cards. Instead of rolling the dice, head to slopes that had no snow prior to the storm.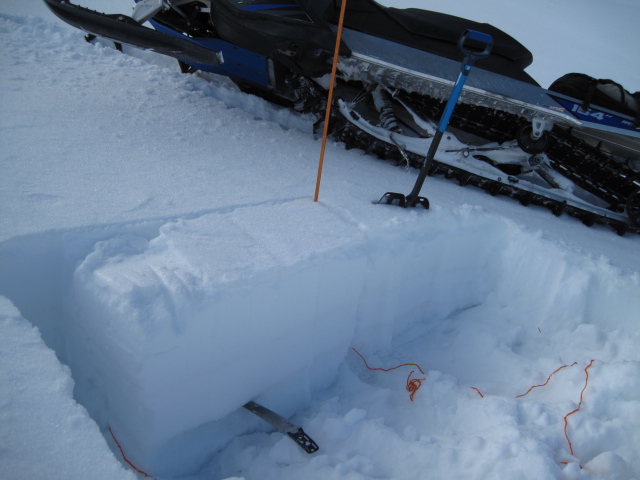 Ted was in Whitney Basin on Thursday and found cohesive snow resting on weak factes... clearly illustrated in the image above. Click here for Ted's great video recap.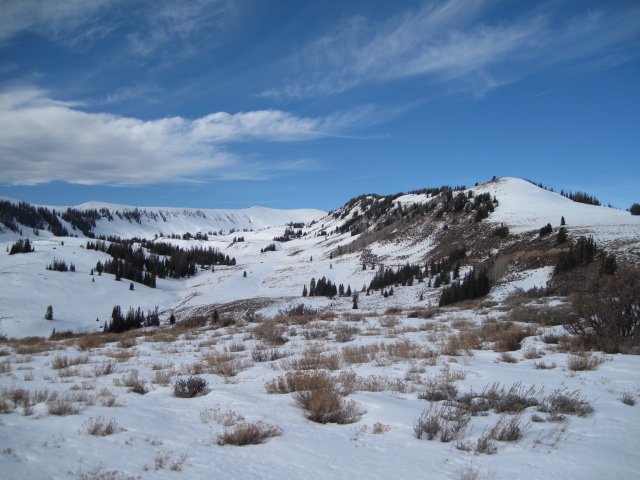 The snow stability picture is gonna be a bit complicated the next couple of days, especially on upper elevation terrain and particularly once fresh snow stacks up and turns all slopes white.
Here's your exit starategy.... the key to safe travel is choosing terrain that had no old snow prior to todays expected storm.
Special Announcement: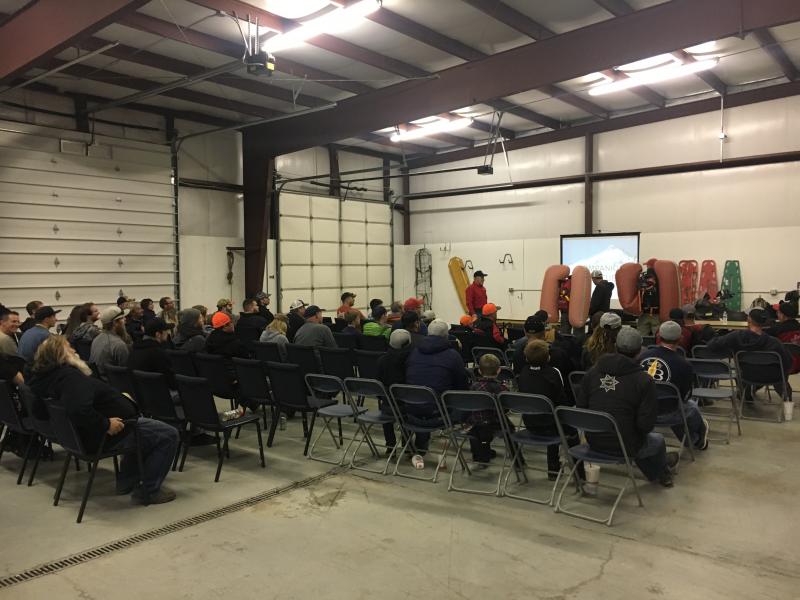 Wasatch County SAR members demonstrate avalanche airbag deployment at last nights annual avalanche training in partnership with the Avalanche Center. Thanks to Wasatch SAR for hosting and to everyone who came out to learn how to stay on top of the greatest snow on earth.
Current Conditions:
Temperatures are in the upper 20's, clouds are filling in, and southwest are winds ramping up into the 30's, all ahead of a strong cold front slated to slide through the region late this afternoon.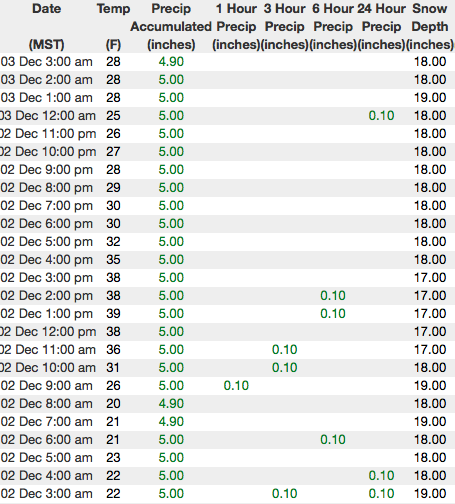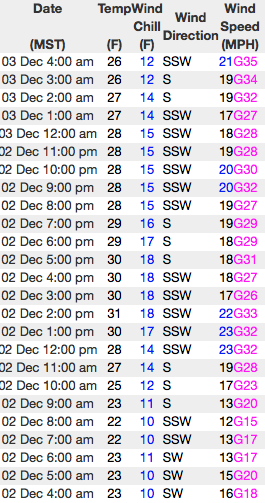 Above are 24 hour temperatures and snow depth from Trial Lake and winds from Windy Peak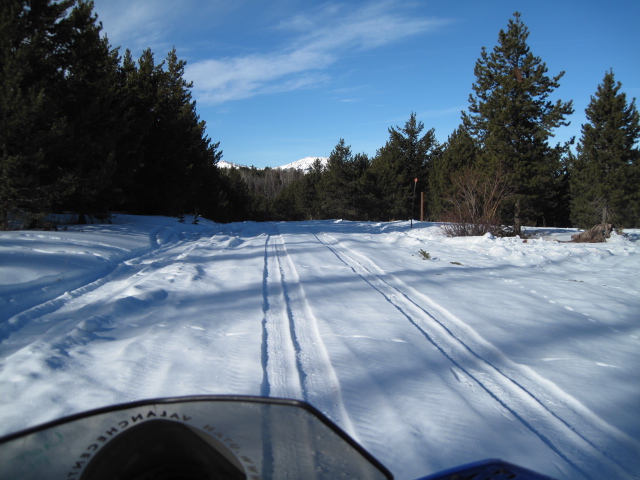 We lost a lot of snow since Thanksgiving. With only two feet of snow on the North half of the range and about 1/2 that amount south of Bald Mountain Pass, road rides and low angle grassy slopes are the only game in town.
Recent Activity:
No recent avalanche activity to report.
Mountain Weather: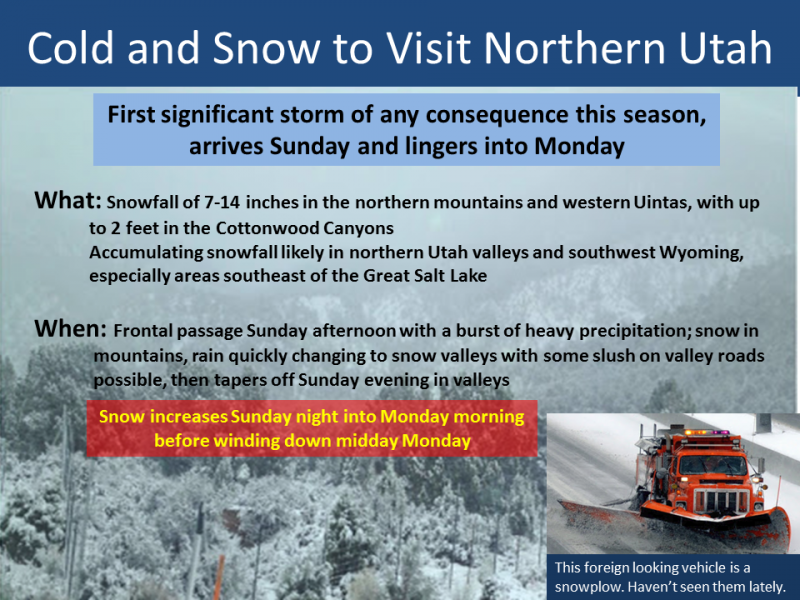 A storm system pushes a cold front through the area late today, bringing a quick burst of snow which intensities early this evening. Prior to the storm settling in we should see increasing clouds, southwest winds blowing in the 50's and 60's, with temperatures rising into the 40's. Temperatures crash into the single digits with the arrival of the cold front. The storm delivers a good shot of snow with about a foot stacking overnight into Monday.
Bottom Line:
It'll be a day of changing avalanche danger and I expect the danger will rapidly rise once the storm settles in. However, until the storm arrives, the avalanche danger is generally LOW for a good portion of the day and the chances of slamming into a season ending rock or stump are greater than triggering an avalanche.
As storm snow stacks up and winds continue to crank the avalanche danger rises to MODERATE and human triggered avalanches are possible by days end.
.
General Announcements:
I'll up date this advisory by 7:00 AM Monday December 4, 2017.
If you're getting out and about, please let me know what you're seeing especially if you see or trigger and avalanche. I can be reached at craig@utahavalanchecenter.org or 801-231-2170
It's also a good time to set up one of our very popular avalanche awareness classes. Reach out to me and I'll make it happen.
This information does not apply to developed ski areas or highways where avalanche control is normally done. This advisory is from the U.S.D.A. Forest Service, which is solely responsible for its content. This advisory describes general avalanche conditions and local variations always occur.
Rose: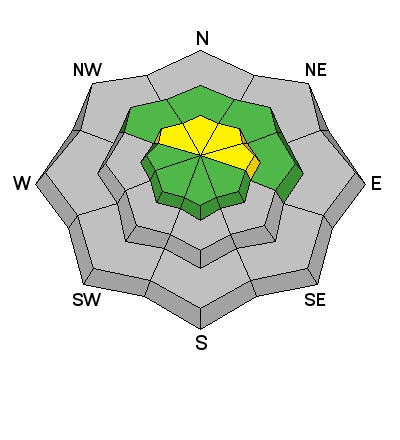 Rose: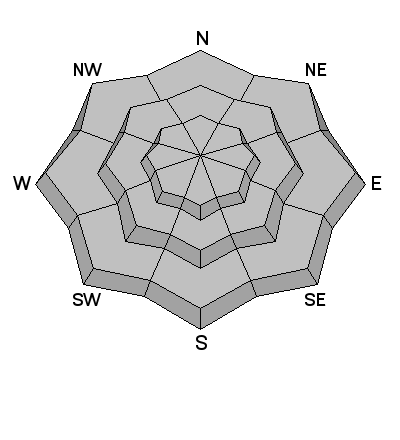 Rose: