Date:
Thursday, February 8, 2018
Description: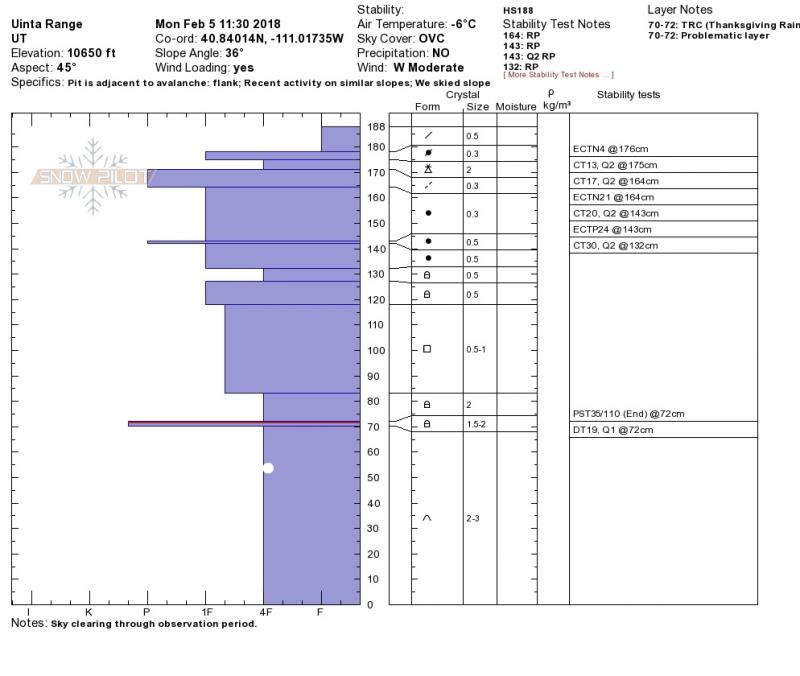 As the snowpack gets comfortable in its own skin, the possibilty of triggering an avalanche that breaks to our persistent weakness (seen as the red line in the pit above) now buried 2'-3' deep in the midpack, begins to decrease... and that's good news, suggesting we're trending in the right direction. And while no avalanches were reported to us yesterday, it's only been a couple of days since the last slide we know of broke to our midpack problem child. That said, I'm not gonna roll the dice and take my chances.  No it's not a widespread issue, but the consequences remain serious. Once triggered, an avalanche breaking into these layers will quickly get out of hand and could instantly ruin our day. The most likely suspects are steep, wind drifted slopes facing north half of the compass. Fortunately with a little new snow, the riding conditions are improving on other aspects and we have more options on the table to avoid this avalanche dragon. Simply swing around to lower elevation slopes or choose low angle terrain with no steep slopes above or adjacent to where you're riding. (C.Brown photo)
Current Conditions:
Skies are clear, temperatures in the low 20's, and westerly winds are light, blowing less than 20 mph even along the high ridges. Monday nights little blast of winter stacked up nearly 4" of dense, spongy snow, greatly improving spirits as well as riding and turning conditions. Low angle, wind sheltered slopes are the ticket, where you won't bottom out to the old snow surface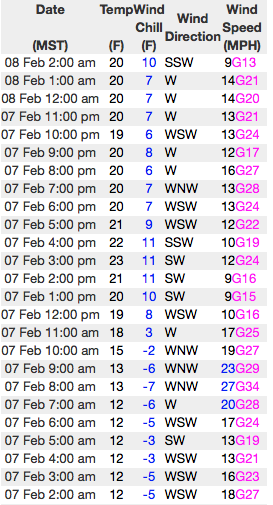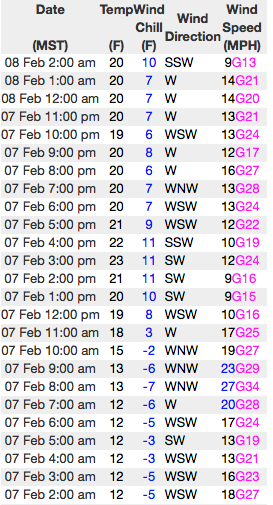 Above are 24 hour temperatures and snow depth from Trial Lake along with winds and temperatures from Windy Peak. More remote Uinta weather stations are found here
A great body of recent trip reports, observations, and snow data are found here.  
Recent Activity: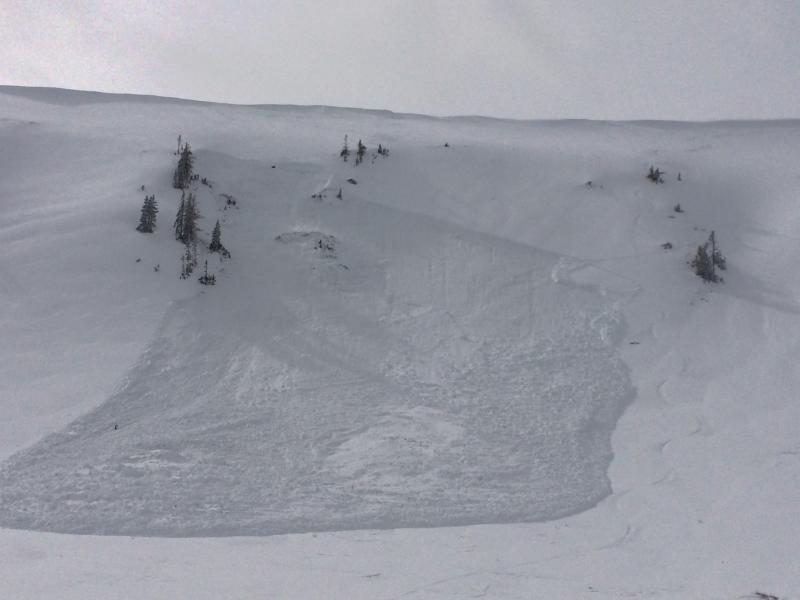 No significant new avalanche activity since the slide above triggered Monday in Moffit Basin, which clearly illustrates the type of avalanche dragon we're dealing with. Once initiated, today's avalanches may still break deeper and wider than you might expect. (C.Brown photo)
Mountain Weather: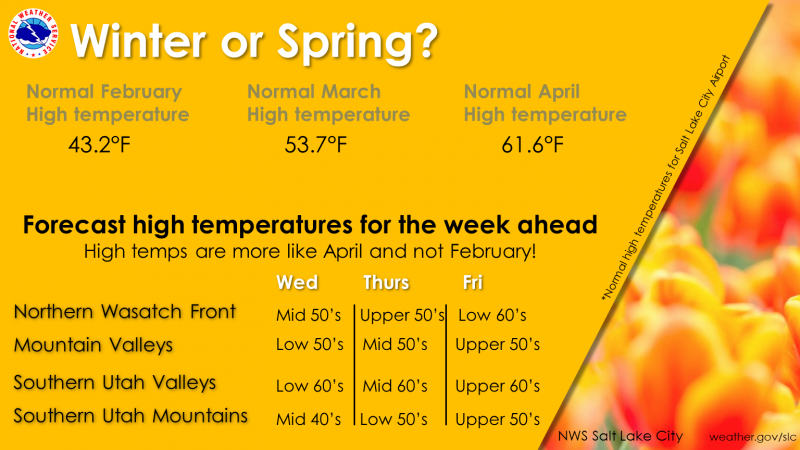 Look for mostly sunny skies, light winds, and temperatures climbing into the upper 30's as a warm northwest flow is over the area today. A moisture starved system starts to sag into northern Utah Friday afternoon and crosses the area on Saturday. We'll see colder temperatures and a few snow showers.
Bottom Line:
In the wind zone, at and above treeline, the avalanche danger is MODERATE. Human triggered avalanches are possible on steep, wind drifted slopes, especially those facing the north half of the compass and particularly those with an easterly component to their aspect. Once triggered, today's avalanches can quickly get out of hand if they break into weak layers of snow now buried several feet deep in our snowpack.
Wind sheltered mid and low elevation terrain, especially south facing slopes offer generally LOW avalanche danger.
Description:
Today's shallow drifts are mostly manageable in size and you'll see them breaking at our below our skis, board, or sled. Found mostly on the leeward side of upper elevation ridges, I bet there's a slab or two lurking around a gully wall or entrance to a chute. In either case, today you'll want to look for and avoid any fat, rounded piece of snow, especially if it sounds hollow like a drum. 
General Announcements:
The information in this advisory expires 24 hours after the date and time posted, but will be updated by 7:00 AM Friday February 9th, 2018.
If you're getting out and about, please let me know what you're seeing especially if you see or trigger and avalanche. I can be reached at craig@utahavalanchecenter.org or 801-231-2170
It's also a good time to set up one of our very popular avalanche awareness classes. Reach out to me and I'll make it happen.
This information does not apply to developed ski areas or highways where avalanche control is normally done. This advisory is from the U.S.D.A. Forest Service, which is solely responsible for its content. This advisory describes general avalanche conditions and local variations always occur.