Description:
It's quite the interesting snow pack. There are multiple weak layers of facets and crusts in the shallow snowpack, with a fair bit of variation over short distances. It takes less than 10 minutes to dig a shallow snow pit and get a quick look at the layers. But the general picture is a weak snow pack, that's getting weaker by the day.
Left photo: 9400', east facing Reynolds Peak. J Rowell. Right photo: 10,400', north facing Sunset. Hardesty.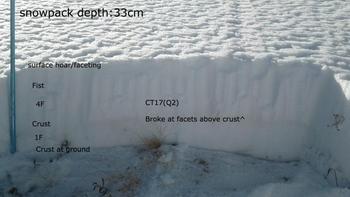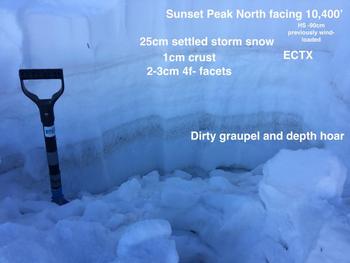 Yesterday's stronger, northeasterly winds left behind shallow wind drifts, mostly at the highest elevations and along ridge lines. You'll find these shallow, cracky wind drifts on a variety of aspects. Upper elevation northwest through northeasterly facing slopes are the most likely place to trigger one of these drifts.
Cracking of shallow wind deposits. Craig Gordon photo.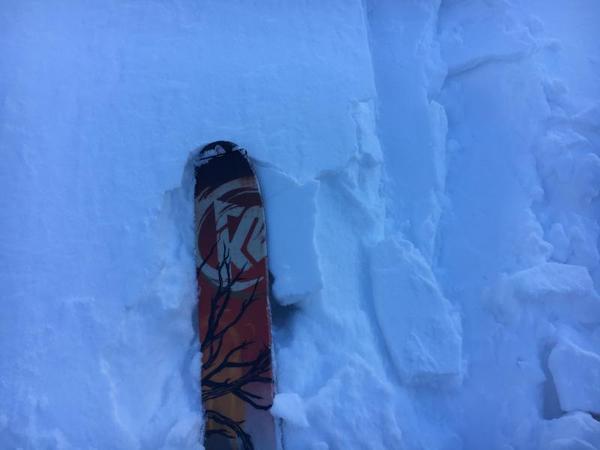 Special Announcement:
Get important updates from the UAC via text message directly to your phone. Its very simple - dial 40404 and send this message "Follow uacwasatch".
Looking for a great stocking stuffer for Christmas? Discount lift tickets for Alta, Snowbird, Brighton, Solitude, Deer Valley, Snowbasin,and Beaver Mountain are now available, donated by the resorts to benefit the Utah Avalanche Center. Details and order information here. These make a great holiday gift and all proceeds go towards paying for avalanche forecasting and education!
Support the UAC when you shop Whole Foods Market at Trolley Square, Sugarhouse, and Cottonwood Heights. Between now and Jan 11th, Whole Foods will donate a dime per bag to Utah Avalanche Center when you shop there and donate your bag credit during check out.
Please abide by the uphill travel policies of the ski resorts.   Info here.
Current Conditions:
Skies are clear this morning, and the north to northwesterly winds are in the 10 to 15 mph range, gusting to 30 mph.  Speeds across the highest peaks are averaging 30 mph, gusting to 50 mph, but on a downward trend.  Temperatures at the mid elevations are about 10 degrees warmer than yesterday, in the low to mid twenties, with the colder canyon bottoms still clinging to teens.
Total snow on the ground at the upper elevations is around 2 feet.   And with that the only game in town, people are finding it's enough to get out and recreate carefully in good, dry powder on the upper elevation, northerly facing slopes.  Sunny slopes are crusted.  By choosing low angle, grassy slopes and travel on snow packed roads and trails, you can reduce the number of rocks and stumps you will hit. Snowshoeing is a great option for the shallow snow conditions.
But shallow is shallow.  J Rowell photo. Full observations HERE.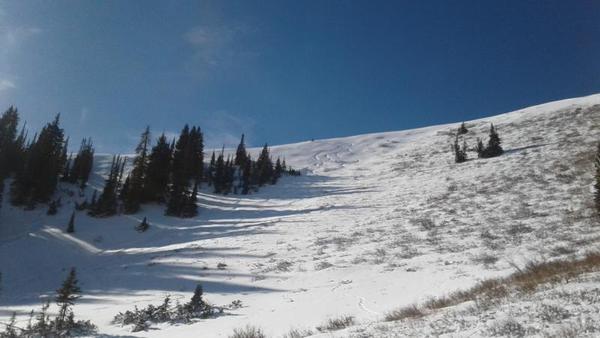 With limited terrain available for riding (low tide as some call it), take the time to practice with your rescue gear if you get out. Watch this video. Matt and Tom were glad they had practiced and luckily had a happy ending.
Recent Activity:
Gazex testing released a small slide on an upper elevation, northwesterly facing slope yesterday, which gouged into the weak snow as it ran downhill.
Mountain Weather:
Today's weather will be similar to yesterday's…and tomorrow's…and the day after…and… The high pressure over Utah isn't budging, so sunny skies and steadily warming temperatures through the weekend. Highs today in the upper 30s, with the overnight low dipping into the teens and low 20s. The northerly winds should decrease through out the day, becoming light by evening. A warming trend through the weekend will send the high temperatures into the low 40s.
Bottom Line:
There is a MODERATE avalanche danger on wind drifted slopes, and the most likely place you would trigger a slide is on a steep, upper elevation slope facing northwest through northeast. Here, a cross-loaded wind drift would be the slab, sitting on a weak layer of faceted snow. Elsewhere, the avalanche danger is LOW, with riding on lower angle, grassy slopes reducing the chance of hitting damaging rocks and stumps.
General Announcements:
Remember your information can save lives. If you see anything we should know about, please help us out by submitting snow and avalanche conditions. You can also call us at 801-524-5304, email by clicking HERE, or include #utavy in your tweet or Instagram.
To get help in an emergency (to request a rescue) in the Wasatch, call 911. Be prepared to give your GPS coordinates or the run name. Dispatchers have a copy of the Wasatch Backcountry Ski map.
Backcountry Emergencies. It outlines your step-by-step method in the event of a winter backcountry incident.
If you trigger an avalanche in the backcountry, but no one is hurt and you do not need assistance, please notify the nearest ski area dispatch to avoid a needless response by rescue teams. Thanks.
EMAIL ADVISORY If you would like to get the daily advisory by email you subscribe here.
DAWN PATROL Hotline updated daily by 5-530am - 888-999-4019 option 8.
TWITTER Updates for your mobile phone - DETAILS
UDOT canyon closures: LINK TO UDOT, or on Twitter, follow @UDOTavy, @CanyonAlerts or @AltaCentral
Utah Avalanche Center mobile app - Get your advisory on your iPhone along with great navigation and rescue tools.
Powderbird Helicopter Skiing - Blog/itinerary for the day
To those skinning uphill at resorts: it is critical to know the resort policy on uphill travel. You can see the uphill travel policy for  each resort here.
Support the UAC through your daily shopping. When you shop at Smith's, or online at REI, Backcountry.com, Patagonia, NRS, Amazon, eBay by clicking on these links, they donate a portion of your purchase to the FUAC. If you sell on eBay, you can have your See our Donate Page for more details on how you can support the UAC when you shop. 
Benefit the Utah Avalanche Center when you buy or sell on ebay - set the Utah Avalanche Center as a favorite non-profit in your ebay account here and click on ebay gives when you buy or sell. You can choose to have your seller fees donated to the UAC, which doesn't cost you a penny.
This information does not apply to developed ski areas or highways where avalanche control is normally done. This advisory is from the U.S.D.A. Forest Service, which is solely responsible for its content. This advisory describes general avalanche conditions and local variations always occur.
Date:
Thursday, December 7, 2017
Rose: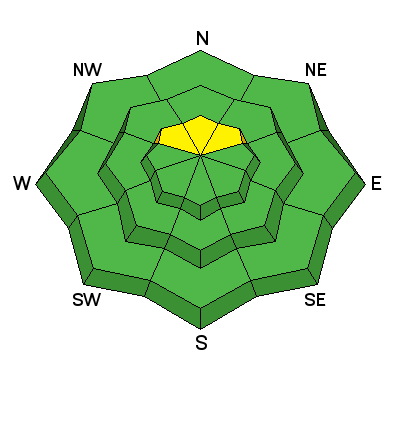 Rose: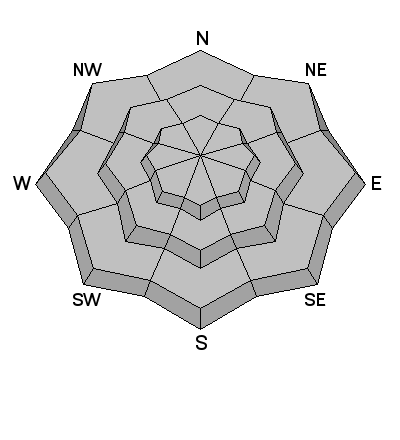 Rose: