Description:
Faceted weak layers exist on the northerly facing slopes (NW, N, and NE). There is generally a layer cake of faceted layers and crusts created by a mix of sun, rain, wind, warm temps, and cold temps in November. Some avalanches occurred on Monday following the last storm. Drew toured near Rocky Point yesterday and found buried weak layers that seem to be mostly dormant.
N and NE winds yesterday scoured many northerly facing slopes. The exception and the thing to watch for are isolated spots where these winds cross loaded slopes. These are the most likely places to trigger an avalanche. Steer clear of any areas with wind deposited snow with a smooth rounded appearance.
Photo of the mixed bag of crusts and facets Drew and his partner found yesterday.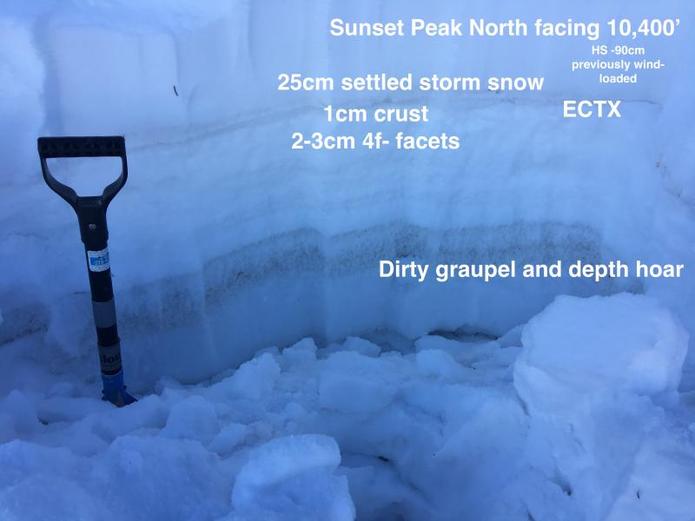 Special Announcement:
Tonight at 6:30pm MST live on Facebook, Bruce Tremper and Mark Staples will talk about lessons learned from avalanche accidents, fatalities and close calls.
Get important updates from the UAC via text message directly to your phone. Its very simple - dial 40404 and send this message "Follow uacwasatch".
Looking for a great stocking stuffer for Christmas? Discount lift tickets for Alta, Snowbird, Brighton, Solitude, Deer Valley, Snowbasin,and Beaver Mountain are now available, donated by the resorts to benefit the Utah Avalanche Center. Details and order information here. These make a great holiday gift and all proceeds go towards paying for avalanche forecasting and education!
Support the UAC when you shop Whole Foods Market at Trolley Square, Sugarhouse, and Cottonwood Heights. Between now and Jan 11th, Whole Foods will donate a dime per bag to Utah Avalanche Center when you shop there and donate your bag credit during check out.
Please abide by the uphill travel policies of the ski resorts.   Info here.
Current Conditions:
Yesterday temperatures struggled to break into the 20's F and this morning are in the teens F.
Winds at 10,000 ft ridgetops are similar to yesterday and are averaging 10-15 mph gusting to 25. Below these ridgelines they are blowing 5 mph gusting to 10 mph. Yesterday in some areas, winds were blowing from the NE (see photo below). Today they are mostly blowing from the NW and NNW.
A slight crust is beginning to form on low and mid elevation, south aspects. On most other aspects the snow surface is faceting, which maintains good powder conditions for now but forms another weak layer for the future. It becomes an avalanche problem once a slab forms on top.
Photo - Winds along the Park City Ridgeline blew from the NE yesterday (left to right). M. White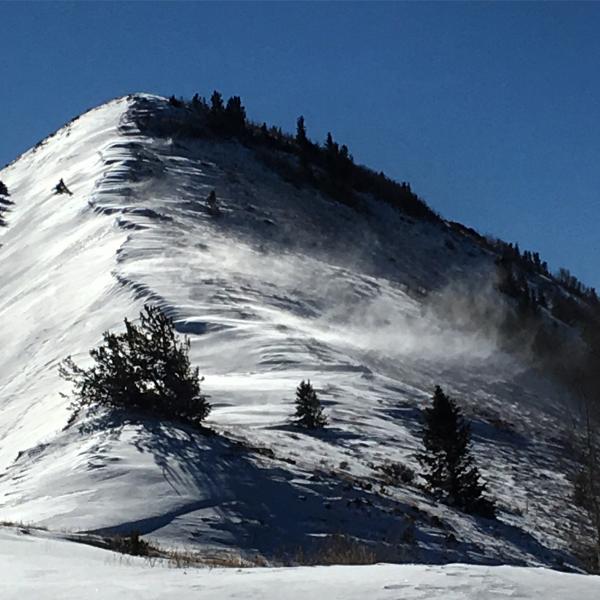 With limited terrain available for riding (low tide as some call it), take the time to practice with your rescue gear if you get out. Watch this video. Matt and Tom were glad they had practiced and luckily had a happy ending.
Recent Activity:
The only avalanche was one at a ski area on Tuesday where snowmaking loaded a steep grassy slope that had old, faceted snow underneath. This slide is a good example of what is possible on northerly facing slopes cross loaded by yesterday's winds.
Mountain Weather:
Today will similar to yesterday with high temperatures struggling to reach the 20's F. Winds will continue from the North at 10-20 mph along high ridgelines. The general pattern will be a gradual warm up (although an inversion will keep valley temps cold) and a gradual calming of wind speeds. A large ridge of high pressure will block any storms from delivering snow for the next week or more.
Bottom Line:
Weak, faceted layers of snow are lurking in the snowpack on northerly facing slopes. These layers have a slab of snow on top of them which is a recipe for an avalanche, but the most likely places to trigger an avalanche are places where yesterday's winds cross loaded slopes and deposited wind blown snow. For this reason the danger is MODERATE on upper elevation, northerly facing slopes and LOW elsewhere.
General Announcements:
Remember your information can save lives. If you see anything we should know about, please help us out by submitting snow and avalanche conditions. You can also call us at 801-524-5304, email by clicking HERE, or include #utavy in your tweet or Instagram.
To get help in an emergency (to request a rescue) in the Wasatch, call 911. Be prepared to give your GPS coordinates or the run name. Dispatchers have a copy of the Wasatch Backcountry Ski map.
Backcountry Emergencies. It outlines your step-by-step method in the event of a winter backcountry incident.
If you trigger an avalanche in the backcountry, but no one is hurt and you do not need assistance, please notify the nearest ski area dispatch to avoid a needless response by rescue teams. Thanks.
EMAIL ADVISORY If you would like to get the daily advisory by email you subscribe here.
DAWN PATROL Hotline updated daily by 5-530am - 888-999-4019 option 8.
TWITTER Updates for your mobile phone - DETAILS
UDOT canyon closures: LINK TO UDOT, or on Twitter, follow @UDOTavy, @CanyonAlerts or @AltaCentral
Utah Avalanche Center mobile app - Get your advisory on your iPhone along with great navigation and rescue tools.
Powderbird Helicopter Skiing - Blog/itinerary for the day
To those skinning uphill at resorts: it is critical to know the resort policy on uphill travel. You can see the uphill travel policy for  each resort here.
Support the UAC through your daily shopping. When you shop at Smith's, or online at REI, Backcountry.com, Patagonia, NRS, Amazon, eBay by clicking on these links, they donate a portion of your purchase to the FUAC. If you sell on eBay, you can have your See our Donate Page for more details on how you can support the UAC when you shop. 
Benefit the Utah Avalanche Center when you buy or sell on ebay - set the Utah Avalanche Center as a favorite non-profit in your ebay account here and click on ebay gives when you buy or sell. You can choose to have your seller fees donated to the UAC, which doesn't cost you a penny.
This information does not apply to developed ski areas or highways where avalanche control is normally done. This advisory is from the U.S.D.A. Forest Service, which is solely responsible for its content. This advisory describes general avalanche conditions and local variations always occur.
Date:
Thursday, December 7, 2017
Rose:
Rose: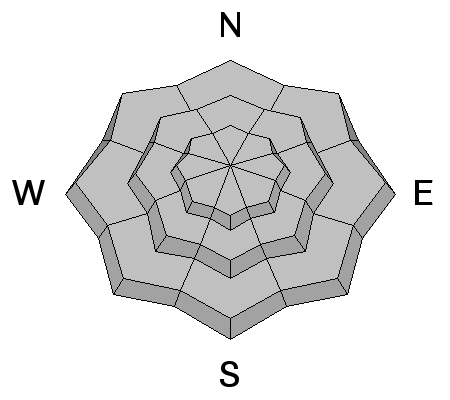 Rose: